Turkey Triathlon
Manhattan Star Academy is hosting the annual Turkey Triathlon fundraiser until November 30. Students participate in friendly competitions as well as Thanksgiving-themed activities in music, art, and yoga.
Support us through donations or by joining a fundraising team to help fund gym space for students.
Together we can ensure every student has the space they need to grow and succeed!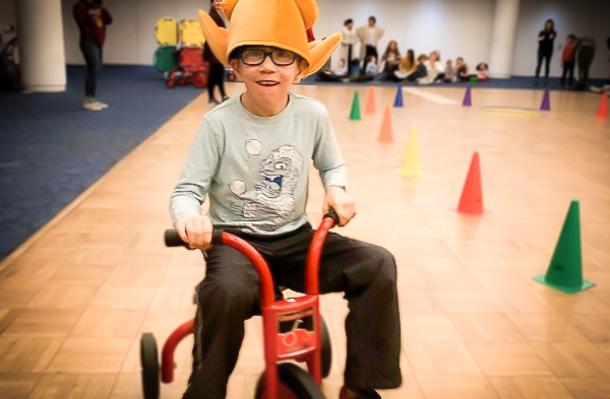 Photo gallery
Enjoy photographs of students and staff around Manhattan Star Academy.
Manhattan Star Academy student is in therapy room sat criss cross on a platform swing, an adult is behind them supporting/moving the swing
Manhattan Star Academy student is in a ball pit, their arms are outstretched, they wear a peach color shirt and hearing aid
Manhattan Star Academy student can be seen at the end of a soft play tunnel
Outside in playground. Manhattan Star Academy staff creates bubbles with bubble wand, student is looking up at them
Manhattan Star Academy student stands in classroom holding a chalkboard with "Jack" written on it
Long shot of a Manhattan Star Academy Student lays face down on a platform swing in therapy room. An adult is to the right and colorful beanbags are on the left
Two Manhattan Star Academy students sit at a table looking left from our POV in profile, a staff member is also at the table, we see them from the back
students of Manhattan Star Academy are deeply engaged in tasks at a tablell
Manhattan Star Academy student outside playing in water sprinkler, they wear a red bathing suit and holding a red cup
Manhattan Star Academy student using tools and laptop to learn at a table
Dr. Mignon Moore
Ryan's Parent
MSA is a sweet school with faculty and staff that genuinely care for their students. We like the extensive differentiated learning that caters to the strengths of each child. Our son Ryan has been part of the MSA community for three years and has thrived.
Donate to Manhattan Star Academy
Gifts to Manhattan Star Academy enrich every element of the school, from new classroom technology to advanced curricular and therapeutic tools that further students' aspirations. Fully tax-deductible donations also defray new costs associated with keeping students and staff safe from COVID-19.