Behavior Management: Preparing for Moves and Changes of Environment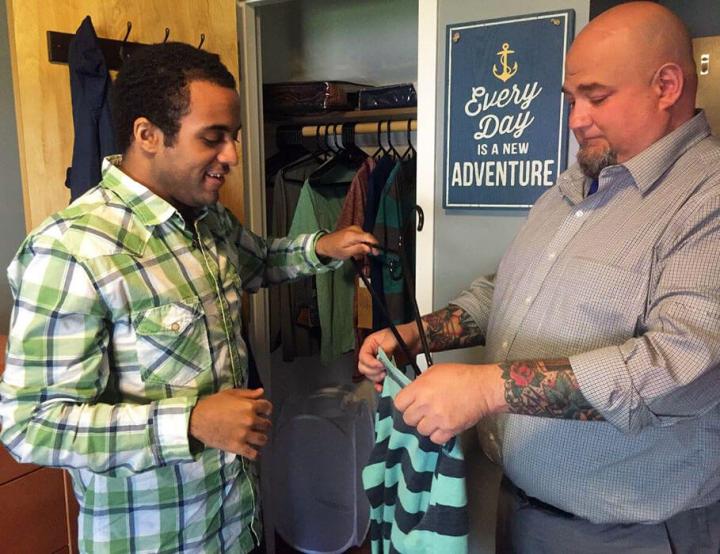 While it's true that change is the one constant in life, that doesn't make it easy. For people with intellectual and developmental disabilities (I/DD), embracing change can pose even more challenges.
As YAI continues to grow and increase its range of services, accounting for how these changes affect the people we support is a top priority. Whether a person is moving from a family home into a residence, moving from a group home to a supportive apartment, or experiencing any other change of environment, direct support professionals are trained to assist. Staff work closely with each person and their circle of support to ensure that transitions are as smooth as possible.
YAI's Community and Family Services Supervisor Elizabeth Asen made a list of tips for direct support staff and family caregivers to help people with I/DD prepare for changes of environment.
Model positivity. Change naturally brings anxiety of the unknown. Talking about the change in a positive way helps to establish an optimistic atmosphere. Set the tone from the beginning: Change can be exciting! Genuine statements like, "Wow! How lucky are we to try something new?" are one way to model a positive outlook.
Acknowledge feelings. Establish a dialogue so that the person can comfortably express fears, concerns, and questions. Let the person know what times you are available to speak during the day. Read stories about change and ask your listeners how the stories make them feel. Provide visuals of different facial expressions for those who have challenges expressing their emotions.
Pack together. Encouraging the person to participate in the packing process is one way to establish a sense of control while being helpful. Also, packing some small items helps crystalize the concept of moving for those who have difficulty understanding change.
Preview the space. If possible, offer the person a sneak peek of the new space. Seeing the space engenders a sense of excitement while helping to relieve fear of the unknown. If a tour of the space isn't possible, use Google Street View to show the building and take a virtual tour of the surrounding area.
Explore the neighborhood. Do research together. Look up the subway lines in the new neighborhood. Locate restaurants, shops, fire stations, or any other places that may be of interest to the person. Create a list of places to explore and visit one before the move.
Begin travel training early. Some people may be nervous about a new travel route. Work with the person you're supporting to figure out various routes to get to the new space. Take transportation together and slowly fade your support by allowing the person with I/DD to take the lead. Take photos of entrances or certain buildings that may be helpful markers. Work together to create pocket-sized or digital instructions using visuals and words to increase their travel confidence.
Recreate the environment. Maintain as much consistency in their surroundings as possible. If there are certain objects or significant items, bring them to the new space. Having familiar items in a new environment helps establish a sense of stability and safety in a different setting.
These are just a few examples of how to prepare for changes. If you would like to learn more or are interested in taking a workshop for caregivers, please contact YAI LINK at 212.273.6182 or link [at] yai.org.