Exploring Career Paths with Supported Employment
On March 21, a group of seven District 75 high school students came to YAI's Central Office to learn about different career paths available for people with intellectual and developmental disabilities (I/DD). YAI's Employment Services Program supports people with I/DD through every stage of the employment process, from resume writing, to mock interviews, to ongoing job coaching.
Bonnie Holtzman, who coordinates YAI's employment services, came up with the idea for the high schoolers' job tour after observing the rich learning environment YAI provides to supported employees.
"Students of all abilities can take away so much from seeing people on the job and learning about their career paths," Holtzman said. "For high schoolers with I/DD, having an opportunity to ask questions and see adults with I/DD be successful in their careers helps open their minds to all the possibilities out there for them."
At the group's prep meeting before trailing four YAI employees, the students discussed a wide range of career interests. One student mentioned he might want to work in a music store. Another said she'd like to work in a library. Justin shared he would like, "to become an astronomer or scientist or work for NASA." When Holtzman suggested working at the Natural History Museum, Justin agreed, "that would be lovely."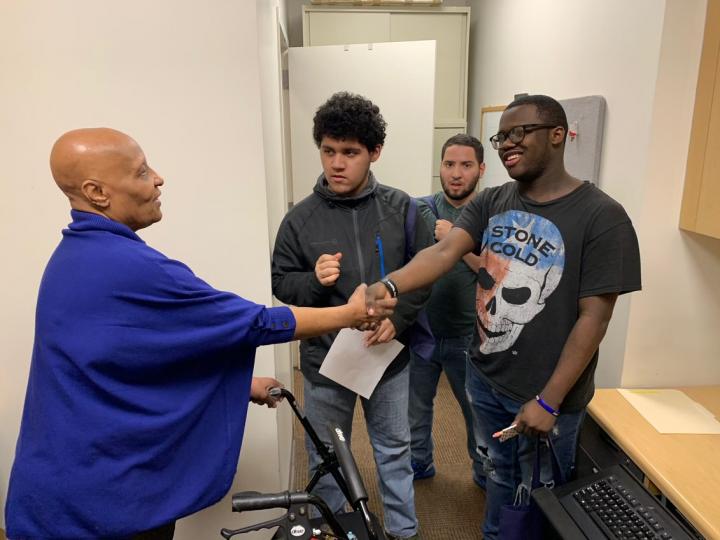 Office Assistant Berta Land greets a group of visiting students
After running through their employment goals and expectations for the morning, the group broke into three smaller teams to learn more about various supported employment scenarios. They spent time with YAI employees in Office Services, Advancement and Communications, Maintenance, and Community and Family Services. The students saw a demo on how to use a postage machine and saw how some employees use a weekly calendar to keep track of their tasks. As the students rotated through the different jobs, they learned not only about specific roles, but they also received relevant career advice. Chris Johnson, Administrative Assistant for Advancement and Communications, assured Aaliya, a student who was skeptical about having to use a computer each day, "You just don't want to keep doing the same thing all the time, it gets boring."
Berta Land, who has been working at YAI for almost 40 years and oversees program-related mailing, knows all about staying engaged on the job. "It's great to have a job, but once you have a job," she said, "just don't take anything for granted. Speak up if you don't understand something, and just do the best you can." Land started out working in a residential program before moving to YAI's Central Office.
After seeing different employees at work and learning about their roles, the students felt more confident about searching for their own jobs in the future. Aaliya, a student who loves cleaning and organizing, couldn't believe there are jobs out there where you get a paycheck to do that kind of work. All seven students were able to take away a better understanding of what supported employment looks like, as well as inspiration for different career paths. Whatever their next steps toward employment may be, having firsthand experience at a job site will help them in their professional journeys.
For more information on YAI's supported employment or other programs, please contact YAI LINK at 212.273.6182 or link [at] yai.org.