A New Class of YAI Leaders Graduates in Queens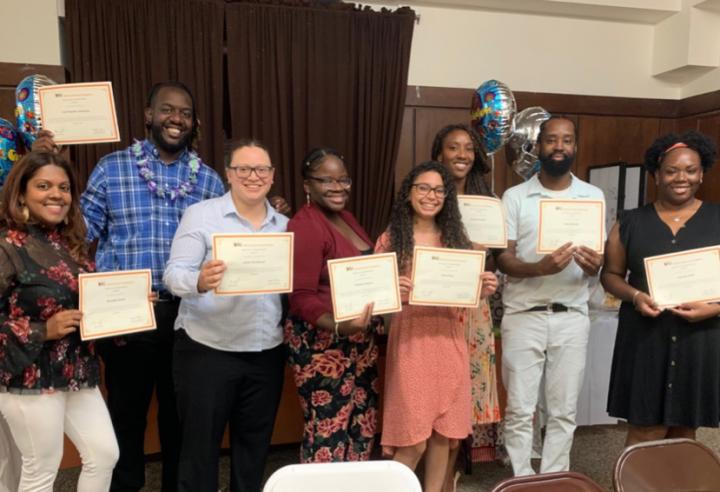 On August 28, YAI Queens' Level II Leadership class celebrated their graduation at the agency's Dawson Manor residence. For a year, the cohort of eight YAI employees balanced work obligations with monthly, full-day training sessions designed to build leadership skills and hone expertise in the intellectual and developmental disabilities (I/DD) field. 
Led by senior staff from across the YAI Network, the classes covered everything from project management and proactive planning to identifying staff strengths and individual leadership styles. 
"We wanted to create an environment in which the students had a full range of perspectives from across the agency," said Melanie Alexopoulos, YAI's Queens Regional Deputy Director and coordinator for the leadership class. "By drawing from the experience of experts within YAI, the students also got the benefit of a lot of helping hands when it came to solving problems during the course."
Shayne Tavares, Supervisor at Dawson Manor who began her career at YAI in 2012, credits this guidance with much of her success.
"I saw this class as an opportunity to learn more about becoming a leader and thought it would be a great step in furthering my career at YAI," Tavares said. "During the course of the leadership class, I was promoted from Assistant Supervisor to Supervisor of Dawson Manor, and all the trainings and guest speakers we had really helped me make that transition."
Kervin Germain, a YAI Supervisor in Queens who was also promoted during the leadership course, added that the classes gave him the tools he needed to better leverage his skills.
"The most important thing that I learned was how to network within YAI and use all of the resources that the agency provides to become more of an effective leader and build a truly great team," said Germain, who came to YAI in 2008.
To cap off their studies, students put their creativity and leadership skills to the test by developing and implementing a project to improve their region or the agency, overall. 
"By the end of the course, the students had developed everything from cooking classes for people we support to training enhancements and after school programs to help ease the stresses on families," Alexopoulos said.
While this is only the second year that YAI's Queens region has held the Leadership Level II Class, Alexopoulos said that the class has already resulted in tremendous benefits for the region.
 "A group from last year's class developed a project to regularly bring therapy animals to Bayside Day Habilitation," she said. "As it turns out, the idea stuck and has since brought tremendous joy to the people who attend the day hab."
In addition to providing lasting outcomes for the people YAI supports, Alexopoulos said that the benefit to staff is readily apparent.
"While we can't guarantee that anyone in the class will receive a promotion like Shayne and Kervin, the course offers everyone a blueprint for growth within their careers," she said. "All the graduates have begun to implement what they've learned. Before the course ended, they took the initiative to share resources and offer support to each other both in and out of the classroom. It was wonderful to see how much they developed as colleagues."
Given the success of the Level II Leadership classes of 2018 and 2019, Alexopoulos and her colleagues have begun making plans to welcome a new class in 2020. Though dates have yet to be announced, applications for the 12-month course will be available for DSPs and Assistant Supervisors in YAI's Queens region.
Germain recommended the course for anyone who has long-term career goals within the agency.
"After going through the program, I can definitely say that I am a much more confident person when it comes to my job," he said. "Because of this, I have been able to take more of a leadership role in areas I never would have considered before."
If you are a DSP or Assistant Supervisor in YAI's Queens Region and you would like to learn more about the Level II Leadership course, please email melanie.alexopoulos [at] yai.org. For all other regions, please contact your Coordinator to find out more.