Share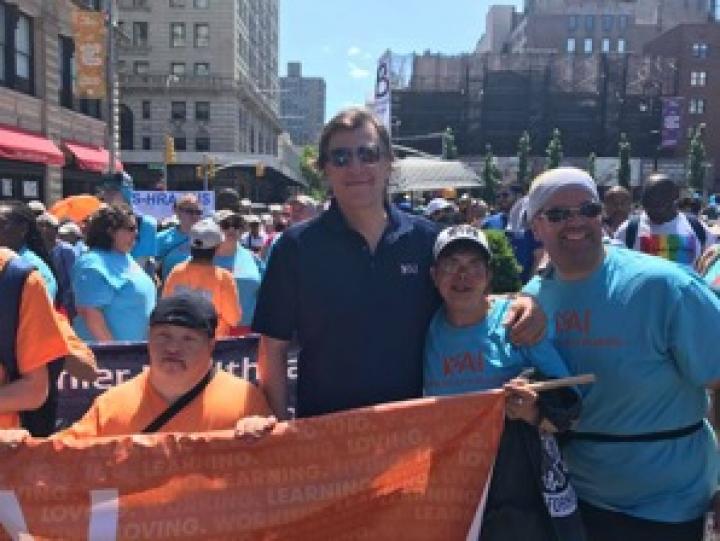 November was a month of milestones for YAI. On November 10, CEO George Contos made his debut on City and State's Nonprofit Power 100 list, coming in at 45. Just five days later, YAI earned the 2019 Platinum Seal of Transparency from GuideStar, the world's largest organization that evaluates the effectiveness and mission of US-based nonprofit organizations.
In New York, nonprofits employ more than 1.4 million people — more than any other state. The sector plays a critical role in the city's social and economic wellbeing and provides essential services to hundreds of thousands of New Yorkers, including health care, social services, education, and more. YAI, which employs 4,000 people and touches the lives of more than 20,000 children and adults each year, is one of the largest nonprofit agencies in New York.
Contos became CEO in 2015 after chairing the organization's Board. He has led several initiatives that not only helped him earn a place on City and State's list but brought the 60-year-old organization's culture into the present.
"One of the reasons I was given the opportunity to take on this role was because I was seen as someone who could serve as a change agent and inject an outsider's perspective to a successful organization that had the potential to be even greater and more effective. I wanted to work from within to ensure that YAI was proactively and positively positioned to successfully meet and take on the changes and challenges that were coming to the disability services field."
Contos' initiatives include streamlining YAI's administrative structure and redistributing resources to better serve the people the agency supports.
"When I first got here, I used to hear the word 'silo' multiple times a day," Contos said. "At a mission-driven organization, hearing this word means things aren't working as well as they could or should be.
One of my first priorities was to do whatever I could to get the organization to buy into dismantling the silos and adopt an operational model that was regional in nature."
Contos explained that, with regionalization, program verticals like residences and day habilitation that had been relatively isolated areas within the agency would be interconnected throughout each region, improving continuity of care for people supported by YAI.
"With this holistic approach, we could now see how people were doing at any given time and how we could best support them," he said. "Before, if you were supporting a person in a residence, you might not know what was going on with them during their day program or in their employment search because these were separate areas."
Gary Milchman, who has worked at YAI for 22 years and serves as the agency's Regional Director for Manhattan, said that, in addition to regionalization, Contos helped transform YAI into a truly modern organization.
"In the past few years, we've made huge strides in terms of thinking outside the traditional box when it comes to delivering services," he said. "We are always looking for new ways and new technologies that help us better serve the people we support."
Currently, YAI is incubating its Center for Innovation and Engagement. When the center begins serving people in 2020, it will implement and evaluate smart technologies designed to improve independence and quality of life for people with intellectual and developmental disabilities (I/DD).
Support services aren't the only areas that have seen technological advances. YAI recently made a major investment and commitment to consolidate and transition many of its back-office and administrative functions under a single and robust ERP system, Workday, which will enable YAI and its affiliates to generate additional efficiencies and streamline workflows.
"Looking ahead in the coming years George and his senior leadership team are laser-focused on making sure that YAI continues to grow and thrive beyond what Medicaid dollars provide," Milchman said. "By expanding our revenue in different geographies and service lines, and looking to technology and other ways of improving our efficiency and quality of services, we're heading in a great direction."
Contos agreed, citing that a key part of YAI's strategic plan includes transitioning away from dependence on New York-based Medicaid dollars.
"We want to deliver services that go beyond those dictated by government regulations," Contos said. "Reaching Platinum Status with GuideStar and increasing awareness of the work we do at YAI are just two of the many ways we can demonstrate our value to supporters and — most importantly — secure the funding we need to provide the most integrated and cutting-edge care to the people we support."
In addition to positioning the agency for the future, Contos added that he is committed to ensuring that YAI never loses sight of its values.
"It's critical that we stay connected and focused on doing the best we can by the people we support," he said. "This is why I instituted the requirement that, as a condition of employment, every YAI employee, from me on down, take a mandatory course in person-centered thinking. A person-centered philosophy underpins everything YAI does as a mission-driven organization. Actions speak louder than words. No matter what we've accomplished so far, it's important to keep asking ourselves how we can do better. Maintaining the status quo is not something I'm ever comfortable with. From my perspective, it's either innovate or perish."