Share
As of September 2020, 11,200 businesses in New York City alone had shut down because of COVID. At least 7,100 of those closures were permanent, according to Yelp's Local Economic Impact Report. During a year filled with uncertainty and instability, even those institutions that kept the lights on faced unexpected challenges that put leaders at every branch of the org chart on alert. 
Over the course of a very long year, YAI's ability to adapt to the ever-changing needs of people with intellectual and developmental disabilities (I/DD) and its frontline staff has been impressive, albeit exhausting. Managing through the double-barreled obstacles of a global health crisis and associated economic downturn requires what the Harvard Business Review calls "leadership paradoxes." These unexpected combinations of leadership characteristics like "traditioned innovator," and "globally-minded localist" can simultaneously engineer a strategy of solid expansion while demonstrating concern for bread-and-butter obstacles faced by staff.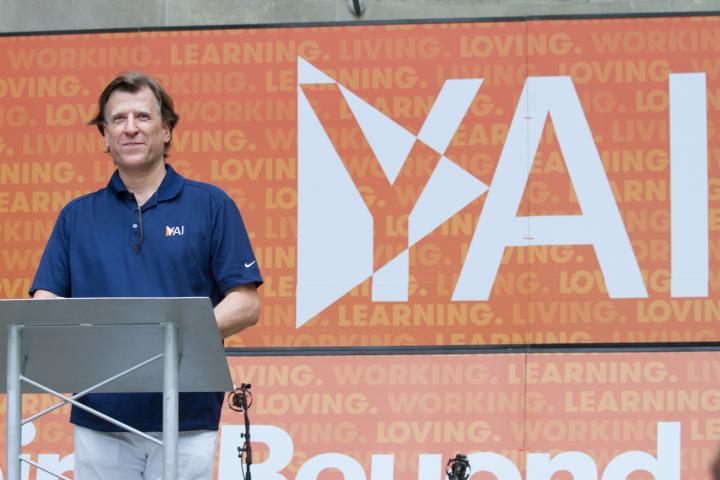 YAI's capacity to manage through the coronavirus crisis has not gone unrecognized. In February, CEO George Contos was named to City & State's 2021 "Nonprofit Power 100," which took on a decidedly pandemic flavor. Describing this year's list, the newspaper wrote, "In a year filled with unprecedented need, nonprofits have stepped up to ensure continued support for vulnerable New Yorkers...The 2021 Nonprofit Power 100 acknowledges the influence of major nonprofits across New York, providing essential social services and advocating on behalf of the sector and the communities it serves." 
Despite uncertainty and a lackluster State budget, services that support people with I/DD have become ever more critical. Running YAI's 300-plus programs throughout New York, New Jersey, and California and managing its more than 4,000 staff poses logistical challenges even in the best of times. But with many of its programs temporarily closing or going remote, YAI had to find new ways to foster a sense of community. 
When George Floyd was murdered last May, CEO Contos held YAI's first-ever virtual town hall, inviting staff to share personal stories of their encounters with systemic racism. More than 500 people attended. That led to a second town hall in the summer of 2020, when Contos elected to create a new senior Diversity and Inclusion Officer role to guide the organization's anti-racism efforts.
"I'm proud to be leading YAI during a time of upheaval because we've identified ways to improve even in the pandemic," Contos said. "The fact that we continue to address employee needs, despite these challenges, is a testament to the ingenuity of the entire YAI team, from our DSPs in the field to our Trustees. Without across-the-board collaboration, YAI's success would not be possible."
Fostering community this year while recognizing the individual difficulties everyone has faced has been critical for avoiding staff burnout. YAI's Knowledge department recently rolled out a self-care toolkit, providing activities for staff to do at home and in their programs. Throughout the month of April, the Human Resources department has offered wellness workshops on conquering fear and anxiety, living in uncertain times, and managing anxiety. These initiatives are on trend. In a recent online survey of 2,051 adults, 80% reported that they intended to be more mindful about regular self-care practices post-pandemic. However, 46% said they were struggling to find ways to maintain their physical, mental, and spiritual health during the pandemic. 
Since the onset of the pandemic, prioritizing staff needs has been paramount, especially since YAI's frontline workers continued to work, day and night, while many of the city's nine-to-fivers dialed in from home. As the pandemic peaked, Contos insisted on hazard pay for frontline staff, despite reduced government funding. Protecting YAI's workforce in order to protect the people YAI supports led to Contos receiving another accolade in 2021: recognition by Crain's New York Business as one of 57 "Notable in Nonprofit and Philanthropy," the same publication that in February listed YAI as the 11th largest health care nonprofit, moving from the number 12 spot the previous year. 
"After everything we've been through, I wanted to make sure that YAI was doing everything it could to support our staff," Contos said. "We cannot provide the best services to the people we support if my colleagues' needs aren't being met all over the agency. Public recognition is one thing, but from a leadership perspective, I consider myself to be a pragmatic optimist, which means that although I need to be realistic about the many challenges and obstacles that today's new normal has created for our field and the people we support, my top priority is to come up with creative ways to position YAI for success long after the pandemic has become a distant memory."