Share
Dental cleanings with Dr. Anna Viron at Premier HealthCare are something Kelvin Flores looks forward to every three months. But that hasn't always been the case. The 21-year-old from Manhattan, who has autism, has come a long way from 10 years ago when just the sight of the dentist office would have him freeze up and refuse to open his mouth.
People with intellectual and developmental disabilities (I/DD) are more likely than those without disabilities to have poor oral hygiene, periodontal disease, and untreated cavities. There are also many people who have never been to the dentist, according to the National Council on Disability (NCD). The NCD also found that due to the lack of specific training among dentists in the United States, dental care is often more difficult to find than any other type of service for people with I/DD.
It wasn't until July 2020 that The Council on Dental Accreditation (CODA) required all dental schools to revamp their curricula to include training their students on proper care for the population.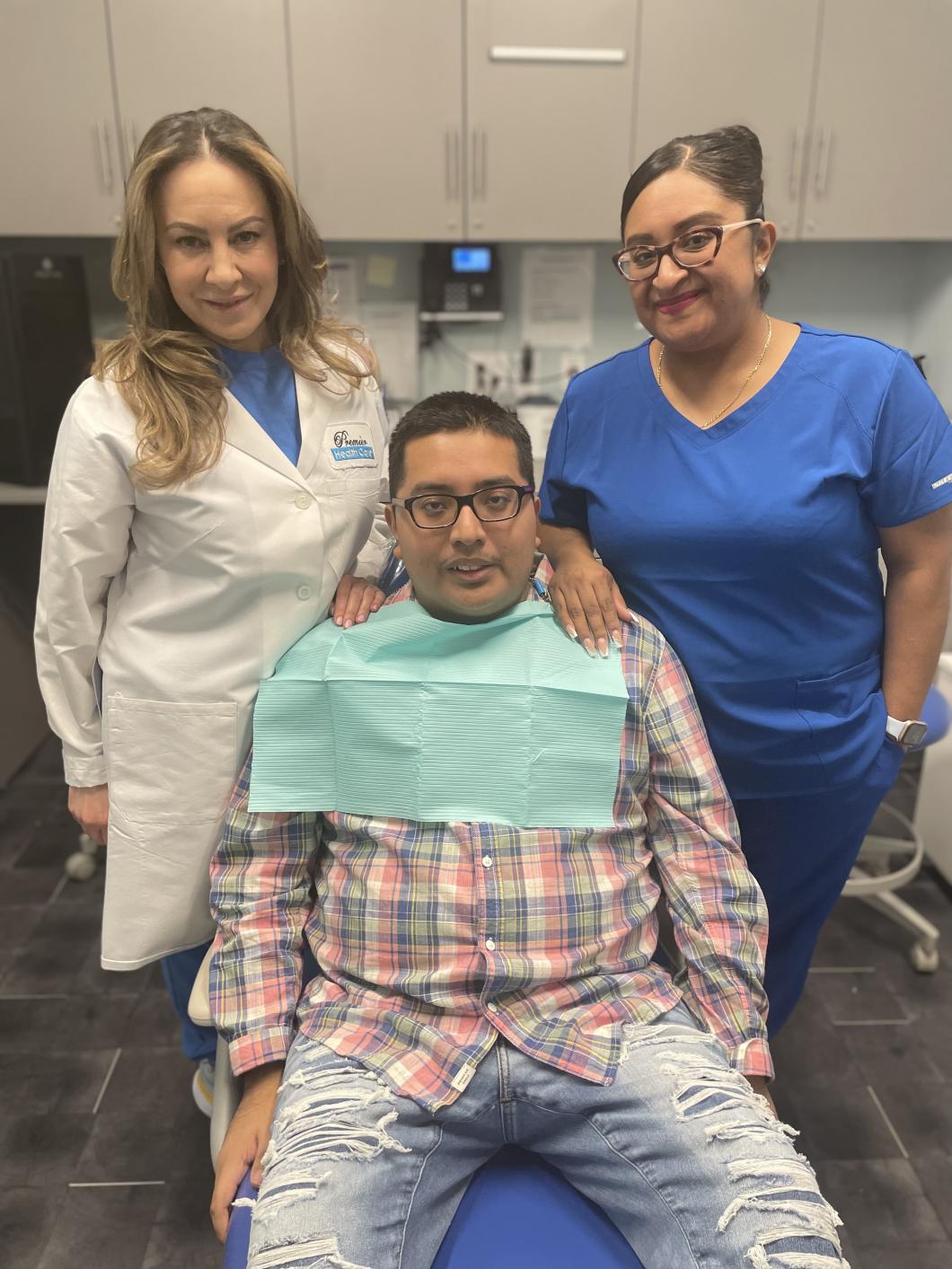 Dr. Viron, Chief of Dentistry at Premier, sees the CODA requirement as a step in the right direction but notes that proper dental care for those with I/DD is more than a one-off experience.
"We need to make oral hygiene accessible to people with I/DD and help them understand that not every visit is going to hurt and that they don't have to be put to sleep," said Dr. Viron, Chief of Dentistry at Premier. "Facilities like ours have specialized dental professionals who are equipped to handle their specific needs and who have gone through sensitivity training."
The dental program at Premier HealthCare, a YAI affiliate, has been a leader in changing this narrative long before the recent national mandate. Since 1994, Premier has offered comprehensive dental care for both adults and children with I/DD and currently serves more than 8,000 patients across four New York-based clinics.
For Aedan, 15, visits to the dentist mean he gets to spend time with one of his favorite people – Allison Manalastas Valeriano, his occupational therapist. Before Premier, going to neighborhood dentists proved to be traumatic for the teenager, who has Down syndrome and experiences sensory overload, making it impossible to have regular dental visits.
Flores and Aedan are two of many people with I/DD who face an uphill battle when it comes to finding dentists who are adequately educated to treat their specific needs due to the lack of proper training and exposure to the oral health needs of this vulnerable community.
"Consistency and frequency are so important for this patient population because it helps them develop a relationship with the providers and gives them a sense of safety in their daily routine," said Dr. Viron. "They begin to associate oral health with a positive experience and look forward to coming back."
Part of what keeps patients coming back is Premier's desensitization program, offered by the clinic's occupational therapy department. The program created more than a decade ago, is a unique and gradual approach to tolerating dental procedures that reduces anxiety about going to the dentist. Some techniques include getting the person familiar with the dental office and the equipment in the room and introducing a visual schedule that lists the parts of the visit in sequential order.
"A lot of the patients have sensory issues, so they wear sunglasses that help them tolerate the overhead lights or wear headphones to drown out the drilling noises, or some even wear weighted blankets to calm themselves," said Manalastas Valeriano, Occupational Therapy Supervisor at Premier. She has been working with Aedan for the last six years and accompanies him to all his appointments.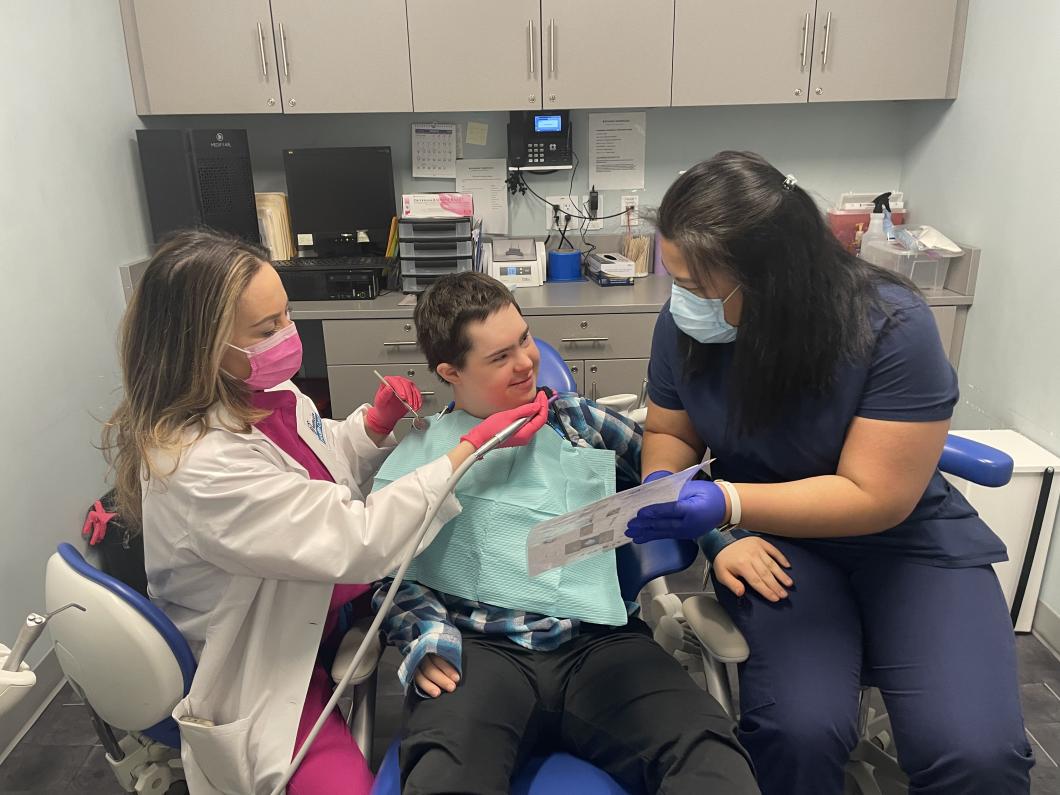 In Aedan's case, small wins have gone a long way. Whether it was finally getting comfortable enough to sit in the patient's chair and have it recline, allowing Dr. Viron to put a bib with metal clamps around his neck, or even tolerating the bright overhead lights, progress has been steady. Today, Aedan can successfully sit through an entire cleaning and beams a smile from ear-to-ear whenever he sees the familiar faces that have helped him get to this point.
Flores, too, reached a milestone during his recent checkup when he sat through X-ray scans of his teeth for the first time. A feat that took more than five years to achieve.
The goal is to eventually have the patients independently navigate their appointments without fear.
"Dr. Viron and her team have empowered Aedan and made him a partner in his treatment...it has had a positive spillover effect to his other medical appointments and procedures," said Jordana Mendelson, Aedan's mother. "They approach him with patience, kindness, and compassion, and it has been life-changing for my son. I can't imagine taking any other path with his dental health."