MAC (Mainstreaming At Camp)
MAC Virtual Camp 2020!
The MAC Team is looking forward to the various fun activities we have tailored to the virtual experience, and we are excited to connect with your camper. Each week highlights a summer camp theme with creative activities planned, each with the goals of keeping campers engaged, connecting with others, and having fun! As always, the health and safety of campers is always our top priority.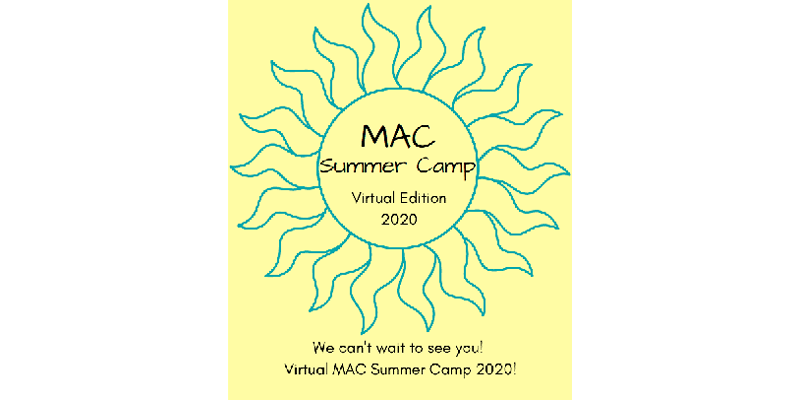 MAC will be meeting virtually on ZOOM - Tuesday, Wednesday, Thursday, and Friday at 11am - 12pm and 1pm - 2pm.
Week 1: August 4 - August 7
Week 2: August 11 - August 14
Week 3: August 18 - August 21
Week 4: August 25 - August 28
---
Register for ANY week(s) of virtual MAC camp and you will also be invited to our Bonus Book Club!
Listen to Harry Potter and the Sorcerer's Stone
Meet on Zoom from August 5th - August 29th | Wednesday & Saturdays at 3:00 pm - 4:00 pm
---
For more information about the camp schedule, activities, registration, and tuition check out our Virtual Summer Camp information packet.
Step 1: Submit the optional Campership Form to receive financial aid.
Step 2: Register online at: give.yai.org/event/virtual-mac-camp
Step 3: A link to the Service Agreement and Media Release will be sent via email. Complete and submit Service Agreement and Media Release.
Step 4: Zoom Instructions & Log In information will be emailed to you. Each week has a different Password.
Step 5: Log into Zoom on the designated dates and times for virtual camp!
It is NOT required that campers attend every virtual camp session for the weeks they are registered. It is suggested to attend as many as possible.
Please contact us if your camper is unable to attend a session or will be late so we can plan the activity accordingly.
For more information about the camp schedule, activities, registration, and tuition check out our Virtual Summer Camp information packet.
Our campers are a part of Frost Valley YMCA summer camp where all children are placed in villages. MAC villages participate in all activities with the typically developed campers including but not limited to meals, waterfront, choice periods and the large "All Camp" activities.
The most important thing is that the camper wants to be at camp. This means they enjoy social settings, as most of the camp activities and scheduling is dependent on this.
Most campers in the MAC program:
Are 8 – 18 years old
Are able to be successful in at 3:1 (camper: staff) ratio
Are able to use the bathroom independently
Are able to communicate when they need help
Desire to be a part of a group of peers
Desire to try new things and follow a schedule of new & exciting activities with others
We are gathering information and advice all along our intake process. We get in touch with schools/extracurricular activities to speak to the child outside of the family unit. We know that for most MAC campers, knowing what to expect helps them feel less anxious about something new. We share detailed descriptions of a typical day at camp. After registration our campers and their parents/guardians will have a chance to meet each other and our staff in the spring at our Orientation day in Manhattan. Additionally there are three open houses at Frost Valley YMCA which we encourage our families to participate in. This provides the opportunity to see the physical layout of camp.
It is important to us that you know your child is safe and happy at camp. That is why our leadership team works hard to keep communication open during the summer sessions, within the first 48 hours of camp our on-site leadership team call with a report of how the transition to camp is going with each camper. In addition, we will call you if we have any concerns about your child's success at camp. We also participate in a password protected photo sharing website so that families can log in to see the activities and happenings of camp.
Everyone adjusts differently and symptoms of missing home present differently in all of us, this is why we gather a lot of information. If anything seems out of the ordinary we will call to get family input. Campers that overcome challenging beginnings tend to enjoy camp even more and have discovered and used coping skills they may have never known about without the experience.
Bullying in MAC, and at Frost Valley YMCA as a whole, is not acceptable. We work very hard to create a safe nurturing environment for —campers and staff included—and any attempt to disturb that is taken seriously. There are steps taken to support everyone, but if anyone is unable to commit to contributing to a positive experience it may lead to them being removed from the environment.
All of our campers age 8-18 live in lodge style housing with private bathrooms, hot water and showers. Campers have plenty of space for clothes and other personal items. Each lodge is broken into rooms of 4 totaling 16 campers and 4 live in staff. STEP participants age 18-24 live in dormitory-style housing, 2 or 3 to a room with supervision in separate rooms.
Laundry is done twice during the stay at camp, typically on the first and second Wednesday of the session. You will only need to pack enough clothes for about 7 to 10 days. Our older campers (sometimes) and STEP members do their own laundry in order to work towards independence goals.
Three hot, wholesome meals are served daily. The dining hall offers a vast array of options from the typical kid fare to organic, gluten-free, dairy-free, and vegan options. Care is taken to meet the dietary needs of all of our campers. Fresh fruit is available all day long. Chartwells Educational Dining Service creates the menus, ensuring that each meal is nutritionally balanced. Candy and soda are not served or sold in the Camp Store
Yes. There is an infirmary with a registered nurse who is responsible for administering each child's medication. Counselors are aware of when each child's medication is to be given. The camp nurse is the only staff member to pass out medication.
Coach buses will be departing and returning at the designated bus location. The buses are fully staffed with the camp counselors who work hard to ensure everyone is feeling comfortable. Camp truly begins at the bus stop.