NIPD/NJ (New Jersey)
Founded in 1998, NIPD/NJ is a rapidly growing provider of residential and family support services in New Jersey. With an emphasis on providing opportunities for individuals to live as independently as possible, NIPD/NJ offers supervised and supportive residential programs in New Jersey. Currently, the agency operates 10 supervised group homes, 10 supervised apartment programs, and one supportive apartment in Bergen County. The agency is also a Support Coordination agency in Sussex, Hudson, Essex, Somerset, and Warren counties.
Other NIPD/NJ programs include: 
In-home respite services (DDD and DCF) that support families in their efforts to keep family members with I/DD in their own homes. 
Our Coffee House program, which provides recreational and social activities for adults. 
A skill-building and support program for adults to work on their social skills. 
NIPD/NJ currently provides services to approximately 200 individuals. We are firmly committed to helping the people we support achieve their fullest potential for independence, individuality, productivity, and inclusion in their communities.
---
FAQs
In order to receive services from NIPD/NJ, somone with I/DD must be registered with New Jersey's Division of Developmental Disabilities and be deemed eligible for services. It will also require that the person be Medicaid eligible since the services provided will be paid for by Medicaid.
Once approved for services by the Division of Developmental Disabilities, you will be assigned a Support Coordination Agency/Support Coordinator. Based on your individual needs, a budget will be assigned to you for services. You can then request that the Support Coordinator explore program options with NIPD/NJ.
No. The state requires each provider agency to have a "Conflict of Interest" statement which prohibits any agency from providing Support Coordination in any county where it is also providing a program service.
NIPD/NJ currently operates 10 residential sites along with 10 supervised apartments.  These programs are staffed 24hr/7days a week. The capabilities of the people the agency supports residentially varies by each program. The agency believes in a person-centered model and makes every effort to ensure that each person's needs, desires, and goals are met within their program. The agency also operates a supportive apartment model where an individual lives independently with some staff support, but not 24hr/7 days a week.
Services for the people we support are funded through either New Jersey's Division of Developmental Disabilities Supports Program Medicaid Waiver or the Community Care Medicaid Waiver. In order to be eligible for the funding provided by these Waivers, a person must be registered with the Division of Developmental Disabilities, be eligible for services, and have Medicaid.
There are an array of career opportunities at NIPD/NJ, with flexible schedules and great benefits. You can see all of our current opportunities on our careers page.
Yes, YAI provides opportunities for people to volunteer. We can work with people individually to assess areas of interest and will work to tailor the experience to meet each person's desires. Please visit yai.org/volunteer for more information.
Thank you for considering making a financial gift to support NIPD/NJ's mission and services. Your generosity helps ensure the people we support continue to receive the customized services they need, and are able to live life on their terms. There are a number of ways you can give; please visit our donation page or call 212.273.6350 for more information.
---
Read a true story that embodies the amazing things that are happening at NIPD/NJ every day. 
---
Meet Mary in New Jersey
Mary lives in our Westwood apartments. She always kept to herself and preferred spending time with her mother, rather than attending recreational and other important activities that we offered.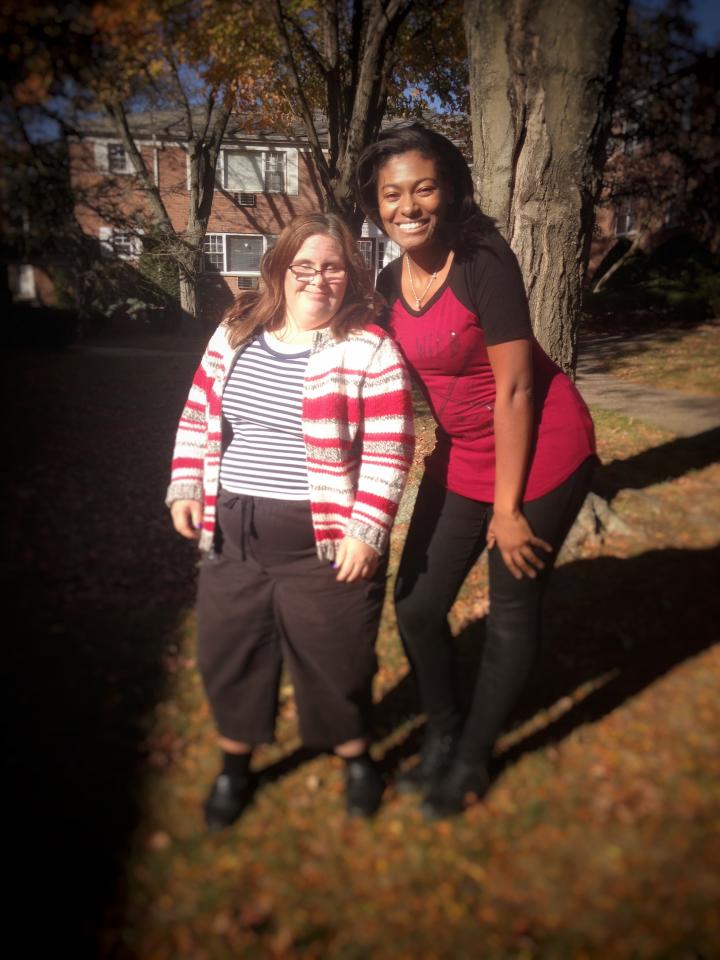 Enter Direct Support Professional Brittany Fairweather. Thanks to Brittany's efforts to help Mary feel safe and welcome, Mary has a whole new outlook on life. She is now taking on a host of activities she previously relied on her mother to accomplish, like food shopping, laundry, attending appointments, cleaning and, yes, even enjoying recreational activities like visiting Liberty Science Center. What's more, Brittany takes the time to be in contact with Mary's sister who lives on the West Coast, ensuring regular communication and a deeper bond between the sisters.
"The services that Mary has received and the extraordinary caring attitude of the staff, especially Brittany, has made all the difference in the world for my daughter," said Mary's mother recently. "To see Mary living a full and happy life is a dream come true."
Mary's story is just one example of how people with intellectual and developmental disabilities can live truly enriched lives with support from the staff at NIPD/NJ.