A Perfect Fit at Old Navy
As we continue to celebrate National Disability Employment Awareness Month, we're proud to share another successful employment profile.
Bari Winters is extremely knowledgeable about the Old Navy brand and its merchandise.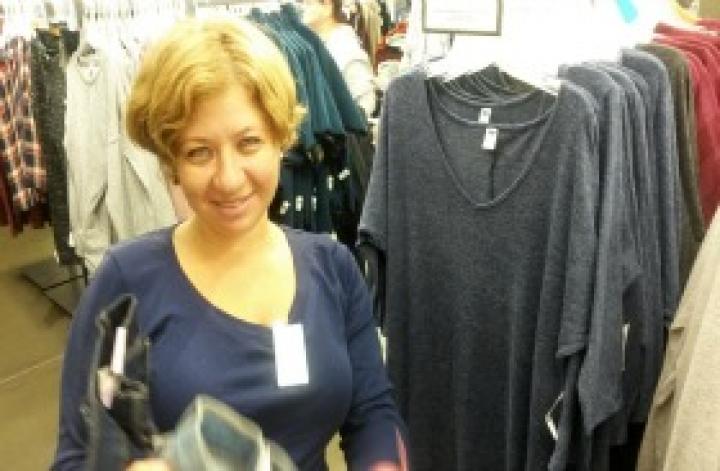 "There's Rockstar, curvy, boyfriend, boot cut," she says, barely taking a breath as she describes the Old Navy brand of jeans and styles. She knows which run large or true to size and is quick to add, "and you get 40 percent off!"
It was that passion, which landed Bari in what she calls her "dream job" at Old Navy one year ago. She helps customers find what they're looking for, sorts and folds clothing and helps wherever she is needed. "If you open an Old Navy credit card, you'll get an additional 15 percent off your first purchase. That's in addition to the 40 percent discount," she says.
Kim Pantin, Bari's job coach from YAI's Brooklyn Employment/Day Services, recalled sitting in on the interview.
"The woman conducting the interview didn't know that Bari was going to talk about the brand and product," Kim said. "It was amazing to see. Afterward, I knew she was going to get the job."
"When we did interview preparation, Bari didn't mention that she knows Old Navy this well," said Cary Williams, YAI's Marketing Representative for Employment/Day Services.  "It was a pleasant surprise."
Today Bari, who came to the YAI's Brooklyn program in 2012, couldn't be happier in her job at Old Navy's store at 6th Avenue and 17th Street in Manhattan.
"YAI helped me get ready for interviews," Bari said. "Staff taught me how to talk to customers, dress for a job, interact with colleagues."
Bari is confident and it shows as she interacts with the customers.
"I love it here," she said. "I recommend Old Navy, if they don't have your size on the floor, I can go in the stockroom or page someone to get me your size."
Old Navy couldn't ask for a better brand ambassador.