YAI Long Island Named a Top Workplace of 2019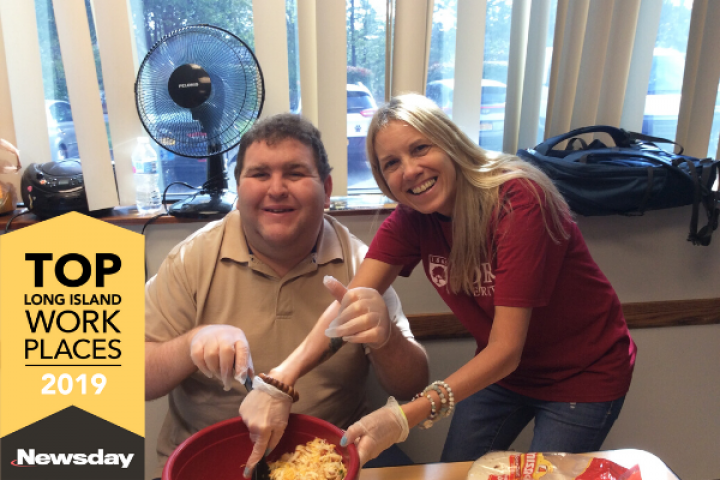 On October 27, Newsday honored YAI's Long Island region with a Top Workplaces 2019 award. Long Island, where more than 500 of YAI's 4,000 staff are employed, offers a full range of services to people with intellectual and developmental disabilities (I/DD) including housing, socialization programs, and vocational training.
The Newsday recognition is based exclusively on employee feedback gathered through an anonymous third-party survey. The survey measures various aspects of work culture, taking into account various measures that contribute to a positive and productive work environment.
"The Top Workplaces award is about much more than recognition and celebration," said Eric Rubino, CEO of Energage, the third-party research partner that administered the survey. "Our research also shows that these organizations achieve higher referral rates, lower employee turnover, and double the employee engagement levels. It just goes to show that being intentional about culture delivers bottom-line results."
Decreased staff turnover and higher employee engagement are two of the crucial factors that set YAI apart from other human services nonprofits.
"In organizations like ours, a healthy work culture is paramount," said George Contos, CEO of YAI. "Staff that know they are supported and recognized aren't just happier, but they're also more likely to stay. While staff retention is important for any employer, it's especially critical in our field. For people with intellectual and developmental disabilities who rely on direct support staff for their everyday needs, that continuity of care is essential for their stability and peace of mind."
Mary Brady, YAI's Regional Director for Long Island, emphasized the importance of creating a strong culture of collaboration. 
"People always remark on how organized we are in terms of structure and training," Brady said. "The other day I was visiting our Huntington program and a supervisor from our Bay Shore program came in. It turned out that she was getting training from a veteran supervisor at Huntington. There's such a great team mentality here."
Brady added that YAI's most senior leaders on Long Island have been with the agency for 30 years or more, creating a sense of camaraderie throughout the region. Moreover, employees at every level are recognized for the work they do and are given many opportunities for advancement.
"Working in I/DD services can be demanding, so it's critical to let staff know what a great job they're doing – I feel like you can't say that enough," she said. "Most importantly, we train and promote from within, so there are always opportunities from growth, no matter where a person starts in the agency." 
Not only is a healthy workplace great for staff, but Brady pointed out that employee satisfaction also carries over to the approximately 1,000 people who receive services from YAI on Long Island.
"I like to remind staff of the importance of their work," she said. "People can get burnt out and frustrated in this field and lose sight of the bigger picture, but I always tell them, even on the bad days, that they're doing good work making people's lives better. We should never lose sight of that."