Center for Innovation and Engagement
Share
YAI's Center for Innovation and Engagement understands how technology can help people with intellectual and developmental disabilities better participate in their community. People of all ages use mobile devices to communicate, listen to music, complete courses, play games, travel, and pay bills. With training, those who receive support from YAI can develop the independence to do so as well.  
The Center for Innovation and Engagement is focused on empowering people in four key areas: 
Home: environmental control devices for those with limited mobility to control doors, lighting, temperature, and electronics.  
Safety: assistance for the medically fragile to address risks from falling, wandering, cooking, and medication management.  
Health: devices that monitor heart rate, calories burned, steps walked, blood pressure, and exercise customizable to individual needs.  
Community: access to online learning, travel, music, game-playing, and finance.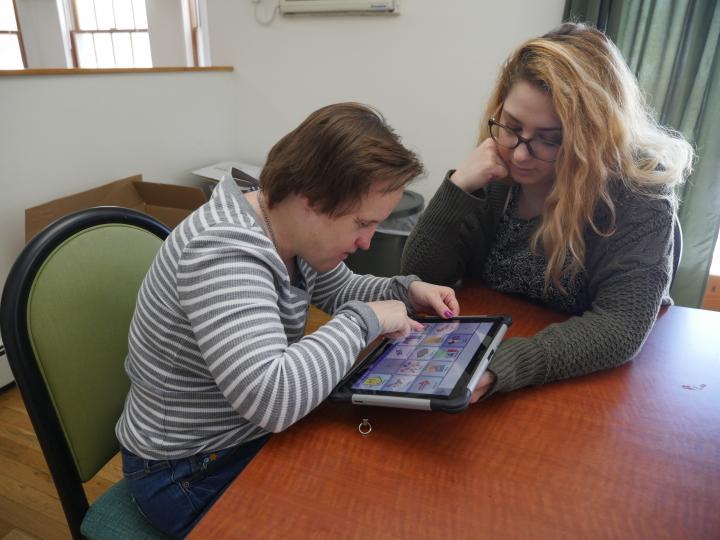 Our goal is to empower people looking to improve their quality of life and gain greater independence. Using YAI's person-centered approach, we work to identify people interested in technology and collaborate with those interested in learning how adaptive technology can help. Instead of using "out of the box" technology solutions, the Center will use new ideas that will match a person's needs and desires. 
Key steps in connecting people to technology to support their lives are: 
Working with people to identify where they aim to gain more independence. It might mean new ways of managing medication, help with meal preparation or housekeeping, or better ways to navigate public transportation. For someone who does not use words to communicate, it might mean a device that converts emotions into language. Or it could mean something entirely new that could only be realized through a novel use of adaptive technology.  
After the assessment is complete we will then equip participants with the technology (whether a device or an application) and train them, their supporters, and their families, in its use.  
We will be using feedback and data to determine how well it's working, to see if different or additional support is needed. This information will help the Center understand how the use of adaptive technology can be expanded for others throughout the YAI Network and beyond. 
The Center's work is supported by the Stavros Niarchos Foundation (SNF), Mother Cabrini Health Foundation, and the Gladys Brooks Foundation.
For more information about the Center for Innovation and to learn how you can support the Center:
Please contact us at innovation@yai.org