Share
Many people view aging with a mixture of resignation and anxiety. According to a 2018 Forbes article, people worry about staying in their own homes, maintaining a sense of purpose, and having a space that works for changing physical needs, among other concerns. For people with intellectual and developmental disabilities (I/DD), those fears are often compounded by comorbidities and the lack of residential opportunities. This dearth of adequate housing is a problem that will get worse in the coming years. In fact, the number of adults with I/DD ages 60 and older is projected to nearly double from 641,860 in 2000 to 1.2 million by 2030.
Throughout New York and many other states, the majority of new residences that are opened for people with I/DD focus on "aging out," which means welcoming students who have finished school, entered young adulthood, and need a place to live. Older adults who have lived in the same homes for decades but now have changing needs that cannot be accommodated where they have previously lived are often put in difficult situations. They are either forced to rely on more support in their current homes or are uprooted entirely and perhaps put in nursing homes.
In May, YAI saw a project two years in the making finally come to fruition—the organization's new Astoria Manor is home to 14 people with I/DD, including eight older residents who had previously been living in other YAI homes.
"It's very, very hard to open up a place for seniors," explained Vonny Ng, Program Director for YAI's Queens region. "YAI made an agreement with OPWDD [New York State's Office for People With Developmental Disabilities] where they approved for us to open up a barrier-free residence for eight of our internal seniors and in return YAI would take eight students who aged out of residential schools, and then those eight people are placed in the programs that the seniors moved out of."
Thanks in part to YAI's size, the organization is often able to accommodate elderly residents in ways that smaller agencies cannot. Even so, having the opportunity to create a new, fully customized space for seniors is a rarity. And according to Chief Program Officer Ravi Dahiya, housing stock will continue to be a limitation for all agencies operating in New York City.
"In New York City, a lot of the housing is vertical. It's not something you can expand horizontally. It just isn't in the real estate," Dahiya said. "So when we were awarded opportunities for people who were aging out of residential schools, we took that opportunity to say, 'What if we were to move those people into existing residences and create brand new residences for people in our existing residences who needed barrier-free?'"
Barrier-free design maximizes a person's ability to access and use their home independently. The space in Astoria turned out to be the ideal setting, and the eight residents were eager to move in and get settled. In addition to having features built into the house for their increased comfort and independence, the new space came with an added bonus for the home's two preexisting couples—privacy.
For Joan Rosenberg, who has been receiving services from YAI since 1977, the new home is just what she and her partner Melvin Kaplan had been waiting for.
"I love it here. It's got a nice bedroom. More privacy. We have a lot of stores across the street," Rosenberg said.
Kaplan agreed, noting the reduced noise compared to the couple's former residence.
"It's nice, it's quiet, comfortable," said Kaplan. "I'm glad I'm here with everybody. I love this place."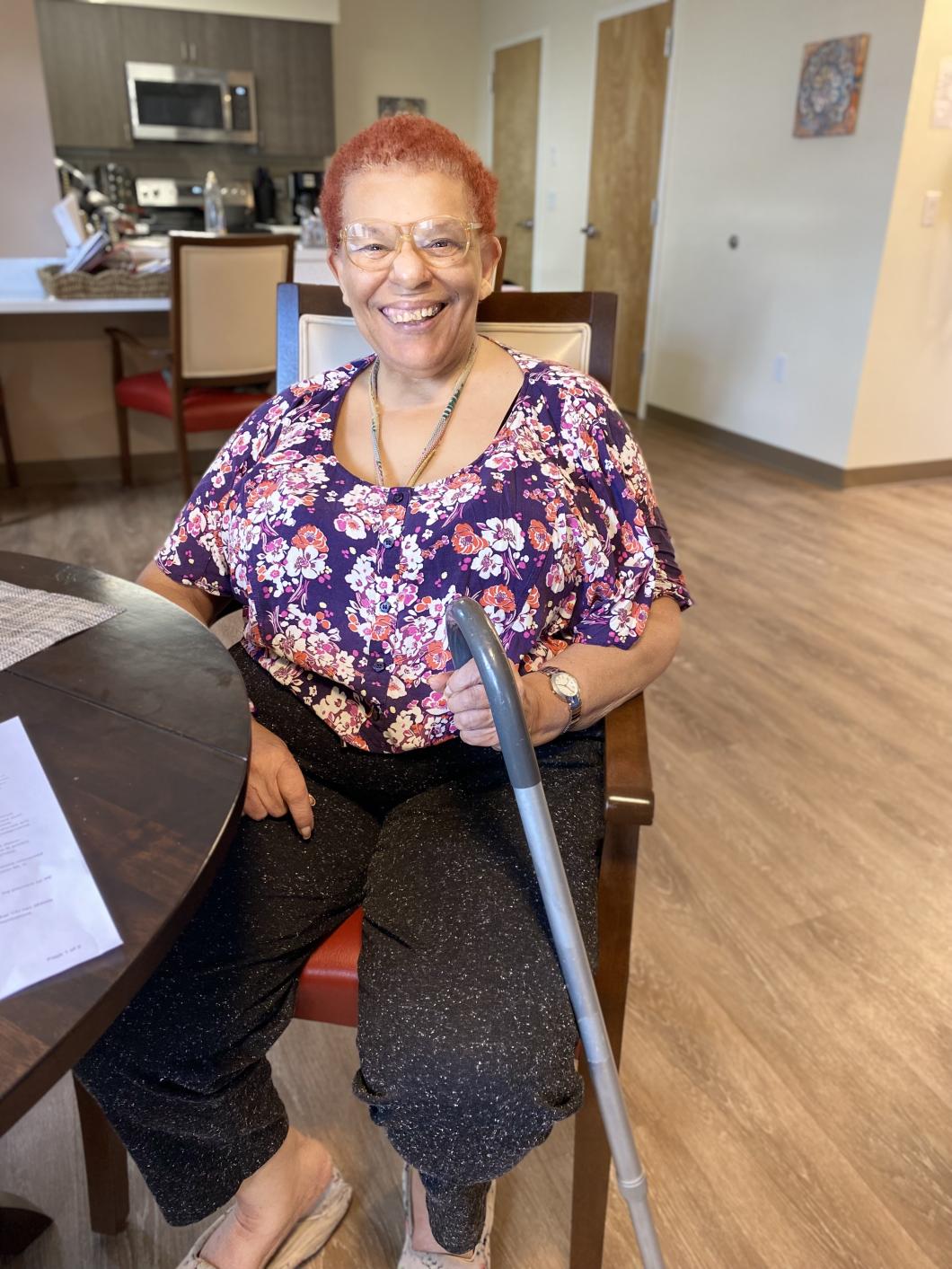 Despite the clear benefits of creating homes to accommodate the different needs of people as they age, the opportunities to create such residences remain scarce. However, something is going to have to change. According to the Institute on Community Integration, "While this generation of older adults with I/DD has generally had few opportunities to make their own choices regarding their daily lives...the next generation of adults with I/DD and their families is likely to have higher expectations from the service system...The generation that has received mandated school services has grown to expect more options in the community, more consumer-direction in services, and more support for aging in one's home setting."
Dahiya agrees, emphasizing that YAI will continue advocating for similar opportunities, despite potential roadblocks.
"There are people who have been living [in YAI residences] for 35, 40, or 50 years. When they came to us they were young but not anymore," said Dahiya. "More barrier-free opportunities need to be created because people are living longer. And that's a good thing—it's a good problem to have, to have to find ways to create these opportunities...[With the Astoria residence opening] we created a win-win situation for everybody—not only for the people who needed this, but people coming into our programs, OPWDD, and for us. Everybody benefitted from this process."