Share
On a recent October afternoon, Charles McBean, dressed in a black suit, crisp white button-down shirt, and silver tie, walked into Bank of America's Midtown Manhattan offices to sample one of the challenges of 21st century living: the job interview. This day of mock interviews, designed in partnership with YAI and Bank of America, allows neurodivergent candidates to practice their interview skills and get critical feedback on how to successfully land a job.  
After 22 years working at a Manhattan law firm, the 43-year-old Bronx resident is ready for a career change. His dream job is to become part of the grounds crew at Yankee Stadium. "I am good at communication, problem-solving, sorting mail, and I bring years of experience and my loyalty to the job." 
McBean represents a growing number of people with intellectual and developmental disabilities (I/DD) who are gainfully employed across all sectors of the job market. According to the Bureau of Labor Statistics, in 2021, 19.1 percent of people with a disability were employed, up from 17.9 percent in 2020. Moreover, the number of people with a disability aged 16 to 64 who are currently working was more than 5.8 million in September 2022, up from 5.5 million in the summer, and accounting for nearly 4% of the overall American labor force.  
The pandemic, the labor shortage, and the normalization of remote work are all contributing factors for this welcome news. More employers who are up against a tight labor market and low job retention are now seeing how accommodations for people with disabilities can expand their talent pool, as reported in the New York Times. 
"The pandemic was a blessing in disguise for people with I/DD who are ready to work," said Bonnie Holtzman, Deputy Director of Employment Services at YAI. "Companies were forced to look at the people we support as viable candidates when others didn't want to work." 
By building corporate relationships, YAI exposes employers to people with cognitive disabilities and gives them support to open the workplace to neurodivergent employees.   
"Many times, you don't have the opportunity to get developmental feedback from the interviewer," said Holtzman. "But it's a two-way street because employers don't always know how to ask questions in a way that works for people with disabilities. Many times, the people we support are not comfortable asking an interviewer to rephrase a question to avoid highlighting the fact that they have a disability." 
Each candidate was paired with a Bank of America professional who practiced sample interview questions prepared by YAI and after the exercise filled out an evaluation form about the interviewee. 
McBean and others will incorporate those recommendations in their job searches.  
"We spend a lot of time making sure we are making the right matches," said Holtzman. "We say if you go to work and it doesn't feel like work, then you are in the right place."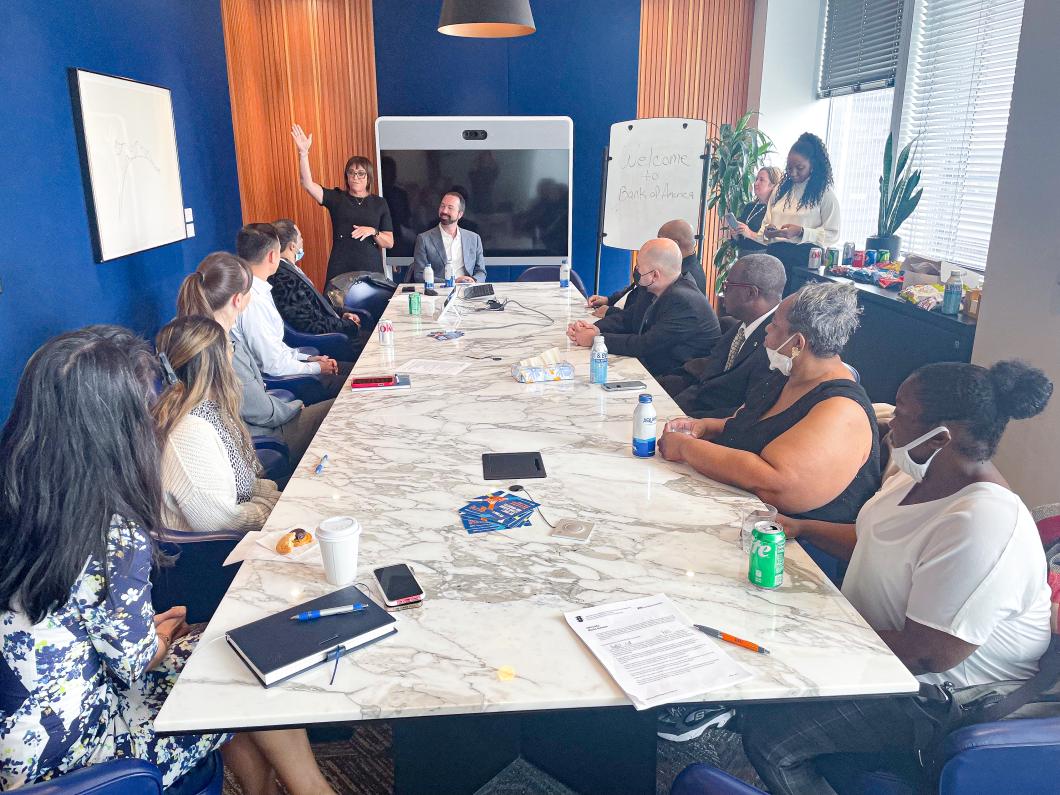 With skills-building activities that range from volunteer activities to pre-vocational training to on-the-job coaching, YAI's supported employment program helps build careers for more than 400 program participants. Job coaches conduct trainings that encourage employers to hire jobseekers with I/DD. Additionally, jobseekers work with their coaches who both assist and advocate for their needs.  
"Some employers think hiring someone with I/DD is going to be too much work. They don't understand that each YAI candidate comes with an entire agency to support them," said Holtzman. "I always ask to folks 'how much do you know about the person you are hiring off the streets? Probably not as much as you will know from someone you hire from our program.'" 
Through initiatives like the mock interview day with Bank of America, YAI continues to place people with I/DD in meaningful jobs that they can thrive in. 
"The people we support are looking for long-term careers and in this kind of climate, that's a priceless goal," said Holtzman. "It's important to expose them to as many opportunities as possible and also important for employers or potential employers to be exposed as well because it's never going to be the picture they had in their mind."