Share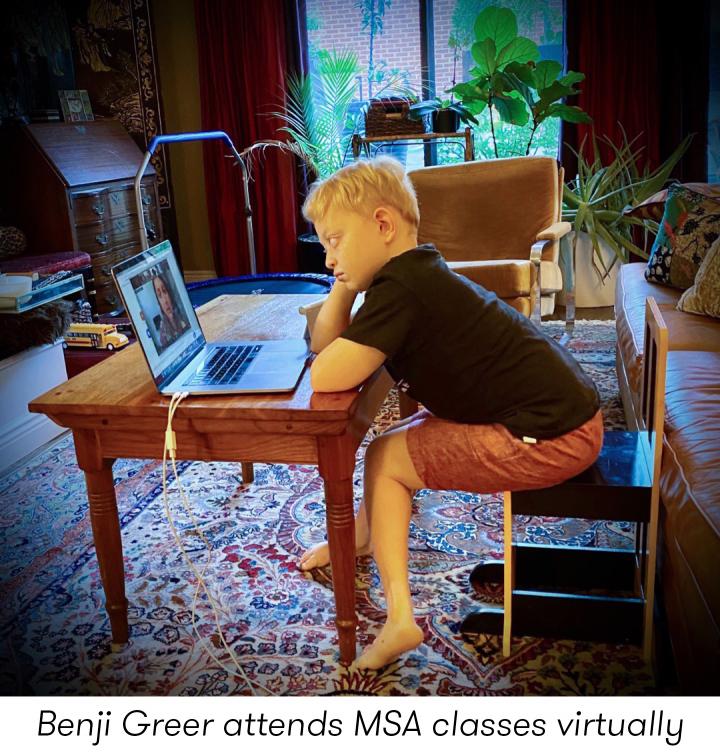 Not even the pandemic can stop the back-to-school spirit from energizing YAI's two affiliate schools. Though online learning took parents and students by surprise in March, a summer of preparation has brought focus to virtual learning platforms at the International Academy of Hope (iHOPE) and Manhattan Star Academy (MSA). While the school facilities were being retooled for distance and safety, curricula were revised for the COVID era as well. 
For some students with intellectual and developmental disabilities (I/DD), this new normal may provide advantages. A 2020 study in the Journal of Pediatric Nursing explained that due to the shift to online learning, some students with I/DD have benefitted from the combination of synchronous and asynchronous learning.
Specialized instruction taken from his son Benji's Individual Education Plan gave MSA parent Steve Greer great confidence in the adaptability of online learning. 
"The flexibility had been the best, because the whole team of therapists came in with a plan each week that could swerve in ten different ways based on Benji's needs," Greer said. 
In the wake of the pandemic, Jessica Kreisler, Curriculum Coordinator and Education Supervisor at MSA, recognized the value of scrapping synchronous learning for students who would be quarantining at home and develop curricula based on individual learning goals for the year. 
But lessons weren't the only things that needed to change. To curb any anxiety students may have felt, both iHOPE and MSA provided instruction and training to parents and readied their facilities for social distancing in-person. MSA developed a parent portal chock full of video lessons and packets that parents could mimic when following along with virtual lessons. The portal morphed into individual academic sessions, which have become a hybrid experience for the Fall semester. 
Teaching Assistants were a part of the learning process before the quarantine and will be returning in the new semester. MSA's hybrid model will rely on alternating cohorts, with the first attending classes in-person for a week and then trading off with the other. Classroom size will be capped at 10 students at any given time, according to Rae Eisdorfer, Executive Director at MSA. 
"Separate desks, a tremendous amount of PPE, N-95 masks for staff members, social stories, we are implementing it all," Eisdorfer said. 
Both MSA and iHOPE will have isolation rooms just in case a student or staff member feels symptomatic, with staff members always required to use PPE. All people who walk into either school will be subject to temperature checks and a questionnaire examining symptoms and activities over the last two weeks. iHOPE students have brain-based injuries and can be medically fragile, so class sizes will be reduced to two or three students, caretakers, and the teacher. Staff members will also have designated closed-off areas where they can take breaks and remove their PPE during the day. 
"We are only allowing a limited amount of people inside at a given time to ensure that we only have to isolate a limited number of people instead of the whole school," explained Mayra Diaz, Associate Program Director at iHOPE. "We are going so far as to only use rooms that have windows to help with ventilation." 
A recently-published article in the New England Journal of Medicine explained how a loss of in-person schooling for students with I/DD can result in severe losses in socio-emotional and academic learning. Pair this with the dynamic nature of COVID-19, and you have a recipe for uncertainty. Issues like this play into why parents, including Greer, go back and forth in their embrace of the hybrid model. 
"It depends on when you catch me. I'm excited for him to be more independent, to get his social time back, and to receive the feedback from teachers without the filters of all of us," Greer explained. "But I'm nervous about opening up the bubble. It helps to know they can turn around and reimplement the plans from the summer, but I also worry about unintentional human error that could potentially expose people to COVID." 
Greer appreciates the hard work of Benji's team of educators and the insight teaching Benji from home has provided him. 
"This experience has been a tremendous gift to see how he learns and understand him better, why he is the way he is," Greer said. "It's as crazy, unexpected, and it opened a whole wing to my child's life I just never had access to."