Share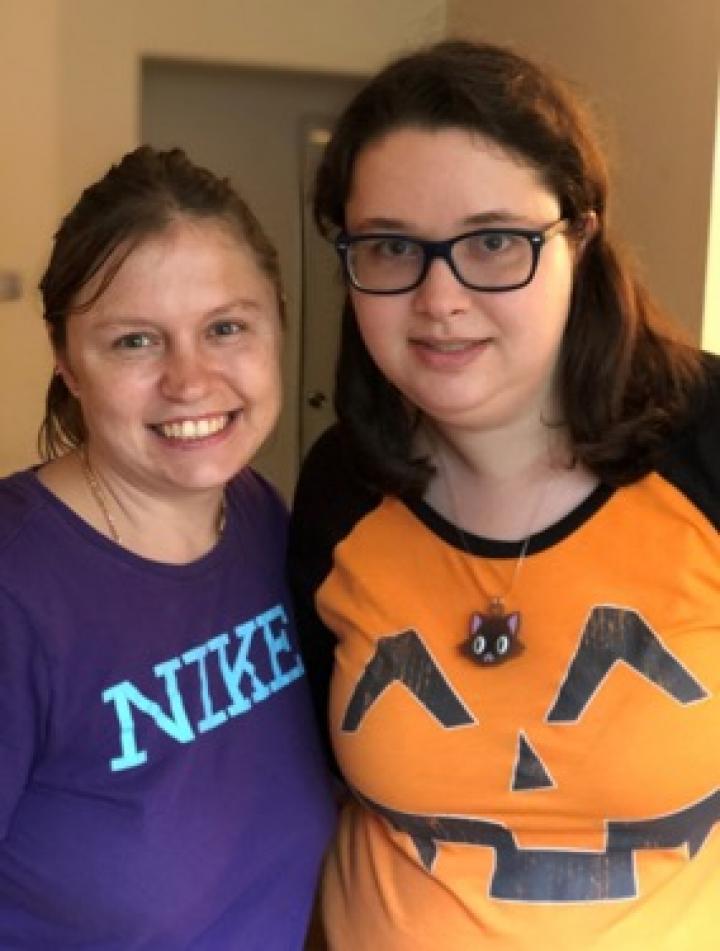 Even as the sky darkened and puddles collected on the lawn of their apartment complex in Westwood, New Jersey, Lisa Zabielski and Jenna DeNoble didn't let the weather drown out their Halloween plans.
"We love having friends over, so we're throwing a Halloween pizza party tonight," Zabielski said, smiling. "We'll have a bucket of candy and put on some movies so no one has to go out in the rain."
DeNoble contemplated aloud which decorations to put out: skulls or black cats? Skulls, they agreed.
Since May 2019, Zabielski and DeNoble have lived as roommates in Westwood Hills Apartments where YAI affiliate agency, the National Institute for People with Disabilities of New Jersey (NIPD/NJ) manages 10 supervised apartments that house 16 people with intellectual and developmental disabilities (I/DD).
Diagnosed with I/DD as children, the two women bonded over their shared drive to live life on their own terms — something both had been denied, to varying degrees, throughout their lives.
Around the world, girls and women with I/DD face an uphill battle getting the support needed to lead healthy, independent lives. According to a 2013 study by the American Association of University Women regarding special education access, girls with I/DD are often undiagnosed and overlooked because their disabilities manifest differently from boys, who typically display more external behaviors. Worse, a 2012 study by the World Health Organization showed that, even when their disabilities are identified early on, girls and women are more vulnerable to abuse and neglect than males with I/DD.
For Zabielski, who was born in Poland in 1981, these findings hit especially close to home.
"When I was two, my little sister and I were put into an orphanage," she said. "When I got there, they thought something was wrong with me, so they separated us and moved me to a place where the people were very disturbed. We weren't reunited until an American family adopted us when I was nine."
Despite their reunion, their seven-year separation left a painful mark. 
"I was really unhappy for the longest time because, when they took me away, we couldn't keep in touch," she said. "When I saw her again, I didn't know who she was. Everything felt so weird — I was in a strange country where I didn't know anyone or speak any English."
But, with help from her adoptive parents, Zabielski began to find her way. Though she was formally diagnosed with an intellectual disability soon after her adoption, her parents were undaunted.
"My adoptive dad learned some Polish and would teach me words by pointing at things and saying the Polish and then the English word," she said. "My parents also hired a tutor who helped me learn English in six months."
Even as Zabielski began to adapt to her new home, in school, she continued to struggle with feeling alienated. Once again, her parents rose to the challenge.
"It was hard for me to accept that I had a disability," she said. "I thought: 'I'm just like everyone else, why can't this be easy for me?' Then, one day, my mom told me that she also had trouble learning and fitting in when she was in school because of her dyslexia. That made me feel less alone."
Before long, Zabielski began to thrive, discovering a passion for geography and a talent for language.
While DeNoble's early years were more stable than Zabielski's, she recalled her own childhood struggles with fitting in.
"When my parents got me into a special needs school, the mix of kids of different abilities and behaviors was really distracting and hard for me to get used to," she said. "But even though I struggled, I still managed to function and work hard."
After graduating high school, DeNoble ran into more obstacles as her need for independence clashed with the support systems she encountered.
"In my old program, there were a lot of rules that were very strict," she said. "We weren't allowed to date and we could only drive at certain times and to specific places. I felt like a child and I'm 24."
Determined to find a place with a more person-centered approach, DeNoble and her parents researched their options and discovered YAI and NIPD/NJ's supervised residences. There, staff adhered to the agency's philosophy that people with I/DD have the right to live their lives in the way that is most fulfilling for them with as much or as little support as their individual needs require.
"I really like living here," DeNoble said. "I got to choose who I wanted to live with, I can drive and come and go whenever I want. It's the first time I felt like I could be really independent."
According to Cherree Taveras, Supervisor of NIPD/NJ's Westwood Hills supervised apartments, this freedom is what enables women like Zabielski and DeNoble to flourish.
"Most of the people here come from families or more institutional settings and this is the first chance they have to be on their own," she said. "When they arrive, they often feel like they have to ask for everything, but we're here to say: 'Yes, you can do all these things on your own and we'll be there to support you.' We want them to know they have the right to be independent, to learn from their own mistakes and successes and not be coddled."
Taveras added that NIPD/NJ staff make sure that the people they support have access to everything they need to live independently, from life skills and work readiness training to help securing driver's licenses and managing personal finances.
Today, DeNoble and Zabielski stay busy, volunteering and working with a job coordinator to secure full-time employment.
"Lisa and I really like helping people," DeNoble said. "I love kids, so I'm volunteering at a daycare. Lisa likes working with old people. She used to volunteer at a nursing home and is trying to get work there."
In addition to their professional ambitions, the two women have built lives that aren't defined by their disabilities. Aside from caring for children, DeNoble enjoys drawing and visiting her boyfriend in Rhinebeck, New York. Meanwhile, Zabielski loves working out and "anything that gets (her) out the door."
"My friends ask me: 'What disability?'" Zabielski said as DeNoble nodded in agreement. "I'm a normal person. I'm working toward goals and I have people like my friends, and my sister, and parents who love and accept me. I always used to worry that I wasn't smart, but I am. Even if you have an intellectual disability, it doesn't mean you can't be smart about your life and how hard you work. I think we're more the same than we are different. IQ doesn't define anyone as a person."