Share
Latasha Hunter's family and friends threw her a virtual housewarming party via Zoom late last year. In the days that followed, gifts started arriving to her new address: bedding, towels, a toaster, vacuum cleaner, and can opener, among other household items. The celebration marked a milestone in the Bronx resident's life: living independently in her very first apartment – a dream she worked hard to achieve.
YAI recognizes that the road to independence and personal fulfillment looks different from person to person. Guided by a person-centered approach, the organization aims to help people with intellectual and developmental disabilities (I/DD) identify and achieve personal life goals.
"If the person doesn't know what they want to do, a big part of our job is helping them discover it," said Dawn Albit, Bronx Regional Deputy Director. "When you have never been given the opportunity or asked what it is that you want, often times people don't have an answer, and that's where we come in – we help them find it."
Latasha Hunter is one of the people who YAI supported in her journey to independence. Hunter, 41, received YAI services for 12 years before moving out to her own apartment in October of 2020. Her story is a rarity in the I/DD community. According to Disability Digest Data, 16% of people with I/DD in the U.S. live in the community by themselves or with a roommate. Very few, however, transition from a supported residence to their own home with as much aplomb as Hunter, who moved from successive YAI programs, acquiring living skills with every move.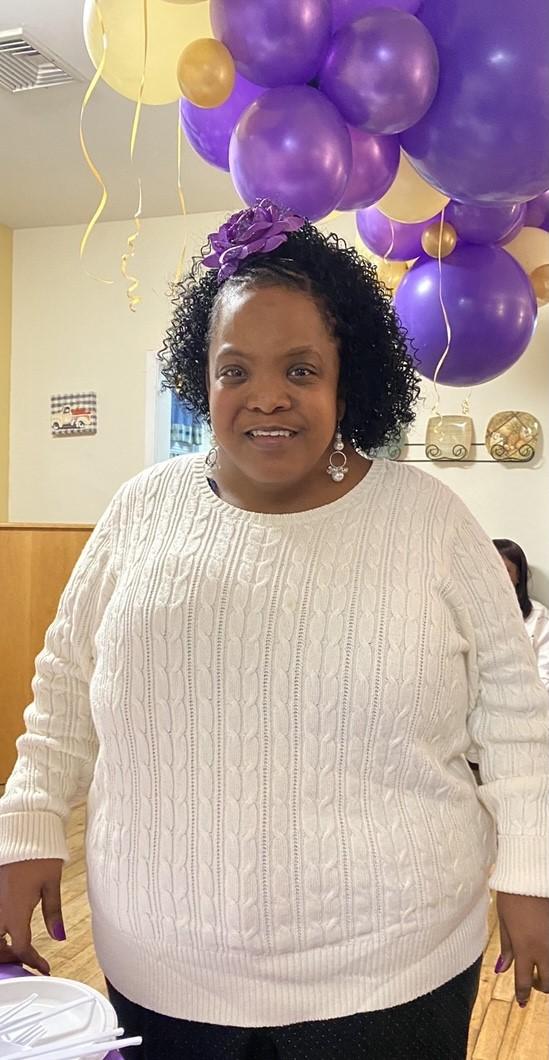 Hunter started her journey in 2008 at the 206th Street Individualized Residential Alternative (IRA) in the Bronx, where there is 24-hour staff for residents who need more support. In 2012 she moved to Rochambeau, one of YAI's supportive apartments. Residents who live in supportive housing need less assistance than those living in IRAs. Hunter gradually learned the skills she needed to thrive there, with the help of dedicated staff and access to a diverse pool of YAI resources, proving she was capable enough to live on her own.
Because Hunter is also employed at the Bronx Zoo, where she has worked as a ticket taker and cashier for the past 10 years, her own home becomes a true sanctuary after work.
"Latasha is a standout and living her life on her terms and in the way she wants," said Albit.
During her time at YAI, Hunter mastered her cooking and cleaning skills and learned how to use the computer. Her studio apartment in the Bronx has the added bonus of a location directly across the street from her boyfriend's place.
The staff at YAI couldn't be prouder.
"I am so happy of the work we have done and what we have been able to achieve as team in Rochambeau with Latasha," said Lorraine Chance, Senior Supervisor of the Bronx region.
"It makes us feel great to see her accomplish all that she has," said Chance. "She exemplifies what YAI stands for and that includes being able to make her own decisions." Hunter's family is another component to her success.
"It's been amazing to see her grow and I know I couldn't hold her back because I won't be here forever," said Hunter's mother, Martha. "I knew she needed to be as independent as possible and her older sister and I just made sure we encouraged and supported her along the way."
The individualized plans set in place for each person YAI supports is what facilitates the decision-making process. The person can grow because the services cater to their specific needs rather than taking a generalized approach to all cases.
"People get frustrated with the service or bored with it when it's something they don't need or already have the skills for," said Albit.
Success is measured in a variety of ways for the 20,000 people who receive YAI services. While complete independence is one outcome, for others, achieving smaller goals set forth while in programs can be extremely gratifying.
"Whether it's learning to brush your teeth independently or even just choosing what to wear, success looks different for everyone, but it's always so exciting to witness someone reaching their goal," said Albit.
Latasha Hunter hopes to keep up with her healthy lifestyle and continue to improve on her skills.
"Moving to my apartment taught me how to be more responsible. It also made me feel good and that I accomplished my goal to be independent," said Hunter.