Share
People with intellectual and developmental disabilities (I/DD) experienced familiar effects of the pandemic such as isolation and inactivity. They also suffered a COVID mortality rate three times higher than their neurotypical counterparts. But for a surprising number of people YAI supports, the pandemic provided a new sense of freedom and self-confidence.
It turns out that people YAI supports aren't the only ones who have experienced some positive outcomes from navigating through COVID. In a Pew Research Center Survey, 73% of respondents reported at least one "unexpected upside" of the pandemic. And while 32% of Americans discussed their limited activities, a surprising 26% described how their day-to-day lives had improved—from increased downtime to discovering new hobbies, for some, disrupted routines were a welcome relief.
Image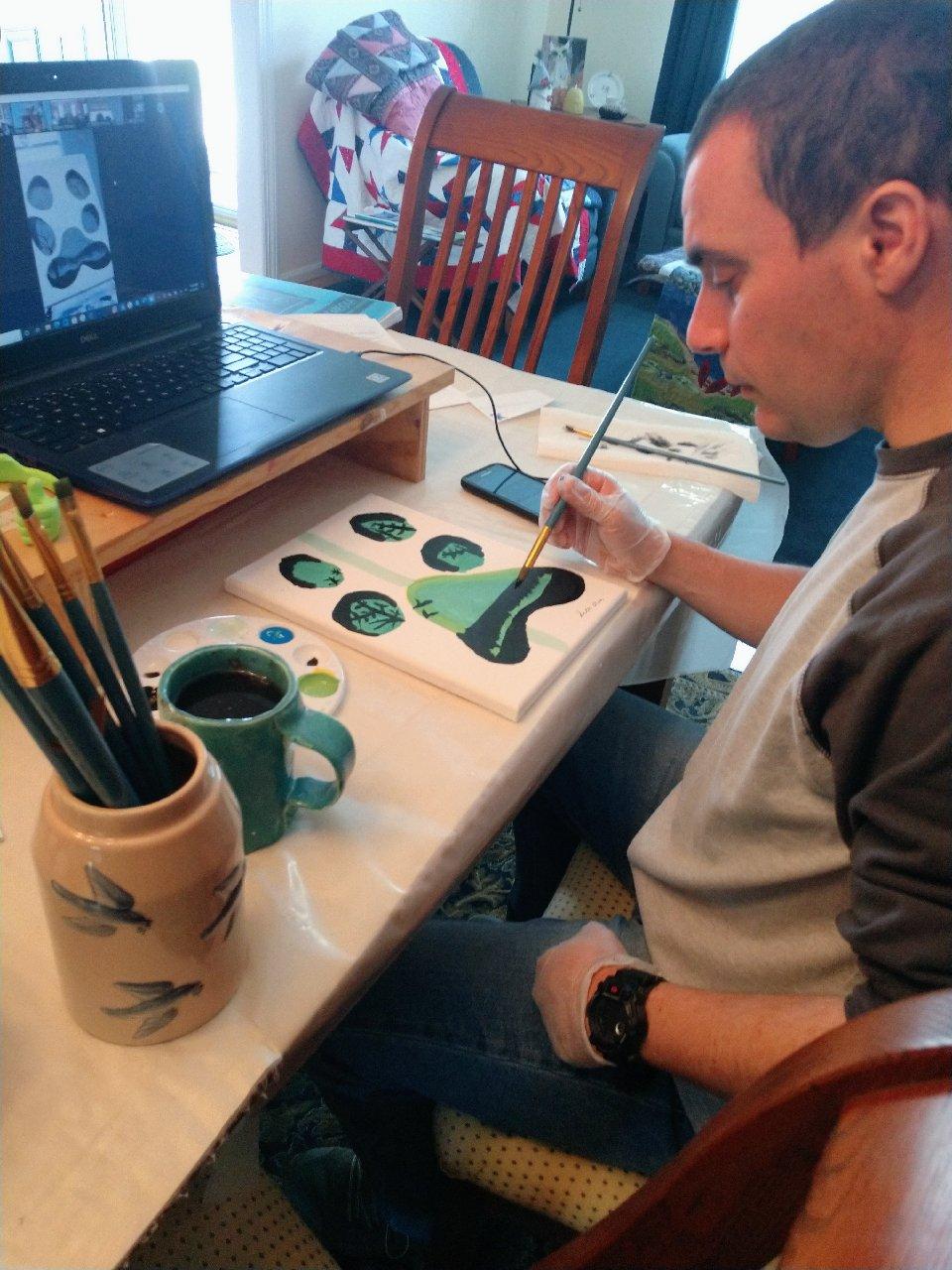 For Sean Arena, receiving YAI services via Zoom through the pandemic has broadened his social circle and even led to a new passion—art.
"Sean has never painted before and these pieces are wonderful," said Karen Weiderman, Arena's mother. "The staff member walks them through it...Sean's given away some of his pieces to friends and relatives and it's just been a whole new situation that's never happened before."
In addition to a newfound love of painting and drawing, Arena has taken on new responsibilities at home, including preparing his lunch every day (something he plans on continuing when he returns to his in-person program) and vacuuming the house twice a week, which was one of his pre-pandemic responsibilities in his program.
"Everything's going well here," said Arena, who has completed 95 drawings since discovering his new talent last October.
Arena is far from the only person who has flourished in an unexpected way—Jovonny Isidoro, who has received YAI services for seven years, has come out of his shell in ways that Program Supervisor Helen Feit never could have anticipated.
"Jovonny would go to job site and stick to himself. He did a great job, but he wasn't that social," said Feit, who has worked with Isidoro for three years. "But ever since we've been on Zoom, he has come out so much as himself. He's so much more talkative and so much more social. Part of it could be that he's in his comfortable home setting, so he's able to do day hab activities with the confidence of being at home. He just seems more animated and happier."
According to Feit, increased comfort levels aren't the only benefit of daily Zoom sessions. Longer term, she believes that since more people know how to access online platforms, YAI will be able to better implement person-centered planning when people with I/DD have annual meetings with staff and others in their circle of support to discuss their life plans. "The person may want to include family or friends who live in other areas, and now we can."
Feit isn't the only YAI staff member to think the pandemic will lead to long-term changes in how the organization executes its person-centered philosophy. According to Director of Clinical Services Betsy Williams, the pandemic has been eye-opening in showing how some people flourish when they're not on a set schedule.
"For some people it was a negative that they were in lockdown and couldn't do typical things, but for other people with disabilities, it was a godsend for them," Williams said. "They didn't want to be going out and do all those things...So, it's really opened our eyes to letting people live outside of the box…We always talk about being person-centered and to see the individual as an individual, but to be honest, we've always had our vision as to what the day will look like."
Image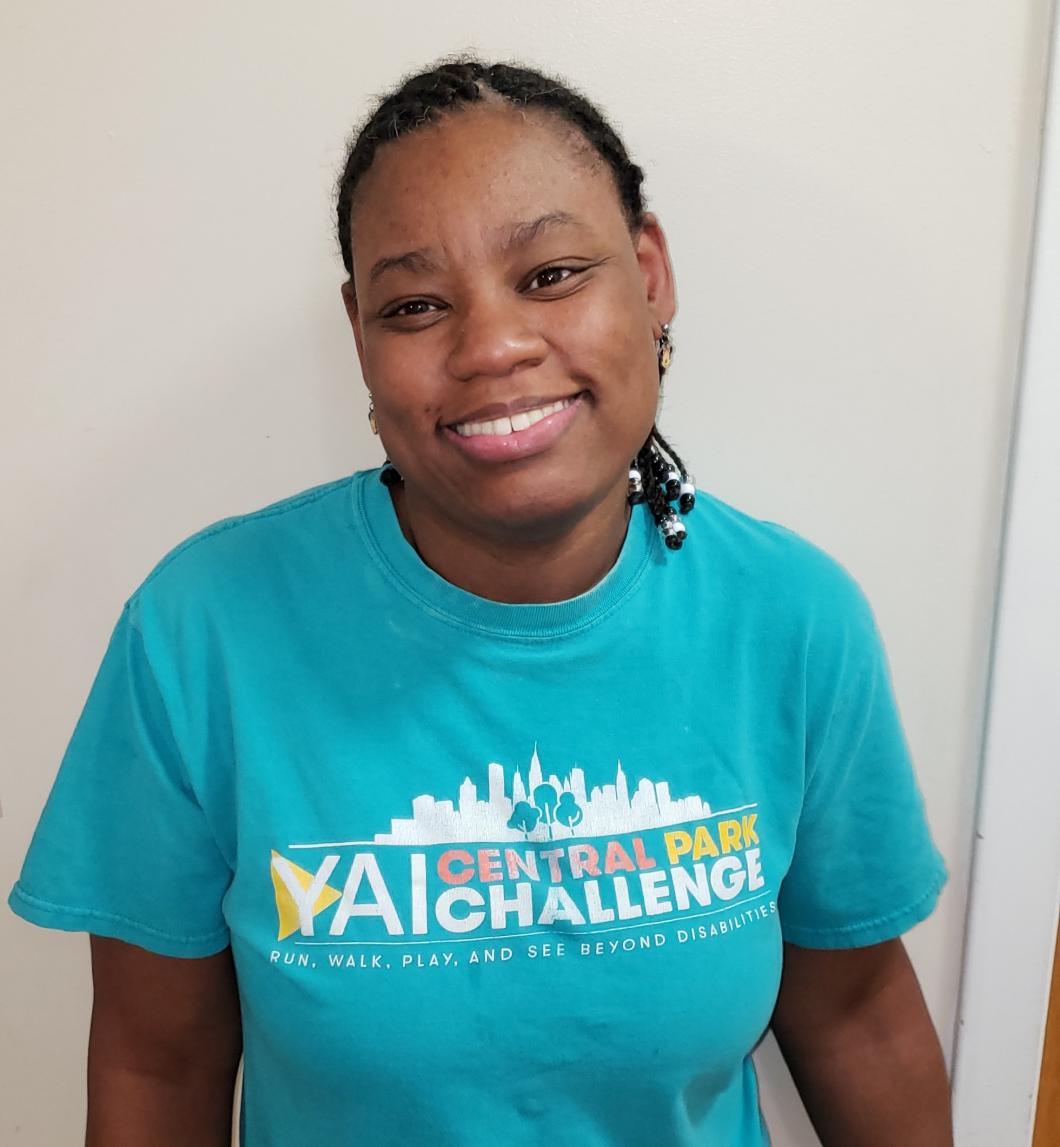 Even for those who didn't embrace online programs, lockdown brought unexpected relief to intense daily routines. Natasha Franklin has received physical therapy, medical services, day habilitation, and residential services for many years. She would often skip day hab, preferring to relax at home.
"That was fun. That was awesome," said Franklin about having day hab staff come to her house. "I got to do programs in my pjs!"
Recently, however, Franklin surprised Senior Supervisor Crystal McLeod by telling her she's ready to get back to her prevocational program.
"For Natasha to say she wants to go back to Job Club was very surprising to me. I guess she realized being home all the time is not always fun," said McLeod.
Despite her past hesitation to attend programs regularly, Franklin misses her friends and wants to get back to her job club program so she can pursue her employment goal. "It taught me skills like how to dress, how to act at a job, and how to keep a job," she said.
As YAI supports people through the adjustment to post-pandemic life, Williams emphasizes the importance of not trying to go "back to normal." She also noted that the disruption of the pandemic has led to a new bond for everyone in the YAI community.
"We've had to be uncomfortable as staff, and that discomfort led to creativity," said Williams. "We were stuck in a box before. So we needed to expand our knowledge in different areas. Going through the pandemic together is a common bond that's really deepened relationships."