Share
Sometimes, circumstances force us to adapt. 
A lot. 
Because of the pandemic, YAI rethought its traditionally frenetic calendar of springtime events this year to reach the digital sphere. The results helped deliver new perspectives on disabilities to international audiences. YAI's 2020 Autism Conference, Latino Conference, and Central Park Challenge, together proved an unexpected upside of the pandemic, one observed in May in Science, that virtual events can be "more egalitarian, equitable, and diverse" than in-person ones. 
Established 17 years ago as the only all-Spanish language event of its kind, YAI's Latino Conference brings the Latinx disabilities community together and ensure that sociability, qualitative research to focus on lived experiences of families and caregivers. The Autism Conference, which was created 12 years ago, invites researchers and practitioners to share state-of-the-field innovations which can improve practice. This year, both events were held exclusively online.
Mara Henriquez, Assistant Coordinator at YAI LINK and Latino Conference organizer, was initially hesitant to move to an online-only experience. Given social distancing, the need for accessible resources, and the community's enthusiasm for the familiar Spanish-language event, she and other organizers decided to host the conference online. "While we lost a number of people who just weren't able to access the virtual Latino Conference this year, we also gained a significant audience from other places due to the accessibility," said Henriquez.
Similarly, the Autism Conference came at a time when the pandemic had many parents just trying to get through daily tasks with their children during a pandemic. It comes down to speaking the same language, whether it be linguistically or through shared experiences. 
Tracy Kernan, who plans both of these conferences, acknowledged that the pandemic made this a good time to focus on the family. 
"This year, we had made a conscious effort to have both keynote speakers for the conferences be parents," Kernan said. "And what an opportunity for participants to hear from parents and caregivers who were going through similar things when it comes to raising a child with autism, quarantining, sitting through virtual schooling."
A different kind of audience can lead to richer discussion. The Autism Conference showed the highest diversity in US audiences, with Turkey representing the largest international viewership. The Latino Conference showed diversity in terms of countries represented, with people as far as Peru, Mexico, Colombia, among other South and Central American countries, tuning into the Livestream. In total, the Latino Conference reached nearly 6,000 unique viewers and the Autism Conference reached nearly 2,500– more than ten times each event's traditional audience.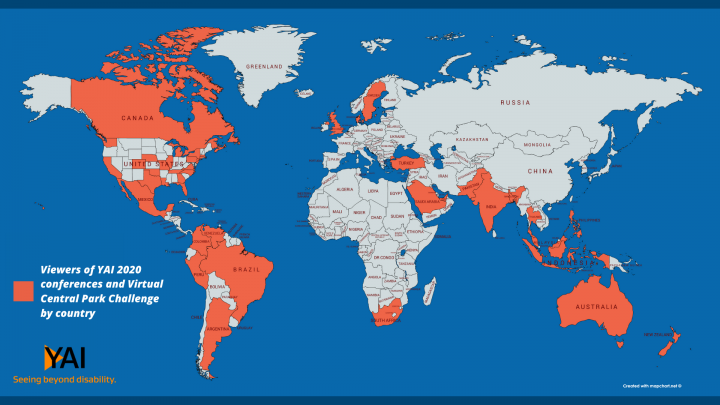 International Viewership for YAI 2020 Virtual Conferences and Events
Jessica Stinchcomb, YAI's Manager of Special Events, preparing for online conferences taught her what she needed to know about holding a virtual Central Park Challenge on June 5, 2020. 
"We redesigned what people needed to focus on, pulling in the emotional and social aspects of the event into the virtual experience," Stinchcomb said. "For the Central Park Challenge, we went from our usual 3,500-people event to reaching more than 7,500 households worldwide."
Because Central Park Challenge is also the organization's largest fundraiser, Stinchcomb was enthusiastic to observe donations from 41 different states, six countries, and more involvement where YAI has recently established a presence, including Saudi Arabia and California.
"It comes down to the audience. Are they going to be able to engage with the livestream platform? I think we saw that with each conference, more and more engagement happened virtually," Stinchcomb said. "In June, when we reached YAI's Central Park Challenge, people were commenting, dancing during our Social Dis-Dancing Party, and more. It's just nice to see people who usually just donate or access information get involved and participate."