Share
When asked about the Hudson Valley Visual Arts Program at YAI's Tarrytown day habilitation center, the surgical mask on Luz Macias' face could barely hide her smile.
"It feels really good," said Macias, who has attended the day hab for five years. "I feel happy when I'm with my friends and making jewelry."
According to Kenneth Reedy, YAI Staff Trainer, the happiness of which Macias speaks is a welcome change of pace. The effects of the pandemic in Tarrytown were enormous; in the span of less than 18 months, 12 day hab participants and two staff died from COVID, leaving many DSPs with the feeling they had little left to give to themselves, much less the people they supported. Reedy began looking for an idea.
"I wanted to take the philosophy of being person-centered and apply it to staff by developing a program in which they could feel excited to come to work and the people we support could engage their own interests, too," he said.
In May, after learning three Tarrytown DSPs, Laurie Silver-Lewis, Madelyn Toledo, and Tiffani Renée Walton, are also artists on the side, Reedy called a meeting.
"I asked, "What if we gutted a classroom and turned it into an art center?"
"They responded with: 'Well, that would be awesome, but can we get the support we need to do it?'"
Determined to find out, Reedy and the team developed the proposal for an arts program. For three weeks, Reedy worked on the overview while Renée Walton hammered out the curriculum.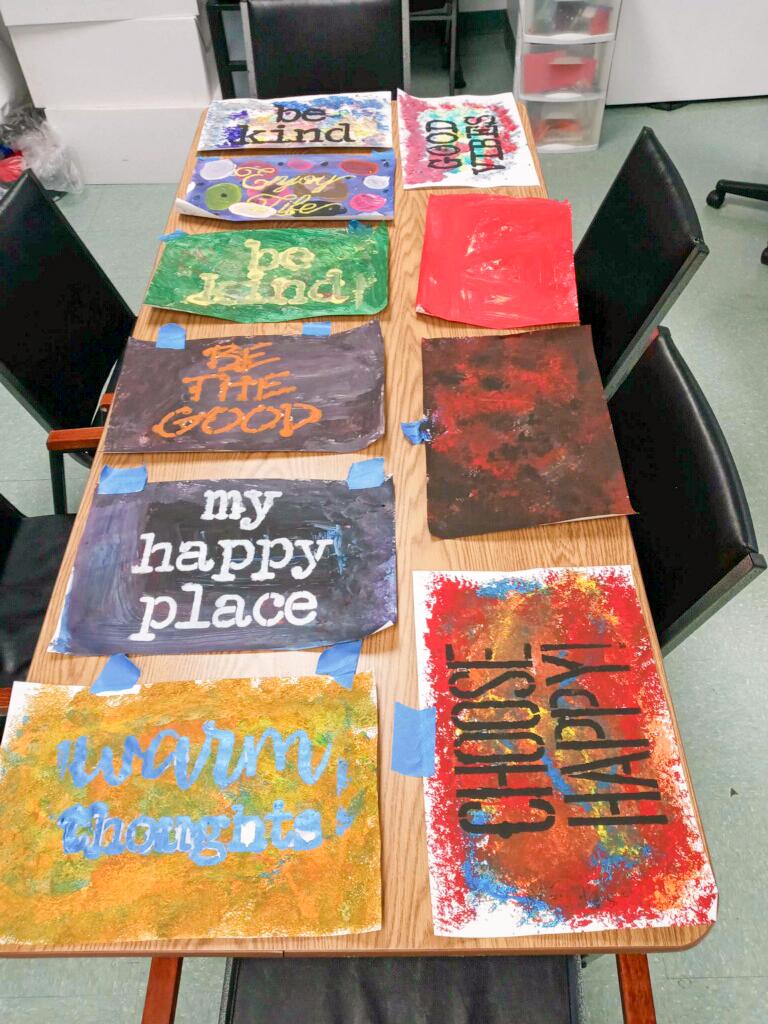 "We wanted to show this wasn't just us bringing our hobbies to work," Renée Walton said. "People we support often get the short end of the stick when it comes to new experiences. This felt like a great way to expose them to more diverse activities and give them opportunities to work with their peers and learn from each other."
To round out the proposal, Silver-Lewis and Toledo developed a vocational component to provide avenues for participants to build their own creative businesses online.
The proposal was approved by Hudson Valley's senior leadership and using money raised from YAI's Central Park Challenge, the team launched the pilot in August with 15 participants. The curriculum encompasses photography, painting, printmaking, jewelry design, knitting, clothing design, and pattern-making.
"We were so excited when the staff told us they were opening an arts studio," said Lavette Poinsette, who attends Tarrytown day hab. "I can use the studio to paint and knit and make jewelry for my online store, Lavette Boutique."
For Silver-Lewis, the excitement among staff was apparent, too.
"After 37 years at YAI, I've seen lots of ups and downs, but the pandemic really accelerated turnover," she said. "But when we launched it felt like: 'Yes! This is the motivation we need!' Suddenly, everyone was coming up with these amazing ideas and writing their own proposals and addendums."
Reedy said that, in light of such a difficult year, this enthusiastic response has inspired him to continue to find new ways to merge what staff are most passionate about with programming that benefits the people YAI supports.
"I never had to ask Tiffani to put together that curriculum," he said. "The fact that in addition to her work — which is a lot — she took the time to create one without being asked showed me how motivated she was. But what really drove it home was when Laurie said to me: 'I think this (program) is going to be my legacy,' that was it. I knew we were onto something."
Already, plans are underway to expand the program to include a podcast studio. Reedy said he hopes to not only help the people YAI supports find their creative voice but to attract talented, passionate staff.
"If this field is where my dream is and I walk in here and see there's an art studio, there's a podcasting studio, then I'm going to say: 'Wow. This is where I want to work,'" he said.
His hope is well-founded. A 2016 study by technology giant Adobe found that staff who incorporated creative tools and exercises in their work were 76 percent more likely to report being happy. Reedy said he believes that these happier, more creative staff will be what makes the program a success for the people YAI supports, too.
"We need to push the field into the 21st century," he said. "The people we support should know there are career opportunities beyond bagging groceries. Now we can say guess what: you're going to have your own business, you're going to be your own CEO, and that's really powerful."