Share
From her apartment in Queens, Zazel O'Garra begins her movement class in front of the camera. She sits on a chair in the center of her living room, wearing a pink sleeveless top and black workout leggings, flashing a smile to those tuned in. She begins with deep breathing exercises and slowly moves to arm and neck rotations, then shoulders and legs, seamlessly incorporating the whole body into the workout. It's the start of a global pandemic that has forced many to shelter in place and retreat from the world as they know it. Classes like hers are a saving grace for those seeking creative outlets to stay connected.
The class was made possible by YAI's Arts and Culture program and became a remedy to fend off feelings of loneliness experienced not just by people with intellectual and developmental disabilities (I/DD) but other marginalized groups.
The coronavirus pandemic caused an epidemic of loneliness and social isolation, carrying with it significant health and emotional risks, according to a recent report from AARP Foundation and the United Health Foundation. Two-thirds of older adults surveyed said they experienced social isolation, and 66 percent said their anxiety levels increased during the pandemic.
YAI Arts & Culture provides a diverse array of experiences for these often-overlooked communities and aims to facilitate access to programs that historically benefit an exclusive group. From visual artists to belly and flamenco dancers, opera singers and even subway performers, YAI's roster of 300 artists and their talents span numerous continents, cultures, and ethnic backgrounds.
"YAI Arts and Culture is not just for people with I/DD, it's for anyone who is having a hard time, who has a physical limitation and feels fragile, or who has a disability," said Ulrike Fenninger, YAI Arts and Culture Coordinator. "We include everyone and often bring underserved communities together."
Taught by Zazel O'Garra, a person with a disability herself, the movement class started during the pandemic in response to a need to stay active and was an instant hit with the "outsiders" who sought a place to express themselves and build a community while alone in their homes. The class meets every Thursday via Zoom and teaches participants how to move their bodies using their individual range of motion. Currently, her class consists of a mix of 10 seniors and people with I/DD.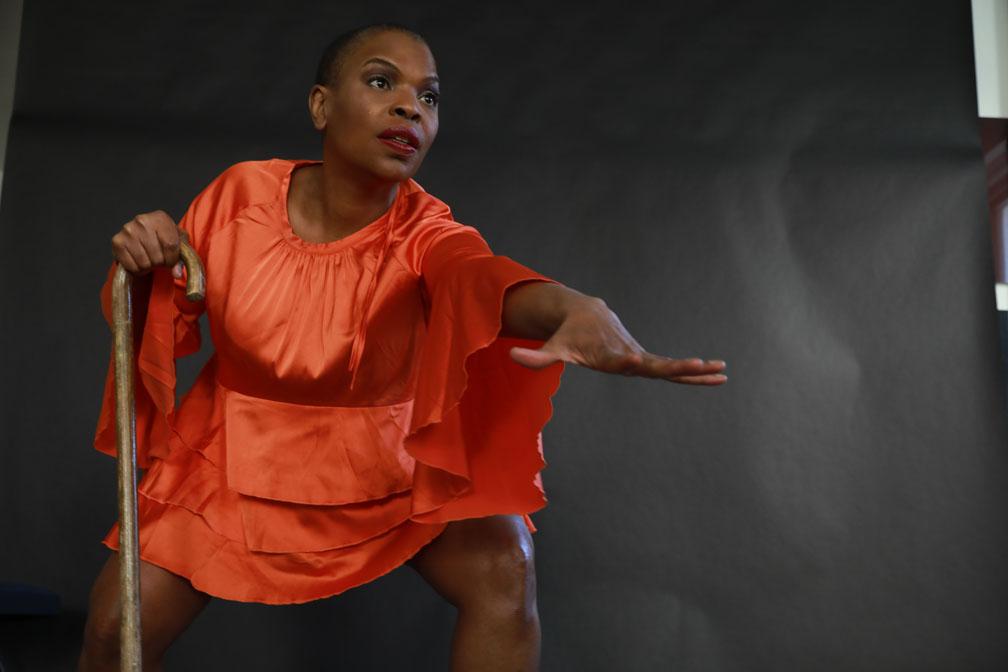 "Persons with disabilities, we're overlooked. And that's why I am all for inclusivity, equity, and diversity, it's so important," said O'Garra. "We don't want to be matched up with people that are able–bodied. We want to be seen as people who can put forth energy, talent, and move and groove just like anyone else."
O'Garra became disabled 18 years ago after a surgery to remove a benign brain tumor left her paralyzed on her right side. Her recovery was slow, but she eventually regained feeling in most of her body. Her right foot, however, has remained immobile and she uses a foot brace to maintain her balance. Learning to move differently with her body limitations is what inspired O'Garra to open her own dance studio, ZCO/Dance Project.
"God gave me back my life and I wanted to give back to others and it's been so fulfilling," said O'Garra, who lives by the mantra, "Turning setbacks into comebacks." "I don't have all my mobility but I have my heart, soul, and positive energy," she stressed.
Her passion to work with people with disabilities and limited mobility has allowed her to reach a vast group of people who often feel excluded from creative spaces. O'Garra's choreography with the assistance of a chair encourages graceful arm movements and learning to trust the body for participants of varying abilities.
The movement classes particularly have been a lifeline to seniors who have used it the time to reconnect and carve out a sense of belonging.
"I was isolated and alone in my apartment during the pandemic and the weekly movement class kept me going physically and mentally," said Sybil Maimin, an 82-year-old New York resident. "Following vaccination, I am getting out a bit now, but have limited mobility. Zazel continues to provide much-needed movement via well-designed chair and standing exercises that, thankfully, I can access from home."
Carol Sterling, another fan of the movement class, couldn't agree more.
"YAI programs like this are so essential because it's about being a well-rounded person and keeping up with your interests while reaching for new opportunities to improve your quality of life," said Sterling. "We are very blessed that YAI provided us with this class to get some exercise because it makes you feel like you are part of a group and have a support system."
Sterling has been a YAI teaching artist specializing in educational puppetry since 2011. When her shows moved to a virtual platform, she looked for ways to keep active and stay healthy. She joined the movement class early this year and was hooked soon after.
"YAI created a sense of community that is caring, compassionate, and understanding and that's what is so important to maintain," Sterling said. "As we move forward with in-person activities, I think we are going to see a major change and have a chance to make deeper connections and have more appreciation for one another."