Share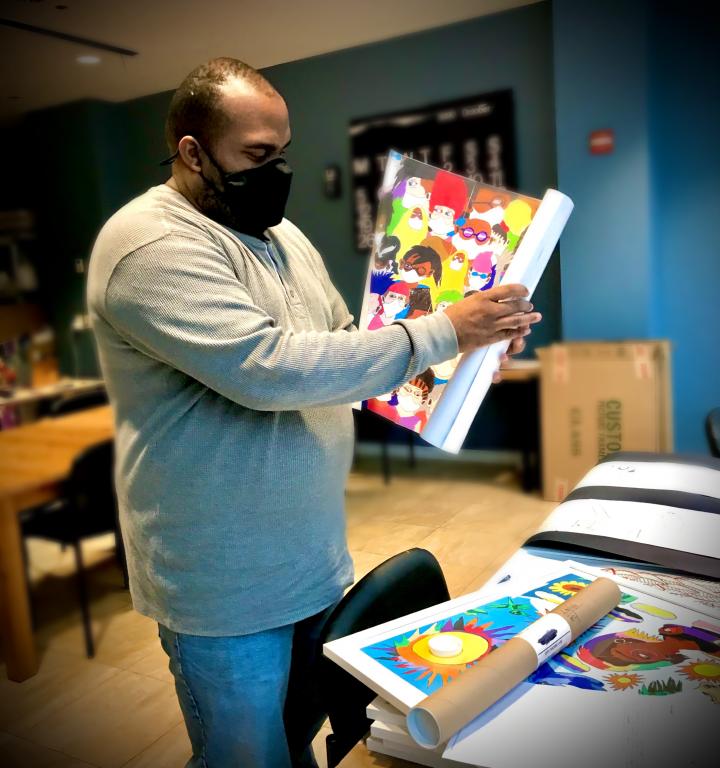 Creativity. Independence. Talent. These are the qualities that unite the artists in YAI Arts. Pre-pandemic, the group would have regular studio hours with YAI's artist mentors. Over the past eight months, the group has hosted remote sessions and the artists have flourished. YAI artists have participated in four separate shows, one became an artist-in-residence for Summertime, and led discussions at the New York Transit Museum on their art.
"There is a sense of camaraderie with the various studios during the pandemic, and we are submitting to open calls that don't normally happen," said Priscilla Frank, Studio Manager at YAI Arts. "There tends to be cooperation and collaboration among studios, but there is definitely a higher sense of that now as a result of the pandemic."
Many of the exhibitions and the pieces they display have been inspired by the pandemic, whether they are reflecting on an artist's own journey or how they perceive others' experiences. "Everyone needs to be heard – all of our voices – otherwise we all remain isolated," said Quimetta Perle, Senior Supervisor for YAI Community and Family Services.
"The pandemic has actually made the process of getting their work featured more independent, accessible, and inclusive," Perle said. "Our model has always emphasized helping the people we support grow in their craft."
This was certainly the case with artist Jimmy Tucker, whose artwork has been featured in various exhibitions, including both Art Enables' Outside Forces and the Mayor's Office for People with Disabilities' The Journey exhibitions. When developing his submissions, Tucker focused on the anxiety-inducing "evil aspects of his life" during COVID. "I pushed through to challenge myself, adding elements of things I fear but pairing them with things I enjoy," Tucker said of the accepted pieces.
While the pandemic has affected the mental health of many, it was the network of artists that helped Tucker and other YAI artists cope while remaining socially distant. "People check on each other, and they've been teaching one another different things that inspire them, like tai chi and guided meditation," Perle said.
Though participants may be limited through contact, they have become even closer through the pandemic via virtual connections. Friendships have deepened, with many sharing their inspirations and exploring different art forms. Even their collective successes have helped spur others to reach similar heights, explained Perle.
"They are inspired by the others, almost like a friendly rivalry. It's a catalyzing experience," Perle said. "When artists are exposed to one another, they discuss, look at each other's work, and there's a cross-fertilization of subject matter. Just as Picasso and Matisse may have influenced each other, their work talks to one another, ultimately impacting one another's art."
For many YAI artists, exercises in expression and understanding emotions have helped guide their process. This was the case for Chris Chronopoulos, whose work was also featured in the Outside Forces and The Journey exhibitions.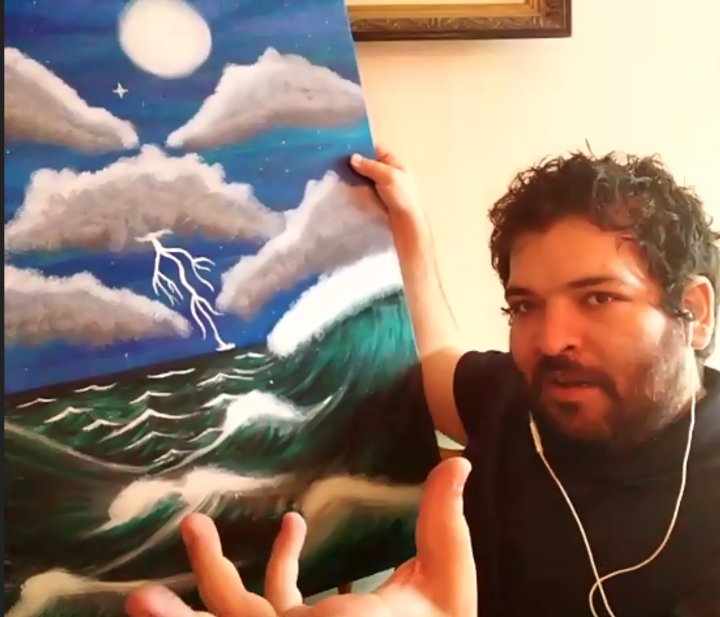 "Your emotions and feelings, they resonate inside your heart and it comes out in your artwork," Chronopoulos said. "YAI Arts has helped me become a better artist through the various collaborations with other artists here."
Perle believes the program's success through the pandemic is due to a combination of the right circumstances and the go-getter attitude shared by many of the artists.
"The digital capabilities have helped to make many of these exhibitions possible," Perle said. "So many of our artists have become proficient in technology, making it much easier to work this to their advantage. Virtual shows and communication will become the norm well after the pandemic."
Ultimately, while getting featured in shows and speaking on panels can be attractive, the true benefits of the program go much deeper, according to Frank.
"The glamorous thing is getting in the show and that deserves to be celebrated, but the things that ultimately move us are how the artists show up for one another, lead workshops, and teach others," Frank said. "It's been hard for us, but everyone is using their creativity to make it work – they are all so resilient."