Share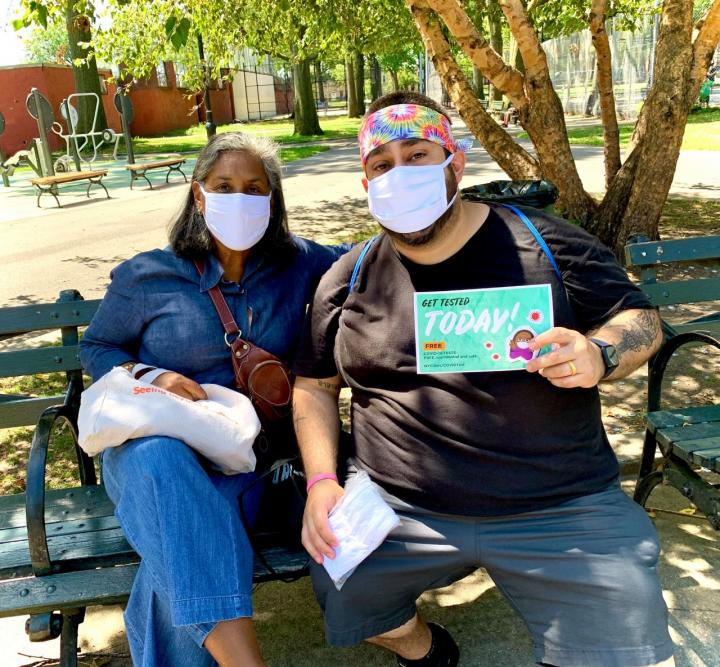 Sometimes people on the margins aren't first on the list to receive information that others take for granted. According to a 2010 study published in Disaster Medicine and Public Health Preparedness, most emergency preparedness strategies fail to ensure that vulnerable receive necessary information during a crisis. It was with this realization that prompted New York City's Health + Hospitals to recruit some of the city's most well-connected non-profits to bridge the communication gap between agencies and those who may not be receiving COVID-19 information. Cue YAI Knowledge, which won one of the city's Test + Trace (T2) grants to conduct outreach on COVID-19 to the intellectual and developmental disabilities (I/DD) community.
"The grant campaign is just another way that community members of varying types get the necessary and life-saving information they need regarding COVID-19," said Tyler Larsen, Training Coordinator at YAI Knowledge. "It comes down to proximity – we are not just focusing on the I/DD community but also the people surrounding them in the communities where they live."
According to the Institute of Medicine, effective public health campaigns that target specific populations need to integrate themselves into the communities where they reside. That helps public health practitioners integrate messaging into target audiences' daily lives and increase adherence. 
"This campaign has been really exciting because it's all about education, something YAI Knowledge does well, and it's an opportunity to provide free education to the communities that need it. It's what we are designed to do," Larsen said. "This partnership has allowed us to lead the charge and encourage others to become more altruistic."
The campaign itself is multi-faceted, focusing on community canvassing, poster objectives, video creation, and event production. These all hinge on effective social media and in-person rapport with the I/DD community. Among the major hurdles both the city and YAI faced as T2 started to take shape were apathy, language barriers, and mistrust of healthcare officials, consistent with existing understanding of poor information flow to vulnerable populations outlined in a 2020 study in the Journal of Community Health. YAI Knowledge anticipated this, said Chris Valladares, YAI Trainer, and crafted an outreach strategy that addressed linguistic and cultural differences.
"The most comforting thing for people we approach is when you can actually speak the language. It can be more powerful than just knowing the context, culture and background of an individual," Valladares said. "When you interject and explain it in a way they understand, they become more interested in listening and working with us. Most of the neighborhoods are predominantly Spanish-speaking ones, and people light up when they hear me talking to them in the language." 
With grassroots-oriented public health campaigns, much of the success is dependent upon establishing relationships with community members. YAI's ground team has been able to do this and more, with community members going so far as to recommend other places for staff to target in order to drive up proper mask adherence and social distancing protocols. 
"It's a constant evaluation in real time. When they realize we are giving away free masks and educational resources, they tend to flock to us and provide feedback, which helps us figure out how to best help the community itself," Valladares said. "People just need reassurances and explanations – then, they are on board and become our champions." 
In the coming months, YAI Knowledge plans to develop and release animated videos that will help both younger and older people with I/DD stay safe through the pandemic and understand the importance of testing and tracing to stop the spread of COVID-19. "It's just like training, but on a micro level, with more focused, one-on-one conversations," Larsen said. 
"We have the chance to create effective resources and partner with organizations that also have led the charge in COVID response," Larsen said. "We get to share the expertise of our amazing team with other organizations, schools, everyday people, you name it." 
YAI's participation in the T2 campaign began in August and will continue through the year. For more information on the city-wide campaign, visit testandtrace.nyc and follow YAI's social media channels, including Facebook, Twitter, LinkedIn, and Instagram, for more updates.