Share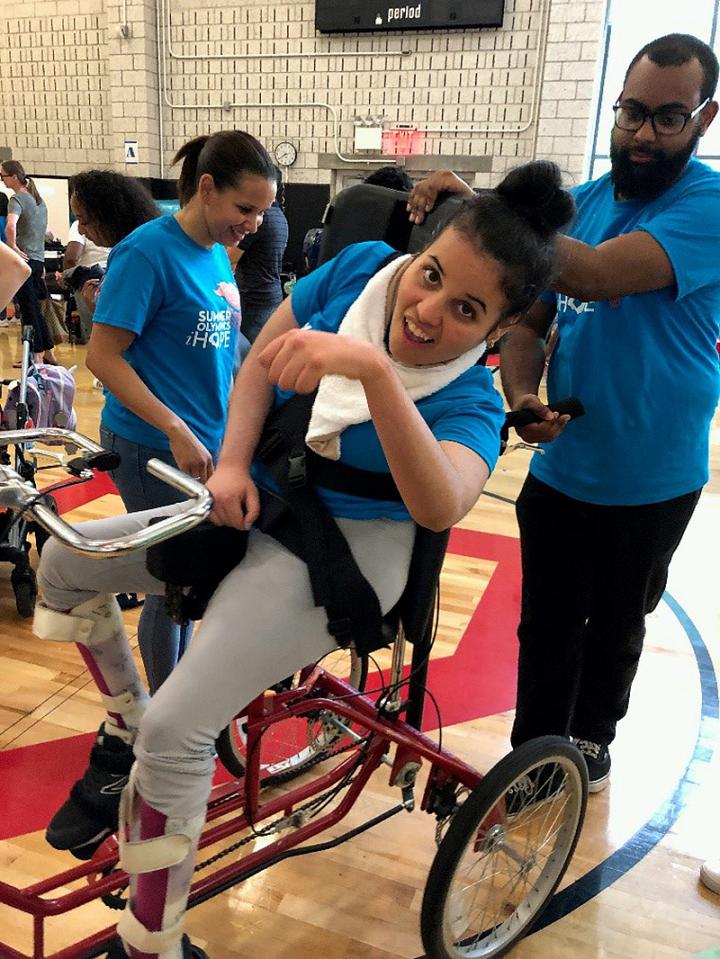 On July 18 and 19, the International Academy of Hope (iHOPE) held its fifth and largest annual Olympics at Harlem's DREAM Charter School. Over the course of the two-day competition, iHOPE students demonstrated the incredible strides they've made in physical therapy while drawing attention to a growing demand for adaptive athletics.
A YAI Network school, iHOPE serves youth aged 5 to 21 who have moderate-severe traumatic brain injuries (TBI) or other brain-based disorders. For these students, the iHOPE Olympics gives them the opportunity to coordinate their skills while demonstrating their abilities for the public and to our employer volunteers from Raphaelson & Levine Law Firm, Morgan Stanley, and UBS.
In 2014, the Centers for Disease control reported that more than 812,000 children in the United States were hospitalized for TBI. Children who sustain serious brain injuries are often faced with lifelong physical, cognitive, and other developmental delays requiring specialized care. However, with appropriate therapy and related services, significant progress can be made.
"The benefits of the Olympics are several-fold," said Karen Tumulty, Principal of iHOPE. "Not only do the students get to practice the skills they've acquired, but they get to translate what they've learned into a performance that can be shared with the community. This lets our supporters see the students' progress in motion."
The students were assisted by a team of iHOPE physical therapists as they participated in a range of events that merged creative performance with physical skills, including dance routines, obstacle courses, and adapted bicycling.
Courtney Nelson, iHOPE's Associate Director of Human Resources, said that the diverse range of activities reflects the increasing depth of iHOPE's physical therapy programs as well as the school's growing student population.
"Last year, we had just 12 students in the Olympics." Nelson said. "This year, we had 55 students participate in the Olympics as well as 130 staff assisting them. Since YAI came in to support us in 2018, we've been able to grow and accommodate more students with brain-based disabilities who can really benefit from the therapies we offer."
Nelson added that next year they expect between 70 to 80 students at the Olympics, reflecting the school's rapidly expanding capacity.
"Every year, we grow and adapt the Olympics to reflect the abilities of our entire student body," she said. "For instance, this year we included activities for blind students as well as obstacle courses for those who have more physical mobility. One day, we're going to need a larger space."
For this year's Olympics, however, DREAM's large, sunlit gymnasium was the perfect venue to display everyone's talents.
"I loved watching the floor routines," Tumulty said. "In addition to showcasing the many abilities of our students, people also got to see how engaged and committed our staff are to helping them shine."
According to Nelson, this chance to shine is a powerful motivator for iHOPE's students. "Our students spend months preparing for this Olympics," she said. "Even those who might seem less active, once they get to the event, they really let loose and give it their all. When everyone starts cheering for them, you can see how excited they are to push themselves to surpass every expectation."
You can learn more about iHOPE by visiting their page.