Share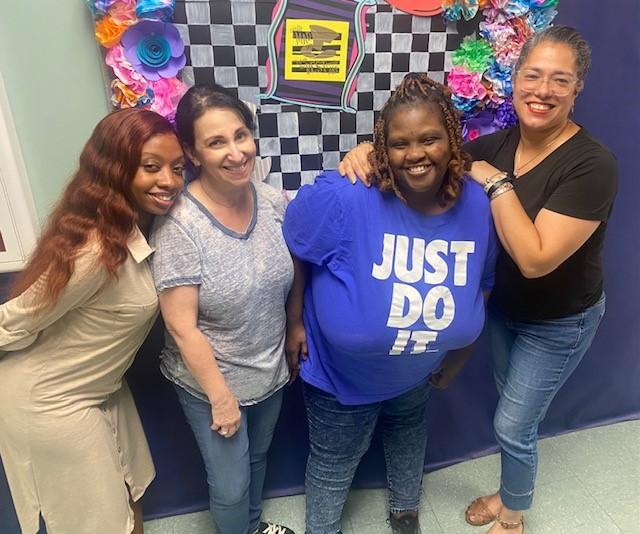 Direct Support Professionals (DSPs) Laurie Silver-Lewis, Madelyn Toledo, and Tiffani Walton say they don't consider themselves heroes. But that's exactly what they are after they helped save the life of a Tarrytown day habilitation attendee who was choking.  
Lavette Poinsette was eating lunch on August 29 when she suddenly began feeling uneasy and started gasping for air.   
"I heard her make noises and it made me turn around," said Silver-Lewis. "I noticed she was leaning over and pounding on her chest and I realized she was choking."  
That's when Toledo and Walton, who were also nearby, rushed toward Poinsette. In the meantime, Silver-Lewis went to get the nurse on-site. Walton performed the Heimlich Maneuver right away while Toledo assisted. They were successfully able to expel the large piece of chicken stuck in Poinsette's throat in a couple of minutes.  
"We all get trained in CPR for the job but you just hope you never have to use it," said Walton. "It was an adrenaline rush and happened so fast. I just knew I had to do whatever I could to save her."  
Shortly after the incident, the staff took Poinsette to the emergency room for a follow-up and ensured she was okay before sending her home for the day. Poinsette says she considers herself extremely lucky to have such caring staff and made sure to let them know.  
"Lavette messaged us later that afternoon thanking us for saving her life," said Toledo. "I got a little emotional thinking about it all because it could have turned out completely different."  
"Seeing her message made me smile and I told her, 'I did my job, and I am so glad you are ok,'" added Walton. 
Bravo to the heroic trio! We celebrate you and all the amazing DSPs at YAI for always going above and beyond!