Share
On February 13, more than 100 YAI self advocates, staff, and family members joined New York Disability Advocates in Albany to call on lawmakers to increase pay for DSPs and invest in the future of people with intellectual and developmental disabilities (I/DD).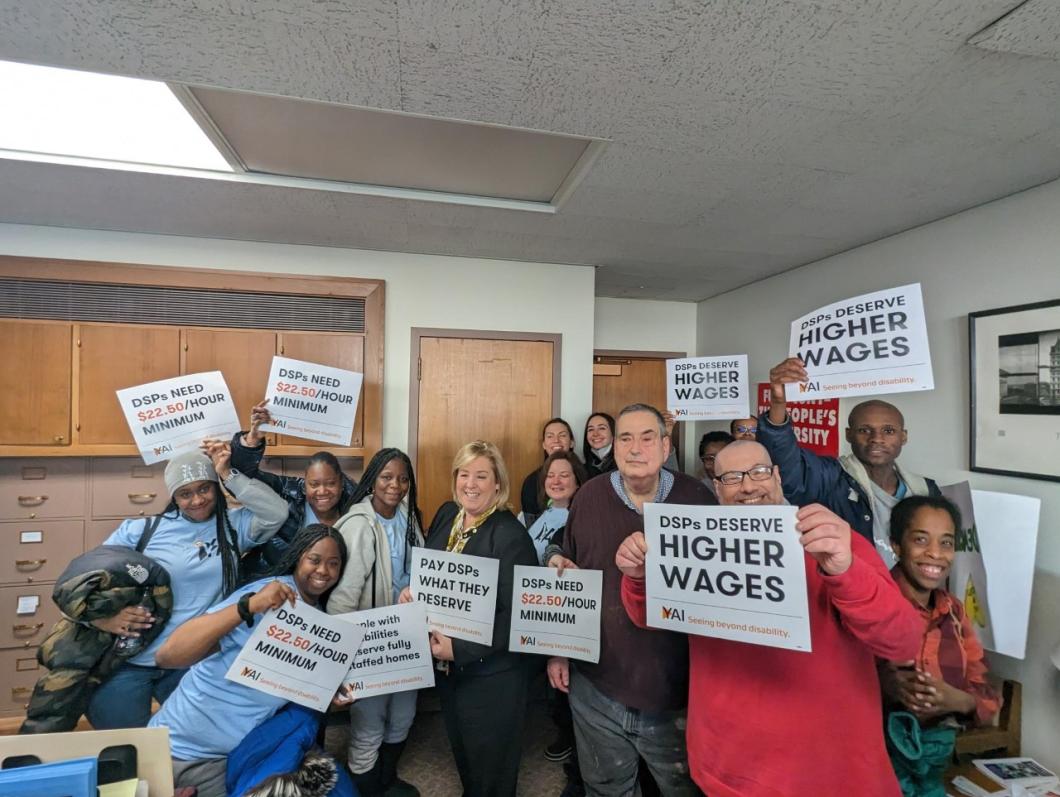 Hundreds rallied in the war room of the New York State Capitol chanting "8.5" – the percentage increase for cost-of-living adjustments advocates are asking Governor Hochul to include in the state budget. Currently, the proposed budget that came out earlier this month includes only a 2.5% increase.  
"DSPs are our greatest asset and we need to fight as hard as we can. If that means getting a huge group of people to come to Albany to advocate for bigger increases for our staff, that's what we are going to do and will continue to do until we are heard and DSPs are paid what they are deserved to be paid," said Kevin Carey, YAI's Interim CEO.  
After the rally, representatives from YAI met with eight New York legislators throughout the afternoon, giving DSPs and people YAI supports the opportunity to share their personal experiences and stories in their own words. Some lawmakers in attendance included Senator Kevin Thomas, Senator Shelley Mayer, Senator Jamaal Bailey, and Assemblymembers Rebecca Seawright and Andrew Hevesi.  
Each of the meetings with lawmakers focused on the workforce crisis, and the critical need to increase DSP pay so agencies like YAI can combat staffing shortages and provide the best possible care to people with I/DD.
"The people we support need more support from the state and DSPs need more pay to better support their families, so I am so happy to see everyone come out today to help us get what we deserve," said Careta Ali, a DSP from Hudson Valley. "The work we do is hard, but it helps people we support become more independent and live life to the fullest in their communities, and that's why I do what I do."