Brothers Find Residential Placement Together at YAI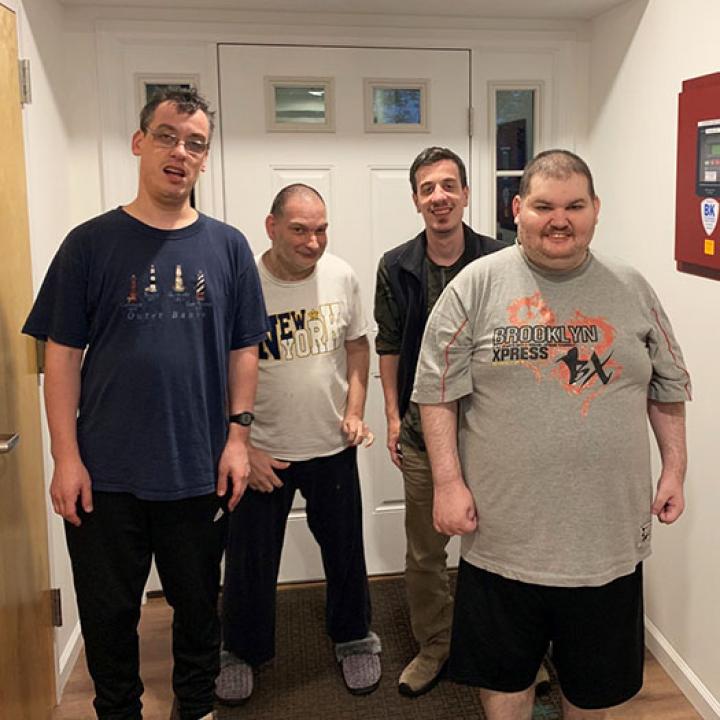 From the moment they were born 33 years ago, fraternal twins Andy and Michael Platt have been inseparable. For years, the brothers shared a room in their father's house in Suffolk County, Long Island, and attended YAI's WAVE day program.  
But as their father aged, it became harder to maintain the level of support that his sons required. It was clear that the brothers needed a home that would meet their needs while enabling them to remain close to their dad and each other. 
"They weren't going to move out of their dad's house unless they could get a residence together," said Melissa Higdon, Residential Supervisor at YAI's Three Village Residence. "Andy and Mike are so close. They have this silent communication — this twin connection — that puts the other instantly at ease no matter the situation."
Then, this past summer, the Platt family got the news they'd been waiting months to hear: YAI was opening a new residence just a few miles away in East Setauket, Long Island, and there were two rooms available for the brothers.
According to a 2017 study by the Consortium for Citizens with Disabilities Housing Task Force, the shortage of state-funded housing has often meant that siblings with and without intellectual and developmental disabilities (I/DD) were separated upon leaving their families. When this happens, family bonds are shattered, often resulting in lasting damage to physical and emotional wellbeing.
For Higdon and the rest of the YAI staff, the decision to keep the brothers together and close to their dad was a given, but it wasn't the only consideration.
"While we never would have separated them, we wanted to make sure their lives weren't disrupted in other ways, either," she said. "Aside from making sure they could still get to their day programs, we also wanted to keep Andy close to his part-time job."
On September 23, the Platt brothers moved into their new home at YAI's Three Village residence where, for the first time in their lives, they had separate bedrooms.
"Andy was a little hesitant because they'd always shared a room, but when they came in to look at the house, he walked right in and said: 'Oh yeah, this is my room,'" Higdon said.
The Platt brothers are joined in the home by three other men, two of whom share the same first names. For Higdon, the coincidence is fitting.
"While everyone is still getting used to being housemates, they're starting to figure out their routines and rhythms – from getting coffee in the morning to watching wrestling at night," she said.
Though Michael rarely uses words to communicate, Andy said that, with support from staff and each other, the new space has begun to feel like home.
"We really like it," he said. "It's important that we're together because we need each other. Mike has taken care of me a lot, and now we can still see our dad in between work. I also really like the staff because they've been there to help me and Mike. I feel good because I know that we can always be together."