The Essence of YAI on One City Block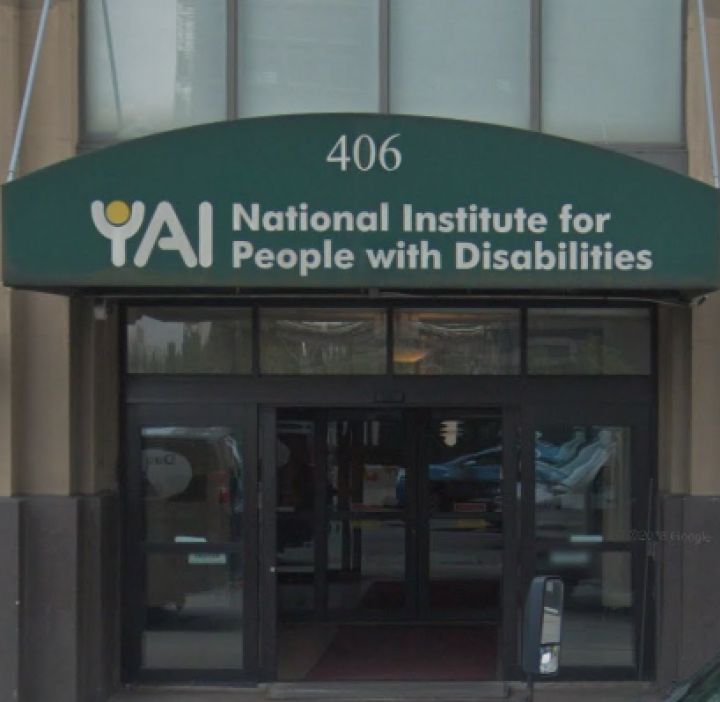 A moment or two spent walking by YAI's entrance on 34th Street and Tenth Avenue would be one of my best prescriptions for people who feel burnt out during the workday, feel stressed about their jobs, or lose sight of YAI's mission. On days when I need to get up from my desk and re-center myself, I walk down Tenth between 33rd and 34th Streets. I witness people coming to receive services, support staff, bus drivers, paraprofessionals, parents, and siblings entering and leaving our building with joy, frustration, anxiety, relief, and hope.
YAI headquarters is where it all starts. In the mornings, you will see dozens of buses and vans lined up, adults peering out the windows, some eager, some tired, waiting for the day to spend with their friends in the Manhattan Day Habilitation. Caregivers, hands tightly gripped on their small children, are rushing to get to school on time. Sometimes it is a family affair: parents, several siblings and grandparents all running into the building together to visit the clinic, preparing their family members for autism evaluations or dentist appointments.
For me, momentarily pausing there serves as a moment of clarification and a reminder of the important work that we do. Many YAI employees do not get to interact with the people we support on a daily or even weekly basis. On Tenth, you will see the faces of the thousands of families and people that we plan for, bill for, care for, and serve. If YAI was a person, its headquarters would be the heart.
As YAI begins its transitional phase of moving, I am confident that YAI's exceptional headquarters staff will preserve the spirit of our familiar home and use it as a foundation for what's to come on 42nd Street. Because YAI is not a street or even a building. YAI is the people we support, the employees who have worked for the agency for decades, and those who will work for the agency in the future. YAI offered me my first job out of college. Five years later, I have returned to the people—not the place—that fulfills me. YAI's heartbeat echoes in its locations in the Bronx, Brooklyn, Westchester, Long Island, Queens, and soon on 42nd Street in Manhattan. On some days, you may find me taking a short break outside near the new headquarters' YAI entrance. I hope to see you there.