Giving Back: Elmsford Volunteers Help Recovering Patients Stay Warm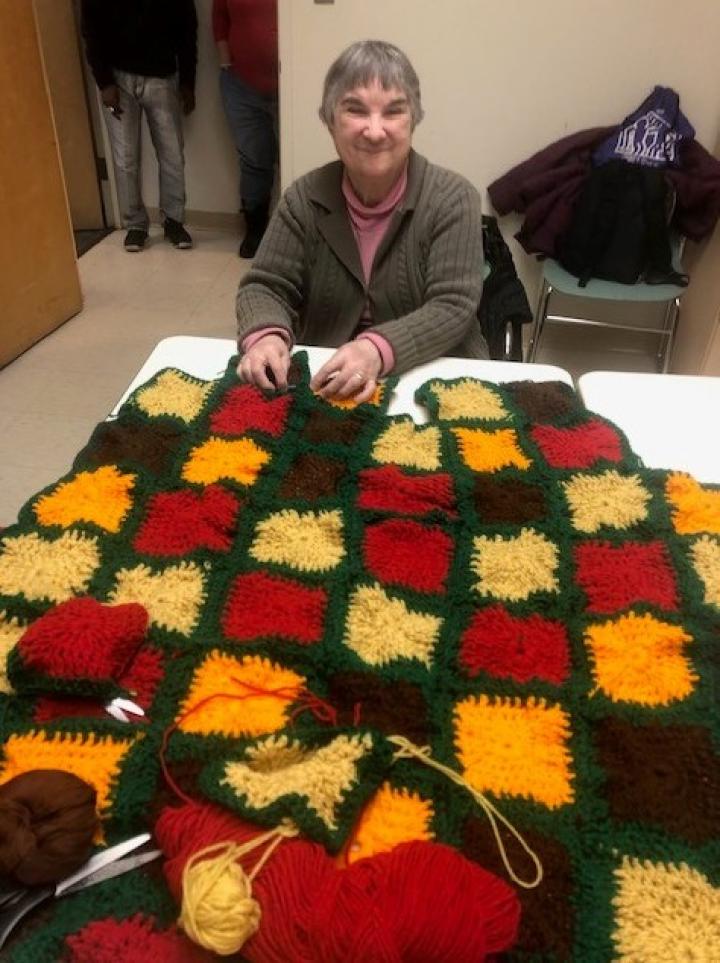 At Elmsford Day Habilitation in YAI's Hudson Valley region, a group of women are smashing the commonly held misconception that people with intellectual and developmental disabilities (I/DD) cannot meaningfully give back to their communities. For months, the women have spent their free time crocheting blankets for patients undergoing inpatient rehabilitation for chemical dependency at St. John's Riverside Hospital in Yonkers.
"A couple of years ago, a small group of especially crafty program participants made some blankets to donate to Habitat for Humanity," said Christine Francis, a Direct Support Professional who coordinates Elmsford's volunteer efforts. "After that, whenever it rained or we couldn't get to other volunteer sites, we'd crochet to pass the time. It wasn't long before the group decided they wanted to do something really special."
The perfect opportunity arrived last winter, when Francis met Kathy Olivia, Executive Secretary at St. John's Riverside Hospital.
"I'd recently learned that we had a lot of wool laying around at the hospital," Olivia said. "I thought it would be nice to make blankets for the patients, but there was no way I could do it by myself. So, we put out a call for anyone who knew how to crochet and within days a colleague introduced me to Christine. She immediately brought over a group of women who had taught themselves to crochet beautifully."
So far, the group has completed 10 blankets. On December 23, these will be given as surprise gifts to the patients, many of whom are used to spending the holidays out in the cold.
"Most of the people in our program are homeless, so they come in with nothing but the clothes on their back," Olivia said. "These blankets let them know that someone is rooting for them."
According to Francis, the difficulties these patients have endured are a powerful source of inspiration for the group.
"As they crochet, they often talk about how excited they are to help someone else feel warm and cared for," she said.
A 2016 study published in the journal Social Science and Medicine, found that people who engage in volunteer activities show improved memory, stamina, and overall wellbeing. In fact, the benefits are so powerful, that those who regularly volunteer in their later years are 24 percent less likely to die from health complications.
Across YAI, close to 600 people supported in the agency's day programs regularly volunteer in their communities, including roughly 150 people supported in the Hudson Valley region alone. Francis said that, in addition to community participation, the work done by these women and other YAI-supported volunteers offers a sense of purpose, in addition to other benefits like learning how to work on a team.
"They learn that, as much as we ask for things, we should also give in return," Francis said. "Not to mention, it's very therapeutic for the women, too. They enjoy how relaxing it is to get together and watch their beautiful creations evolve."
For Margaret "Peggy" Ahrend, who has received support from YAI for more than 10 years, making these blankets isn't just an enjoyable activity, it's also a way to continue her family's legacy of giving back to the community.
"My mom did a lot of work with daycare centers and with helping out at homes for homeless kids, so my family is really happy I'm doing this," Ahrend said. "I feel great when I'm crocheting blankets because I know I'm helping people in the detox program who need our help. I also get to teach others in my program how to help, too."
Indeed, Francis said that, throughout the course of this project, Ahrend not only demonstrated her dedication to her craft and her community, but she also proved to be a great teacher and mentor to fellow program participants who were eager to help but new to the painstaking art of crochet.
"I've loved watching Peggy work with the group because she really encourages them," Francis said. "When she shows them how to crochet, she'll say things like 'That's so beautiful, you're doing a great job.' It's really motivating for the group."
It's this spirit of generosity that Olivia has found especially moving.
"I've started calling them our guardian angels," Olivia said, her voice filled with emotion. "I just feel like we're so blessed to have found this group (from Elmsford) — especially around this time of year when there are so many in need. It's been truly wonderful.