Growing with YAI: Build Your Dream Career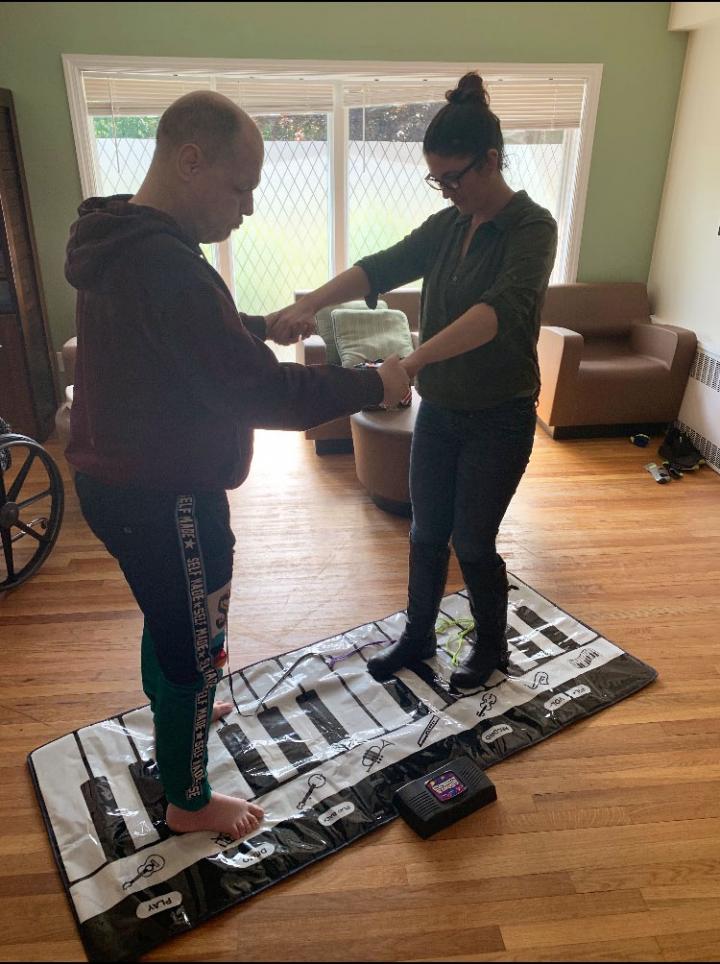 As Emily Heiss approached the U-shaped brick home, her heart raced. It was her first day on the job as a Direct Service Professional (DSP) at YAI's Old South Path residence, and given her previous experience supporting people with intellectual and developmental disabilities (I/DD), Emily was prepared for anything.
"Will the residents like me?" Will I like it here?" she wondered as she stepped through the front door.
As she walked through the rooms, Emily's nervousness gave way to excitement. She couldn't wait to help the men who lived there integrate into the community and pursue their interests. But first, she needed to get to know them — to listen to their stories, visit their favorite places, and understand what mattered to them.
In just a few days, Emily began to find her groove. Over television shows, card games, and shared meals, she built rapport with the residents and learned how to support their individual needs. Whenever she felt uncertain, her fellow staff were quick to offer the encouragement she needed to thrive.
Better still, YAI's flexible work schedule gave Emily room to grow outside of work, too. One year after launching her career at YAI in 2016, she went back to school to earn her master's degree in human services.
Despite her busy class schedule, Emily continued to take on new responsibilities at work. Her dedication did not go unnoticed. In April 2018, she was promoted to Assistant Supervisor and transferred to YAI's Sprucewood residence.
Just as at Old South Path, the warm atmosphere and welcoming staff made it easy to fit in. Better yet, her new role gave her the opportunity to manage the home and understand the inner workings of the organization.
By November 2018, just seven months after her promotion to Assistant Supervisor, Emily was ready for the next challenge. Fortunately, there was an opening for a Supervisor at YAI's newest home in Huntington and she was a perfect fit. Today, Emily manages the entire team and is the go-to advocate for the people they support.
While Emily is proud of the career she's built, she is even more proud to work at an organization that's so deeply invested in helping people with I/DD live fuller, happier lives.
"YAI is so different from any other place I've worked," she said. "In addition to providing basic support, staff are encouraged to bring their own passions to the job. For example, I use my love of arts and crafts to connect with the residents, while others bring their love of music or sports. Sharing those interests with the people we support does so much to enrich their lives."
For Emily and the rest of YAI's dedicated staff, working there isn't just a job, it's a career calling.
Flexible hours. Tuition reimbursement. Career advancement. All these benefits are available at YAI, one of the region's largest providers of services for people with intellectual and developmental disabilities.
At YAI, every day is an adventure. Learn more about a career in which you can thrive while helping people with intellectual and developmental disabilities live their best lives.
Job fairs are held monthly at YAI's Brentwood location (555 Washington Avenue, Brentwood, NY). Bring your resume and come meet the team from 3:30 PM – 6:00 PM on Wednesday, June 19th. Can't make it to June 19's job fair? Browse the open opportunities at YAI by checking out our career web page.