Meet New York State's DSP of the Year
No one knows better than James Balletta, who lives at YAI's Centereach residence, how lucky he is to have Nelson Machado in his life. Nelson, the home's Assistant Supervisor, and James both came to Centereach nearly five years ago. 
"Nelson has helped me mature my inner self," James said. "He has shown me that I can get a lot out of working harder to be a better man."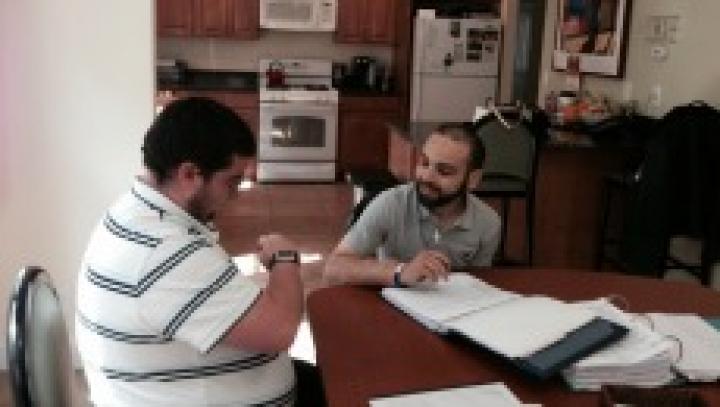 Nelson was recently named New York State's Direct Support Professional of the Year by the American Network of Community Options and Resources (ANCOR) in Virginia, where he joined ANCOR's National DSP of the Year and other state honorees.
Lisa Sterrantino, Senior Residential Coordinator, nominated Nelson for the award. 
"DSPs, like Nelson, are providing the individuals they support with the skills they need to live in the community, form friendships and relationships, hold meaningful jobs and continue to enhance the skills they need to grow more independent," she said.
Lisa recalls James having challenging behaviors and issues with authority. But James soon realized that Nelson was someone with whom he could relate. 
Nelson, who schedules 5 a.m. dialysis appointments so he doesn't miss time supporting the residents, lives by the motto — "There's always a next step." 
With Nelson's assistance, James has moved closer to his ultimate goal of living independently. Today James works as an office assistant, answering phones, greeting people and performing clerical duties at YAI's Brentwood Multi-Service Center. He credits Nelson with helping him achieve that employment goal. Whether it was developing a routine for getting up early or role playing to improve interactions with staff and his peers, Nelson was there to guide him. 
"Nelson doesn't tell me what I can't do," James said, adding that Nelson presents him with options and maps out paths to help him achieve goals.
Born with chronic renal failure, Nelson had a kidney transplant at age 15. "I know how it feels to be different and not have as much freedom as we would like," says Nelson, who is on the national kidney donor list once again. Nelson shares his mother's words with James and the other residents: "There's no room for negativity. Turn it around and turn it into something good." 
Nelson's positive outlook on life is what helped James connect and begin to trust him. He learned that Nelson is a good listener.
"He doesn't judge me," James said. 
Today, James is growing more independent. He knows what to do in an emergency and how to problem-solve on his own. James can stay alone in the home for four hours.
"Moving into my own apartment is not as important as Nelson getting better," James says.