A New Chapter: YAI Headquarters Open for Business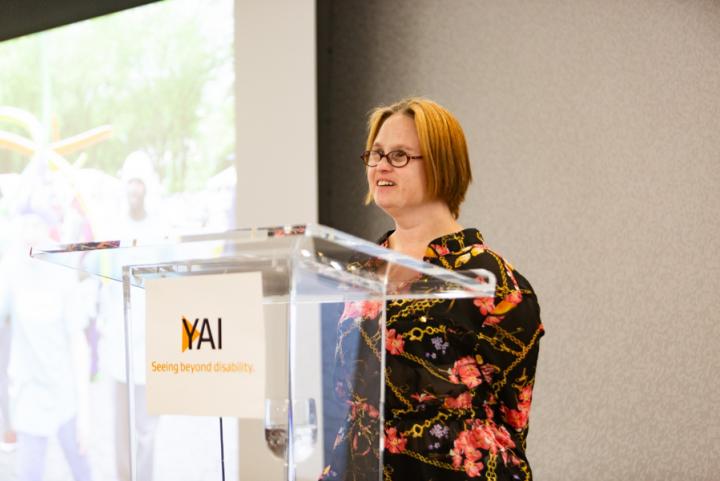 Representatives from four of YAI's leadership groups — our Self Advocates, Family Advisory Council, Board of Trustees, and senior staff — came together on September 19 to celebrate the opening of YAI Headquarters on Manhattan's East 42nd Street.
Nearly 100 people toured the new space and learned from colleagues how elements from its design will help the growing network increase independence for people with disabilities.
"Relocating YAI from West 34th Street took almost a year of negotiating, enormous logistical planning, and several large bottles of Advil," said George Contos, YAI's Chief Executive Officer. "But now, after massive amounts of encouragement from the entire community, staff are saying, 'we're finally here … and it was worth the effort.'"
The opening of the agency's headquarters marks a new chapter in YAI's history and provides new opportunities for program and administrative staff to connect. Hoteling space, where visitors can create an impromptu office, sits alongside an expanded staff café, meeting rooms, and a state-of-the-art conference center where YAI will convene stakeholders from across the intellectual and developmental disabilities field. In a few weeks, Premier HealthCare's Manhattan clinic will open its doors at YAI Headquarters.
Joining YAI for the night were Gale Brewer, Manhattan Borough President, and Keith Powers, the member of City Council who represents the new address. Other speakers included Jeff Mordos, Chair of the YAI Board, Margaret Puddington from the Family Advisory Council, and Janice McPhillips, who reminded guests that the perspective of Self Advocates is a critical element of any YAI event.
"For the last four years, I've advocated at the United Nations on behalf of people with disabilities around the world," said McPhillips. "I believe that it's important to speak up and to show that what we have to say matters."
YAI Headquarters is located at 220 East 42nd Street. Premier HealthCare's Manhattan Clinic has a separate entrance at 227 East 41st Street.