Presentation Highlights the Importance of Desensitization Therapy in People with I/DD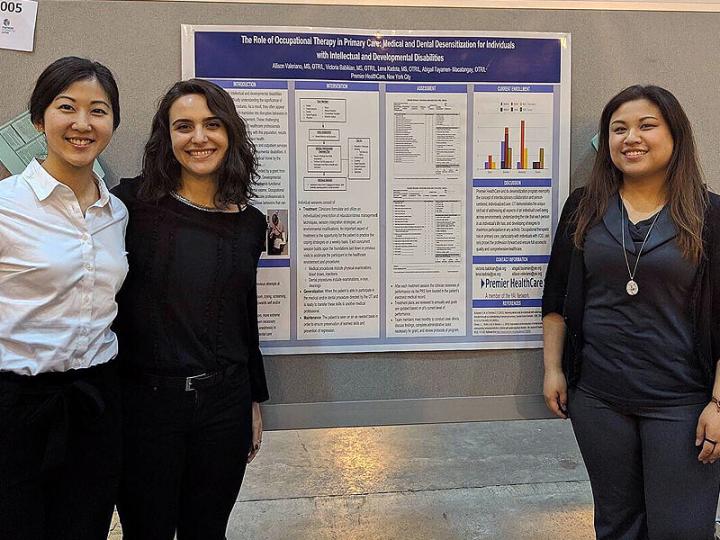 Every spring, the American Occupational Therapy Association's (AOTA) brings together the world's largest gathering of Occupational Therapy (OT) professionals to showcase the latest practices in the field.
This April, YAI affiliate agency Premier HealthCare was invited to the AOTA's Annual Conference and Expo in New Orleans to discuss their cutting-edge desensitization program in a poster presentation: "The Role of Occupational Therapy in Primary Care: Medical and Dental Desensitization for Individuals with Intellectual and Developmental Disabilities."
The presentation highlighted Premier's interdisciplinary desensitization program which coordinates the work of OTs; behavior therapists; nursing, medical, and dental staff to address sensory issues, anxiety, and fear among patients with intellectual and developmental disabilities.
"The most important thing about the program is that it's interdisciplinary," said Allison Valeriano, Occupational Therapy Supervisor at Premier. "From addressing sensory and behavioral issues to working with dental and medical staff to understand where the patient's barriers are, the desensitization program covers everything."
With desensitization therapy, patients with I/DD can complete medical and dental visits without being subjected to invasive and frightening medical interventions. "The ultimate goal of therapy is so the patient can complete these visits without being sent to the hospital to be sedated for a routine procedure that wouldn't typically require sedation," Valeriano said. "When patients have these coping strategies and they come in for their medical or dental visit, they are much less afraid because they know what to expect during the appointment."
During the poster presentation, OT professionals from around the world approached Valeriano and her colleagues to learn more about how desensitization therapy could be used in their own practices. "They were really excited to gain insight into the need and to learn more about how they, as OTs, can really help patients in this population," she said.