Volunteer New York! Honors Angela Chan, from YAI's Elmsford Day Hab
On April 5, Angela Chan, who volunteers through YAI's Elmsford Day Hab, received Volunteer New York!'s first ever Transformation Award. The award was given at the 39th Volunteer Spirit Awards at the Westchester Marriot in Tarrytown, New York to honor volunteers who have overcome personal challenges through their volunteer work. Angela is a key participant in YAI's collaboration with Volunteer New York!'s RISE program, which offers volunteer opportunities to people with intellectual and developmental disabilities.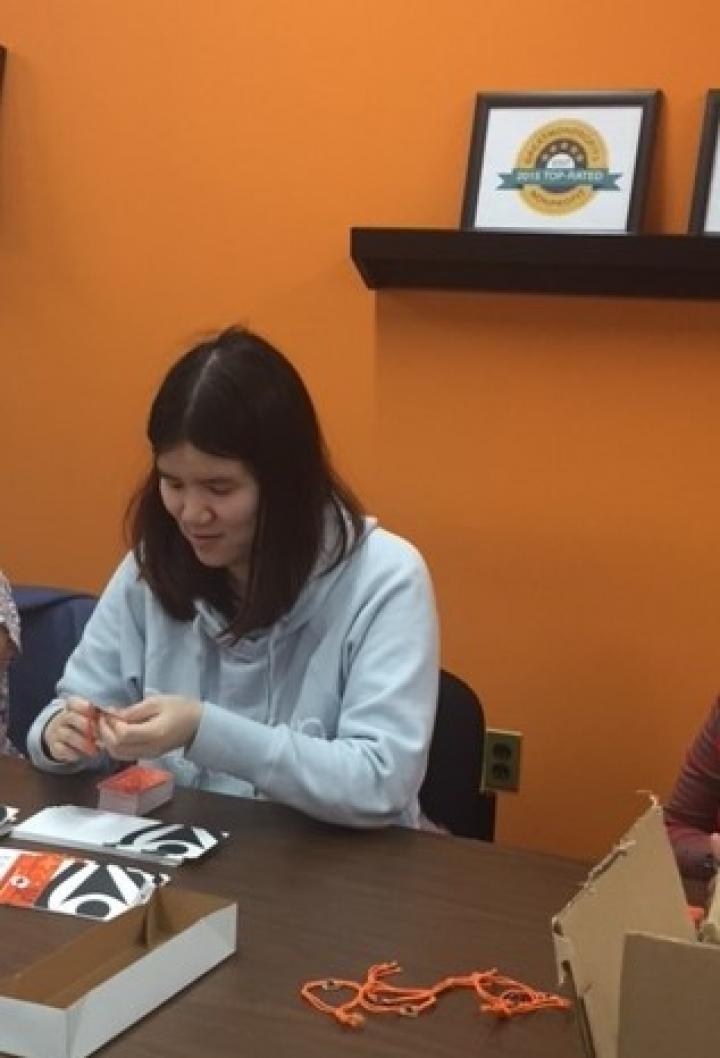 Together with YAI peers, Angela has been working hard for seven months creating bracelets and packaging them up for the Vollo project. "Vollo" stands for VOL-unteering LO-cally. Each bracelet was made by volunteers for volunteers with the belief that people can make a difference in their community by lending a helping hand. Wearing the bracelet shows a commitment to creating local change. Angela never missed a Wednesday making bracelets and stayed engaged throughout the whole process. She also stood out as a leader amongst the group, helping other volunteers to tie their bracelets. After the bracelets were made, Angela and the rest of the RISE group then attached the bracelets to commitment cards and fliers, offering recipients the chance to donate and the opportunity to volunteer. Once completed, the 600 bracelet packages were placed at every place setting at Friday's award ceremony. In total, the RISE team has made 1,500 bracelets to date. As for the rest of the bracelets, each time a person commits to volunteering through Volunteer New York!, they are given a bracelet.
The bracelet project is not the only volunteer work in which Angela participates. She also dusts pianos at the Westchester Conservatory of Music, fills dog toys with peanut butter at the SPCA of Briarcliff, stuffs envelopes for mailings at the Student Advocacy Center, and plans activities for children at the Salvation Army summer camp. Whatever the project, Angela finds creative ways to make her volunteer actions stimulating and engaging.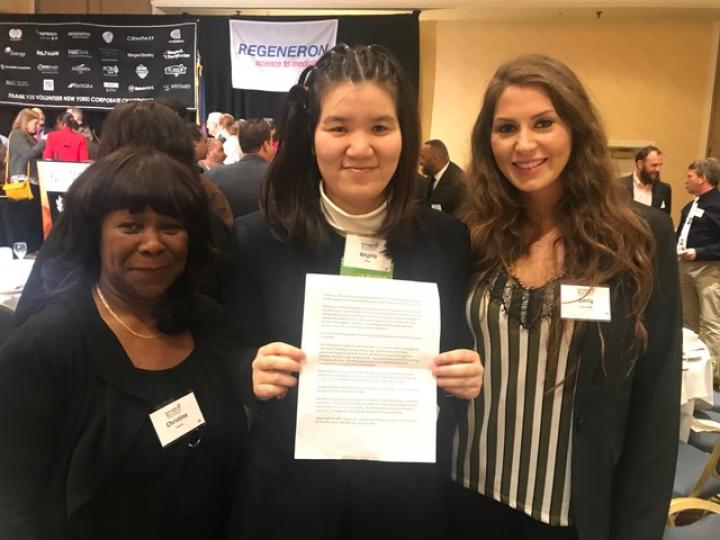 On Friday, Angela was presented with her award before an audience of 600 people. From the stage, Angela talked about the role of volunteerism in her life. "Volunteering makes me feel happy and accomplished. It has also helped me overcome some challenges, such as pushing through tasks I don't want to do." She hopes the skills she gained from volunteering will help her get a job at one of her favorite stores – Hot Topic or Build-A-Bear. After her speech, she received a standing ovation from the crowd.
A panel of third-party judges considered nominations by the volunteer's length of service, impact, and personal connection to volunteerism and the community. For Angela Chan, the decision came down to the perfect combination of enthusiasm and initiative that the judges were looking for. When asked what she likes most about volunteering, Angela simply smiles and says that she enjoys being part of a group and that it makes her feel good.