YAI Expands its Free Travel Training Across the NY Metro Area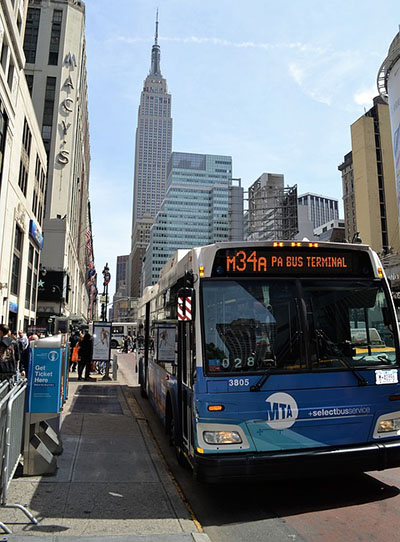 When it comes to public transportation, no other city compares to New York with its thousands of buses, subways, and ferries. But for people with intellectual and developmental disabilities (I/DD), these options can be more overwhelming than convenient. Fortunately, YAI's Travel Training program can help them make sense of the maze and become more independent travelers.
Although YAI has offered travel training to the people we support since 2011, the program was limited to those enrolled in our day service and employment programs. Thanks to a grant from the New York State Department of Transportation, the YAI Travel Training program now offers mobility management assessments and comprehensive travel training to any person in the New York metro area living with I/DD.
In the past, Joshua Devougas, who uses a wheelchair, had to rely on Access-A-Ride to visit friends or access services at YAI's Zerega Avenue Day Hab. Because Access-A-Ride is a ride share service, travel times could be long and unpredictable. Despite this, the service was often Joshua's only option for navigating more complicated routes.
"Before, I was really nervous because you have to take three buses to get to the Day Hab," he said. "Now, it's easier to get there while using my wheelchair."
Prior to his travel training, a three-bus commute was out of the question for Joshua. Now, he feels confident making bus transfers independently.
YAI's Travel Training course consists of an average of 15 sessions spread out over several weeks. Every person who takes the travel training course is paired with an instructor who tailors the classes for each person's needs and desired routes. For Joshua, this means working closely with YAI Travel Trainer Bridget Butler to learn and practice the best, most accessible routes to the day hab and to his friend's home in the Bronx.
"Travel training is a great way to increase independence," Bridget said. "It's really helpful for people to know how to use the subway and bus routes so they can have more options beyond Access-A-Ride."
In addition to learning the main travel route and its alternatives, those in the Travel Training program also learn how use MTA transit apps, how to seek help if lost, how to access emergency services, and how to improve their situational awareness.
Additionally, YAI hosts travel training workshops for staff from other I/DD agencies as well as for families and caregivers of people with I/DD. These two-day workshops provide an overview of the travel training process and teach participants how to help people with I/DD learn to use public transportation and become more independent travelers.
YAI's Travel Training and provider workshops are completely free of charge. If you or someone you know is interested in learning more about YAI's Travel Training program or the two-day provider workshop, please visit https://www.yai.org/travel-training or send an email to traveltraining [at] yai.org.