YAI Resident Chosen Softball MVP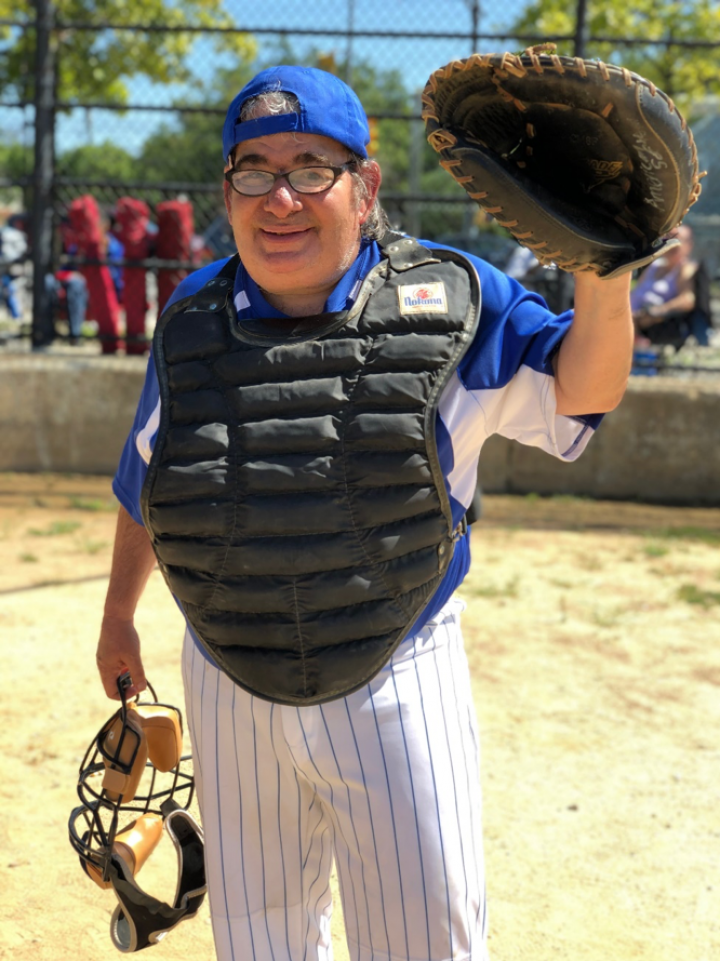 For as long as he can remember, Hal Rubin, 61, has loved softball. Every summer Saturday for the last 15 years, he's trekked from YAI's Rego Park residence to Vito Locascio Field in Ozone Park to play softball, the game that first gave him a sense of belonging.
"I love everything about the game," said Rubin, who is the catcher and morning exercise instructor for American Softball, a nonprofit league for teens and adults with autism and other intellectual and developmental disabilities (I/DD). "I love the friends I've made. I love the coaches. I love to be outside and to run. I love that it keeps me fit. I love it all."
Growing up in Queens during the 1960s, Rubin didn't have many opportunities to play sports. Season after season, he traveled with his mother throughout the borough to try out for junior softball only to be turned away each time. Undeterred, but without help from anyone outside of his own family, Rubin continued to search for his place on the field to no avail.
Then, in his early 40s, he got a lucky break.
Rubin had recently moved into a supportive apartment that was run by YAI, an agency that was very different from the I/DD care providers of his youth. A pioneer in person-centered services for people with I/DD, YAI had a network of formal and informal partners across the city who specialized in giving people like Rubin a place where their dreams could flourish.
"When I moved into the YAI house, they told me I shouldn't give up on finding a team that was right for me," Rubin said. "They helped me find American Softball. Now I can play, help out, and hang out with other people from YAI and other houses when there's a game."
According to Randy Novick, founder and CEO of American Softball, the league, much like YAI, was founded on the belief that adults with I/DD should have a place to pursue their interests.
"There are a lot of places out there for children with autism and other disabilities, but we're the only league I know of that does something for adults with I/DD," Novick said. "In the 20 years we've been doing this, the team has grown to more than a hundred players. Once people get on the field and start playing, you see that spark just come alive."
When YAI connected Rubin to American Softball in 2004, the league was still in its early years. Upon meeting Rubin, Novick knew that he was exactly what the team needed.
"Hal is one unbelievable human being," Novick said as the players gathered for a post-game feast. "When we first met, he reminded me of Yogi Berra — another famous catcher — and like Yogi, he took initiative in everything. He even goes around YAI to recruit others for the league."
On August 24, American Softball's 2019 season culminated in the Ozone Park game. As Rubin emerged from the dugout to play the last game of the season, he met the cheering crowd with a wide smile. For more than half his life, he longed for this moment.
Unbeknownst to Rubin, Novick and the coaches at American Softball had agreed it was time that Rubin's go-getter attitude was officially recognized. Next to the dugout sat a box. Inside was a trophy with Rubin's name on it: Most Valuable Player.
As coaches, teammates, and spectators filed by to congratulate him on his award, Rubin beamed with pride.
"I always say: 'You can't do it without me, Randy,'" he said.
Novick enthusiastically agreed.