YAI Resident Fulfills His Lifelong Dream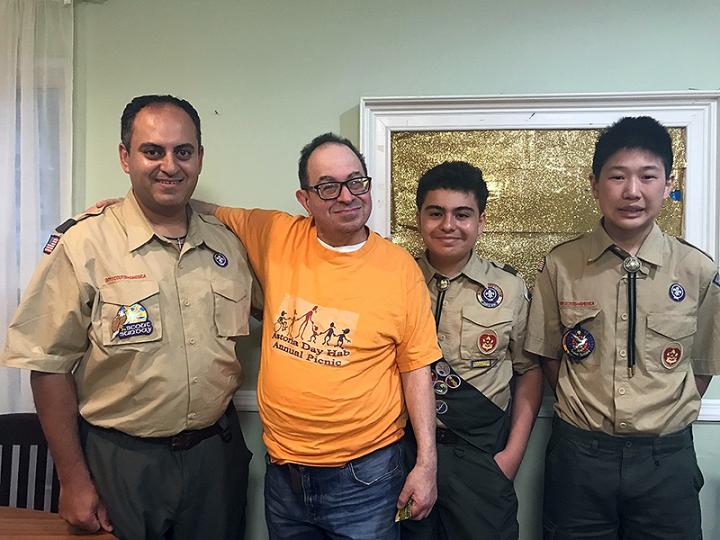 On June 26, a resident of YAI's Alan Butger residence in Queens got a special visit from some old friends. As a child, Robert Heimowitz spent 8 years in the Boy Scouts. Ever since he left, he has longed to reconnect with the organization that played such an important role in his early life.
"I always wanted to go back to the Boy Scouts and learn more from them," Heimowitz said. "I like them because they respect everyone and teach people different kinds of skills and ideas."
Abby Baker-Lynch, a Behavior Intervention Specialist at YAI's Queens Services, explained that YAI's residential staff believe that helping people achieve their dreams is just as important as supporting their daily needs.
"During one of our life plan meetings, Robert said that if we could get the Boy Scouts to come to the house, it would be the happiest day of his life," Baker-Lynch said. "We knew we had to make it happen."
During the visit, Heimowitz led the house in reciting the Boy Scouts pledge — which he knows by heart —before joining his housemates in a conversation with Scout leaders about upcoming projects and events that everyone could participate in. Heimowitz was especially excited to take up their invitation to attend a summer camping trip.
"In August, I'm going on a Boy Scouts camping trip in Douglaston (New York)," he said. "When I'm there, I'm going become a Scouting Adult Volunteer so I can learn more skills like how to help with their mail."
Heimowitz wasn't the only person to benefit from the visit. Before the Boy Scouts left, everyone in the house received a badge for sharing their stories and helping the Scouts learn more about people with intellectual and developmental disabilities in the community.
"It was an amazing visit," Baker-Lynch said. "Not only was Robert incredibly happy, but everyone else got the chance to participate and feel that they were part of the Boy Scouts. It was such a wonderful way to link them to the community."
When the Boy Scouts return to the house in September, Heimowitz will help everyone learn to tie the organization's signature knot — one of the many skills he's carried from his childhood as Boy Scout to his upcoming role as a volunteer.