YAI Self Advocates Take Center Stage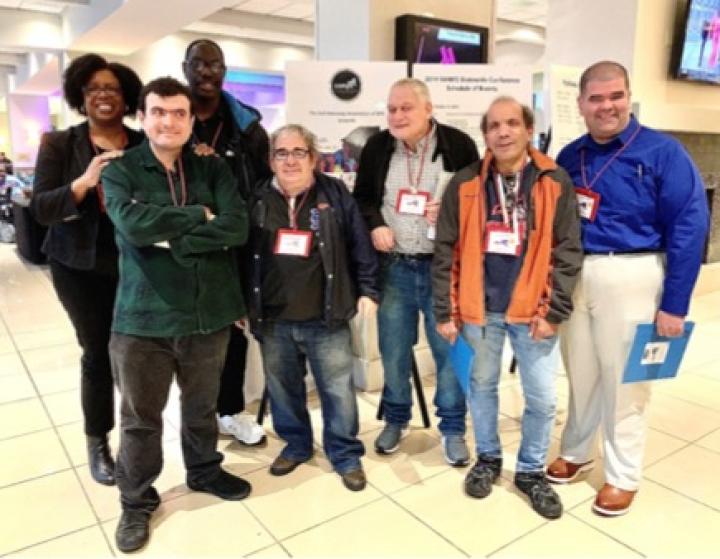 Of all the collective knowledge held by experts and direct support staff at YAI, none surpasses the insight and experience of those who know, firsthand, what it's like to live as a person with an intellectual or developmental disability (I/DD). Because of this, YAI's self advocates take their role seriously, dedicating much of their lives to giving a voice to the I/DD community through speaking engagements, community activism, and statewide political advocacy.
While these efforts take place year-round, this fall, the work done by YAI's self advocates gained momentum when they were recognized by the Self-Advocacy Association of New York State (SANYS), New York's largest grassroots network of self advocates with I/DD.
It all started on September 19, when self advocates who represent YAI residences in Queens learned they had won the 2019 SANYS Excellence in Self Advocacy Award.
"It was a huge surprise for all of us," said Antoinette Powell, Senior Supervisor at YAI's Woodside residence. "Getting this recognition really stepped up their energy and inspired them to start thinking about different events and activities they could do to bring more attention to self advocacy." 
Hal Rubin, President of the Queens Residential Self Advocates, agreed. 
"I want to make a difference for everyone at YAI," he said. "I want to show people that we can be change makers. I want to get people at YAI to advocate more for themselves and to help staff get more recognition for their work, too."
Less than a month later, Rubin made good on this commitment when he and a group of fellow self advocates from YAI's Manhattan, Brooklyn, Bronx, and Long Island regions attended the SANYS Conference in Albany, New York.
From October 10-12, the group attended a series of workshops and meetings with fellow self advocates and lawmakers from across the state. In addition to giving the self advocates a chance to exchange knowledge about rights and services, the event also enabled them to have a say in the state's legislative agenda.
"This conference was a big deal for the I/DD community and for breaking the barriers between us and the government that might keep us from pursing our dreams," said Car'Melo Grau-Puig, President of the YAI Self Advocates. "I think that being there and talking about self advocates' needs and showing the legislators where we are coming from opened up a lot of new opportunities."
Deanna Foote, YAI's Goverment Affairs Manager, agreed. "Too often, people with I/DD don't have a voice, and this gathering demonstrated how vibrant and engaged the community is," she said. "I went to a Supported-Decision Making workshop, led by a lawyer and a person we support at YAI, in which they focused on having control over one's life. It's something so many of us take for granted, but for people with I/DD, it's not a given. With events like these, people with I/DD can build the networks and visibility they need to ensure their rights are upheld."
Since the 1980s, New York's I/DD self advocates have been instrumental in major legislation, including efforts to bring self-determined (AKA self-directed) care to the state. As a result, thousands of New Yorkers with I/DD became legally entitled to assess their own needs, determine how and by whom those needs were met, and to evaluate the quality of the services they received. 
Most notably, self advocates spoke out against the "R" word's use within government agencies, leading New York State's Office for People with Mental Retardation and Developmental Disabilities (OMRDD) to change its name to the Office for People with Developmental Disabilities (OPWDD) and to remove the word from official use in 2010. 
While Grau-Puig is proud of everything that self advocates from YAI and other agencies have accomplished, he noted that their work is far from over. 
"We need direct support staff to earn better pay and we also need help for people with I/DD who can't work or afford to pay their bills," he said. "I just hope that myself and other self advocates can continue to get the word out and bring people's attention to things that affect us. We're all in this together."