YAI Westbury Goes on the Job at Old Navy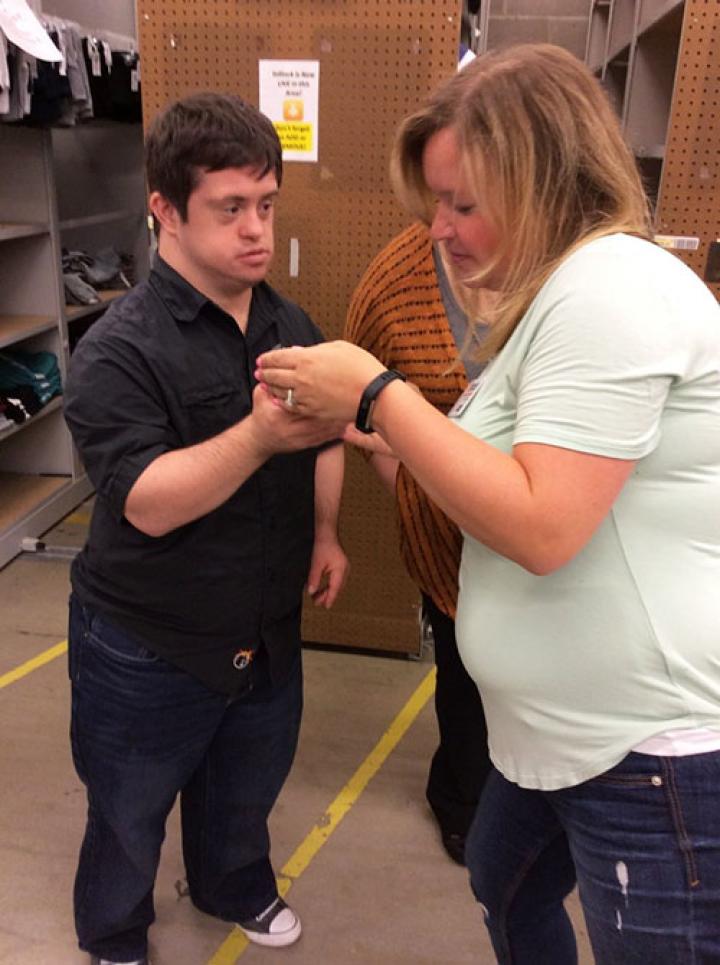 On August 8, a group of job-seekers from YAI Westbury got a taste of what it's like to work for one of the nation's largest clothing retailers. During their visit to Old Navy's store in Hempstead, New York, participants spent the day shadowing employees as part of the retailer's ON the Job program.
Since Old Navy partnered with YAI in 2015, the program has offered people with intellectual and developmental disabilities hands-on experience with arranging merchandise, managing the cash register, checking stock, and serving customers. 
Cary Williams, Supervisor at YAI's Day and Employment Services said that of the 400 people who use YAI's employment support services many have launched their careers with Old Navy and other stores in the Gap family of retailers.
"Old Navy's parent company, Gap Incorporated, has been an important employer partner for YAI," said Cary Williams, Supervisor at YAI's Day and Employment Services. "Currently, we have several dozen people we support working at Old Navy and other Gap stores. The company doesn't partner with us just because we work with people with disabilities, they do it because we have great talent." 
According to Stacey Engbrethson, Old Navy's District Manager, ON the Job's shadow training gives the retailer the chance to expand its relationship with YAI while ensuring that the people the agency supports find the best possible fit for their career goals.
"We really want to give them the full associate onboarding experience so everyone can get an idea of where there might be a need for more support," she said. "We also provide the opportunity for them to talk to associates and ask questions so they can decide if this is where they might want to build their career."
In addition to getting the inside scoop from the store's associates, participants were introduced to the retailer's latest technology: a smartphone application that automatically searches for markdowns whenever an item's barcode is scanned. The app, which is critical to how Old Navy processes its inventory and completes customer transactions, proved to be hit.
"Most of the people we support have iPhones and other devices, so they were able to quickly learn how to use the new barcode scanners," said Stephanie Johrden, Volunteer and Employment Specialist at YAI. "While we weren't too surprised, the speed with which they were able to pick up the technology really impressed the staff at Old Navy."
For Engbrethson, the ability to tap into YAI's talent pool has been very good for business.
"Whenever we hold these events it's clear that everyone is enthusiastic to be here and learn," she said. "It's something that seems to carry over. Among the staff we've hired from YAI, many have gone on to be some of our best employees. In fact, several have since been promoted from associates to store leads."
This sentiment was echoed by Williams. 
"The people we support are really dedicated to their work and tend to have longer retention rates which is great for any employer," he said. "On Long Island, people we support stay in their jobs for an average of 10.8 years before moving on. This is significant given the high turnover in today's job market."
Engbrethson added that, in addition to strong retention rates, YAI's hands-on approach makes the agency an especially good employer partner to Old Navy.
"Not only do we get great hires from YAI, but the agency's job coaches have been amazing when it comes to finding new opportunities and ways to keep improving employee performance," she said. "As long we know their needs and what we can do to help them succeed, everyone benefits. It's a truly great partnership and we hope to be part of it for years to come."
To learn more about employment support services with YAI, call YAI LINK at 212.273.6182 or email link [at] yai.org.