Share
Under the best of circumstances, applying for jobs is a daunting task. When Erik Moss had to rely on his phone or his mother's old computer to complete applications, his motivation waned. "He's been out of school for a little while and he started to become less independent," said Ericka Lewis, Moss's mother. Lewis speaks not only as a parent to someone with an intellectual and developmental disability (I/DD), but also as a professional in the field. She joined YAI in 2003 and is now a Residential Supervisor. "It's very sad when I start to see him regress and get comfortable not doing things."
What Lewis witnessed is not surprising. A 2021 study from the University of Houston demonstrated that people with basic IT skills, such as the ability to email and copy and paste files, are more likely to gain employment, even if their job doesn't explicitly require those skills. According to Paul A. Pavlou, the study's author, "Very few people can get these skills from their employer. Workers are expected to obtain these IT skills themselves, in order to get a job in the first place" he said. "And the less-privileged population they are, the harder time they have obtaining these skills that require computer equipment and internet access."
For Moss and others with I/DD, this digital divide has only been accentuated by the pandemic. As more activities have moved online, a lack of access has resulted in increased feelings of isolation for many.
When Sarah Shanderson, a Person-Centered Technology Specialist, heard about Moss's struggles, she sprang into action. Through YAI's Center for Innovation and Engagement, Shanderson was able to assess Moss and procure the technology that would not only support his job search, but help him reach his other goals, too. Through the Center, Moss now has an Amazon Echo, a Fitbit, and an iPad with a keyboard.
"Erik is looking for a job and he's working to lose some weight and manage his diet," Shanderson said. "But his big thing is trying to get a job right now. Now that he has the iPad with a keyboard, he applied to the post office, and before he couldn't do that. It was a lot tougher for him to draft those documents. Cellphones are great, but it's significantly easier on a bigger screen with a bigger keyboard."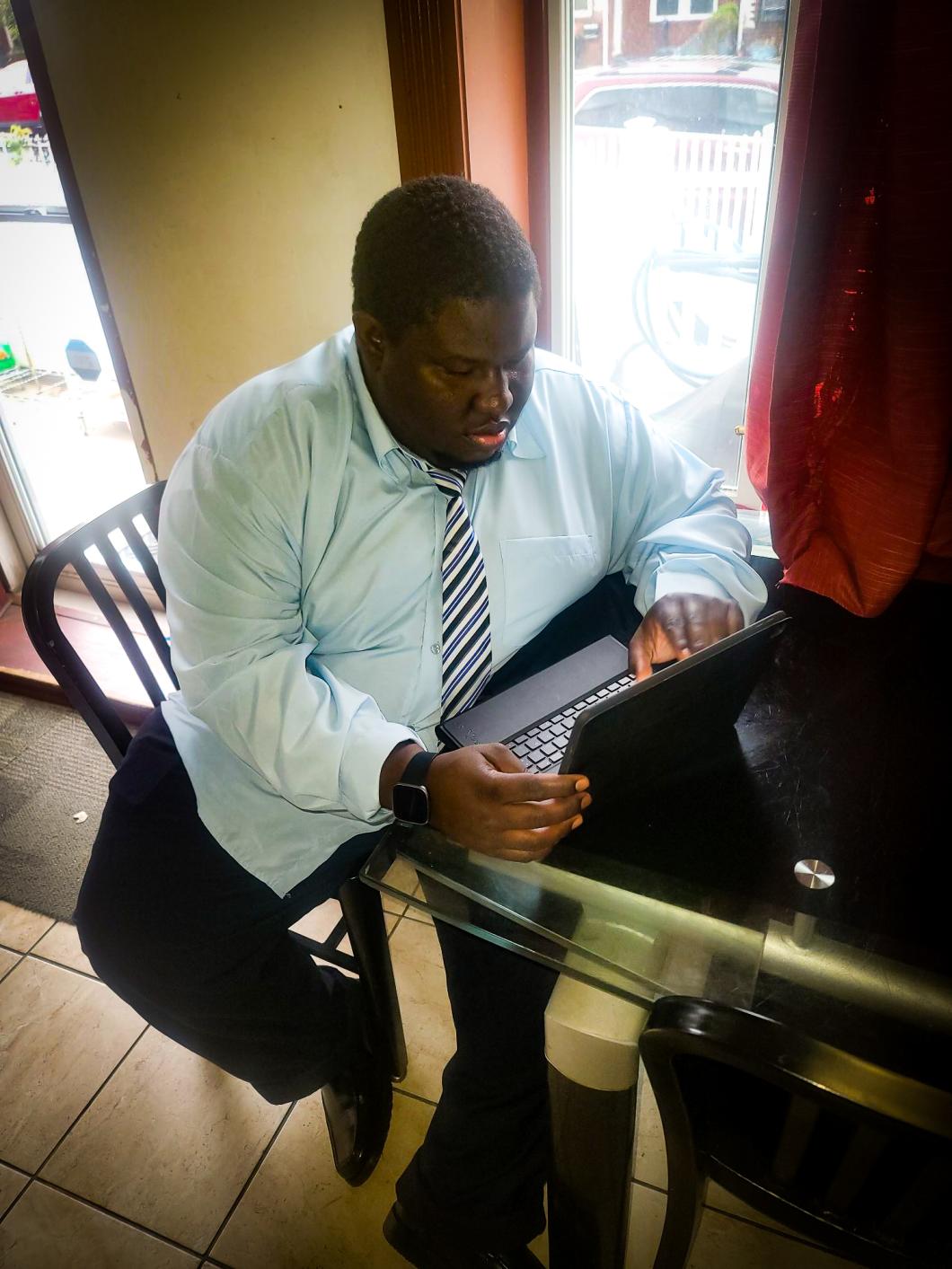 Moss agrees, adding that being able to search from his own device on his own time has been liberating.
"Everything's been going great so far," Moss said. "I've been using the iPad to look for a job. So far it works like a charm. Now that I can search with my own device, I have more time to do so."
When Moss isn't working on his job search, he's frequently out taking steps to realize his fitness goal.
"Erik is on a weight loss journey and he and I compete, but he wipes the floor with me," said Lewis. "He brags when he gets 15,000 steps...That Fitbit watch is something he wears every single day. He really loves it."
By leveraging his Fitbit and the Amazon Echo he uses for culinary tips, Moss is working to defy the CDC's statistic on adults with disabilities—that they are 57 percent more likely to be obese than those without disabilities.
"It's given him incentive and motivation. He's excited about moving around and he's excited about being busy," said Lewis. "Technology can open up doors, but in his case, it's opening up Erik. It's building up his self-esteem."
Moss is one of roughly 70 people who have received customized technology through the Center for Innovation and Engagement so far. This pilot project, with lead support from the Stavros Niarchos Foundation (SNF), is helping YAI understand how technology can improve the quality of life for people with I/DD. Shanderson works across all YAI programs to match people with the right smart tech, regardless of the amount of support they require. The Center is currently rolling out customized technology for students at YAI's two affiliate schools, iHOPE and Manhattan Star Academy.
"Tech is absolutely everywhere and it's absolutely necessary for the people we support to have access to it," said Shanderson. "Just seeing how it's changing people's lives is exciting."