Share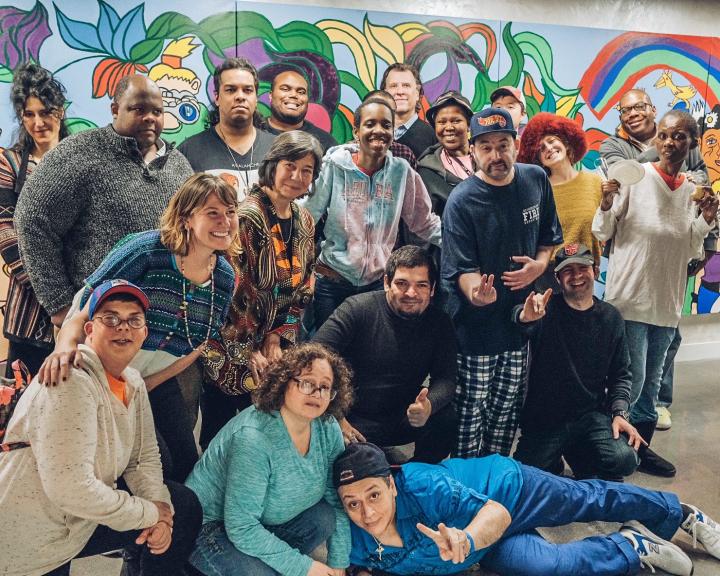 On January 7, YAI self advocates, staff, and friends gathered at the agency's headquarters where YAI artists unveiled their mural entitled Self Advocating Conference. Conceived by Jimmy Tucker and Oswald Saenz and brought vibrantly to life by 15 of their fellow YAI artists over the course of three weeks, the 30-foot painting reflects the agency's commitment to community, diversity, and inclusion.
"We wanted the mural to represent people of every race and disability because that's what YAI represents," Tucker said. "This mural also gave me a chance to hone my painting skills and to work on my biggest project yet. It reminded me that I will never let my disability define what I can do."
Amid toasts and upbeat music, George Contos, YAI's CEO, echoed Tucker's sentiments.
"This mural is as great an example of creativity as any Midtown Manhattan office building is likely to see," he said. "Envisioned, designed, and painted by YAI artists, this mural captures the energy, diversity, and joy — not only of YAI self advocates — but of our entire organization. It gives me great pride to see it here as a calling card for everyone who has ever been a part of YAI."
A 2010 study published in the American Journal of Public Health found that when people with intellectual and developmental disabilities (I/DD) have access to creative outlets in music and visual arts, they enjoy a plethora of health benefits ranging from reduced rates of anxiety and depression to improved cognitive and motor function.
Since 2011, YAI Arts has provided opportunities for dozens of artists with I/DD to channel their talent and launch their creative careers. Through workshops, collaborative projects, and with the support of artist mentors, YAI's artists hone their craft, develop their peer network, and experience New York's exhilarating arts scene. 
"We provide the materials and mentorship and the artists do the rest," said Quimetta Perle, Senior Supervisor of YAI Arts and Culture. "Having a place where they can come and express themselves enables them to create a community, which is one of the most important aspects of the YAI Arts program."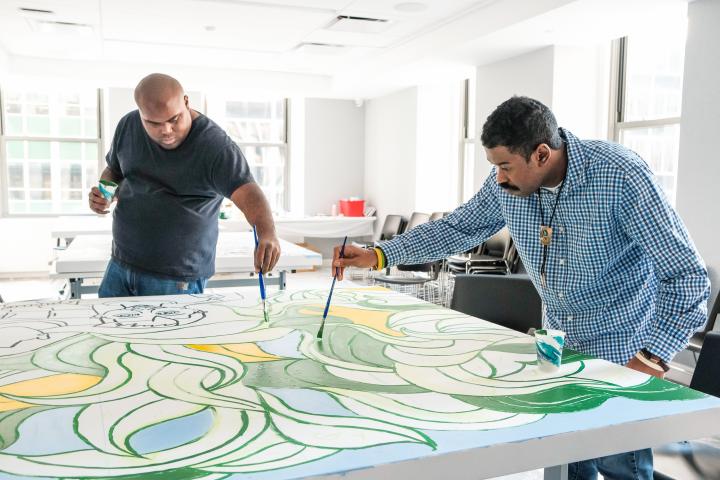 The creative commons and robust networking opportunities provided by YAI Arts have, for some YAI artists, led to tremendous professional success. Artists like Tucker and Saenz have drawn critical acclaim and have been featured at Sotheby's, MoMA, and other world-renowned institutions. 
Meanwhile, the sculptures, collages, and paintings of other YAI artists like Jennifer Quinones — whose whimsical portraits of cats and horror film icons have cultivated a cult following on Instagram — have garnered commissions and gallery showcases throughout the country.
Regardless of whether those who participate in YAI Arts are searching for professional success or simply a creative outlet, the program offers a safe space and community that people with I/DD sometimes struggle to find.
For Chris Chronopoulos, a YAI-supported sculptor and painter whose linework and masterful shading can be seen throughout Self-Advocating Conference, this sentiment rings especially true.
"What I love most about art is that it helps me go outside the realm of my subconscious to take everything I see in my head and figure out how I'm going to translate the world I see from my mind to reality," he said. "YAI Arts has given me a chance to try new ideas, let go of restraints, and go outside the realm of myself to share my vision with others. I'm a better artist because of YAI."