Share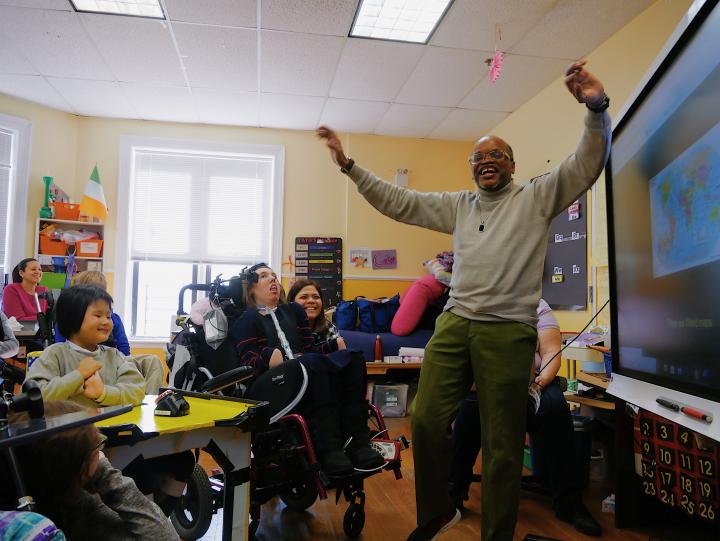 When Jerry Robinson first found a supported employment opportunity at YAI affiliate school iHOPE almost six years ago, he had no idea what to expect. It was Robison's first time working with students with traumatic brain injuries. "When I first came to iHOPE it was kind of challenging because I've never worked at a place like this before," Robinson said. "I had to get used to it. But I got the hang of it."
Over his six years working at iHOPE, Robinson has grown in his role as part-time Office Assistant. In addition to administrative tasks, he helps create adapted education materials by cutting and laminating symbols for students who do not communicate with words.
"Jerry always takes on new tasks and is becoming more self-sufficient. It's a pleasure to work with him," said Courtney Nelson, Associate Director at iHOPE.
On top of his job responsibilities, Robinson volunteers to hold a weekly storytime at the school that draws a large crowd. Storytime is mainstay of any classroom but Robinson put together an iHOPE version. iHOPE staff helped him make the transition to switch-adapted books through a smartboard. The change has made storytime more interactive and engaging. Students help by turning the pages with adapted switches.
But the benefits of the weekly storytime go far beyond socialization. According to a 2018 study in the International Journal of Special Education, assistive technology is one of the most crucial accommodations a school can make for students with special needs. Assistive technology has many advantages, including improving performance for students with disabilities, which leads to greater independence and improved quality of life. Assistive technologies have also been shown to have clinical benefits, although many schools do not have the budget to invest in the most up-to-date tools.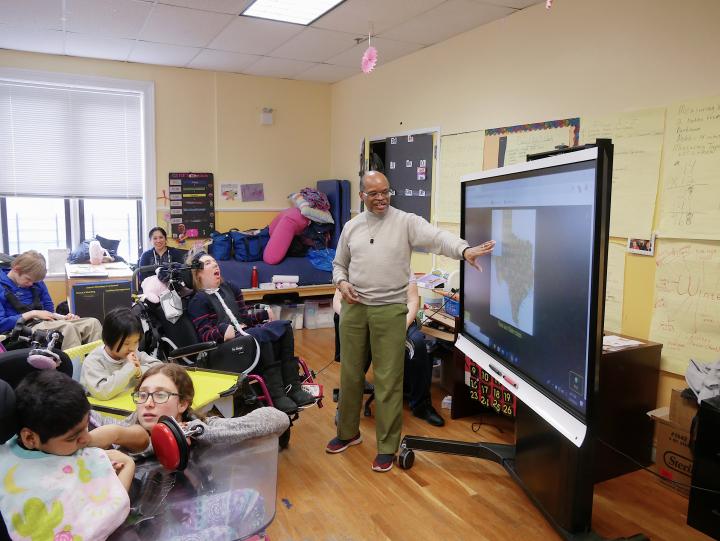 For Robinson, the payoff remains the students' reaction. In February, he shared stories focused on black history to universal enthusiasm.
"We read about Harriet Tubman and Martin Luther King, Jr. I like those stories," Robinson said. "And it's rewarding because I'm reading to older students and they can relate to the stories better. Just being able to laugh and see the smiles on their faces is wonderful. I love it."
Eileen Marcus, the teacher in the classroom where Robison hosts his storytime, sees the experience as beneficial for all involved.
"It's so many levels of great. The kids get to socialize, they use AAC [augmentative and alternative communication] devices to communicate," Marcus said. "I see how animated they get, and Jerry makes it so much fun."
At iHOPE, incorporating the latest technology in the classroom is one of the school's top priorities--and where much of the school's fundraising efforts focus.
"The whole Speech and Language department keep up with all the new equipment," said Marcus. The beauty of AAC devices is that is makes reading a book possible even for quadriplegic students. It's very important that they have as many experiences as their typically developing peers."
For iHOPE student Catie Feury, her bond with Robinson combined with assistive technology have helped her flourish in the classroom.
"We hook Catie up to a switch adapter and she turns the pages with her head," Marcus described. "She gets so excited she sometimes turns three or four pages at once. We even put Jerry's voice on Catie's switches for a while."
Robinson agrees that his connection with Feury has been particularly beneficial for them both.
"I've really connected with Catie and she's my reading partner. She helps me out a lot. We're like a team," Robinson said. "Just being able to laugh and see the smiles on her face is rewarding. I love it. It brightens my day."