Manhattan
The Manhattan Region of YAI is made up of Residential Services, Day Services, Employment Services, and Clinical and Family Services. All services work with the objective of putting the people we support first. Driven by the concept of Person-Centered Thinking, we work with the mission of asking "how might we?" When faced with meeting the needs of the people we support, we always strive to look past the challenges and focus on the possibilities. There is always a way to help someone accomplish the goals and dreams they have identified for themselves. These goal may include gaining employment, volunteering in the community, visiting family, attending concerts and sporting events, and having meaningful personal relationships.
---
FAQs
Services can be funded a number of different ways and the eligibility requirements can vary, as can availability. It is best to contact YAI LINK at 212.273.6182 or by email at link [at] yai.org to get started.
We have three facility-based day habilitation programs. One in Central Harlem, one in Midtown, and one in Hudson Yards. We also offer community-based day habilitation program throughout Manhattan. In total, Manhattan's day services programs support 260 people. In addition to these services, all of the regional day programs have a vast network of community-based volunteer sites that serve as integrated working environments for the people we support.
There are an array of career opportunities at YAI, with flexible schedules and great benefits. You can see all of our current opportunities on our careers page.
Yes, YAI provides opportunities for people to volunteer. We can work with people individually to assess areas of interest and will work to tailor the experience to meet each person's desires. Please visit yai.org/volunteer for more information.
Thank you for considering making a financial gift to support YAI's mission and services. Your generosity helps ensure the people we support continue to receive the customized services they need, and are able to live life on their terms. There are a number of ways you can give; please visit yai.org/give or call 212.273.6350 for more information.
---
Read a true story that embodies the amazing things that are happening at YAI-Manhattan every day. 
---
Meet Thais in Manhattan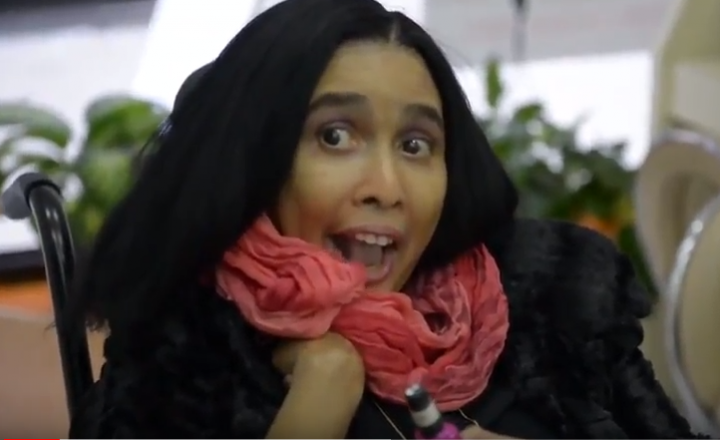 Thais lives at YAI's 35th St Residence, which supports people with complex medical needs, and whom require wheelchairs for ambulation.Thais also requires a feeding tube for all her nutritional needs and fluid intake. Even with the complex needs that Thais has, the amazing Direct Support Staff at the residence have learned to observe her actions  and are able to communicate with her. Thais communicates expressively with her face, hands, and overall body language.
Through person-centered planning and the utilization of POMs interviews, Thais expressed wanting to be more connected to family, an interest in R&B music, and a desire for manicures. This lead to the team supporting Thais' purchasing an iPad so she can directly communicate with her sister in North Carolina via video chats. Thais is also an avid Usher fan and became a member of his online fan club. Staff then helped Thais accomplish her dream of attending an Usher concert and staying out past midnight! Staff also continue to help Thais integrate in her local community and enjoy her favorite activity of having her hair done and getting manicures. Staff are continuously support Thais to ensure that she lives a full life and enjoys the things that are important to her.
Program Locations
220 East 42nd Street, 8th Floor, New York, New York 10017 
Tel. 212.273.6100
Administrative Offices | Trainings
105 West 33rd Street, 9th Floor New York, NY 10120
Tel. 212.273.6100
Day Habilitation | Employment Services | Adult Recreation | Supplemental Day Habilitation | Healthcare
310 Lenox Avenue New York, NY 10027
Tel. 212.645.1616
Day Habilitation
290 Madison Avenue, 3rd floor New York, NY 10017
Tel. 212.645.1616
Day Habilitation
319 West 16th Street New York, NY 10011
Tel. 212.255.2673
Overnight Respite
180 Amsterdam Ave, 3rd floor New York, NY 10023
Tel. 646.795.3850
School
101 West 116th Street, 2nd Floor, New York, NY 10026
Tel: 212.787.8315
School