Share
Over the past two-plus years, day programs for people with intellectual and developmental disabilities (I/DD) have adapted to myriad challenges posed by the pandemic. They've had to close temporarily, go online, go outside, and devise countless ways to adjust. Nationally, many agencies have failed to make adjustments. A survey by The Association of People Supporting Employment First bears this out:  "32% of day habilitation programs and 23% of pre-vocational programs closed due to challenges with funding and maintaining the direct support workforce." Although YAI faced similar challenges, the pandemic has spurred innovations that will forever alter the nature of day services for people with I/DD.  
As with workplaces across the country, the onset of COVID highlighted the limitations of the site-based day hab model. Without a "one size fits all" approach, day habs adapted to rapidly changing needs. Services have become more flexible, allowing people to participate in a mix of site-based, community-based, and fully remote options. For many with disabilities, this additional flexibility is a welcome relief from rigid pre-pandemic schedules. It also mirrors the global trend of increased workplace flexibility—something that people with disabilities have been working toward for years. Now that hybrid work has become commonplace, a recent Advance Workplace Associates survey indicates that 86% of employees want to continue with a hybrid or fully remote model. Many people in day habs also cannot imagine a return to pre-pandemic routines.   
"The pandemic kind of gave us a clean slate," said Ahna Smith, Assistant Director in YAI Hudson Valley. "We're able to look at the program as a whole and reimagine what it can be."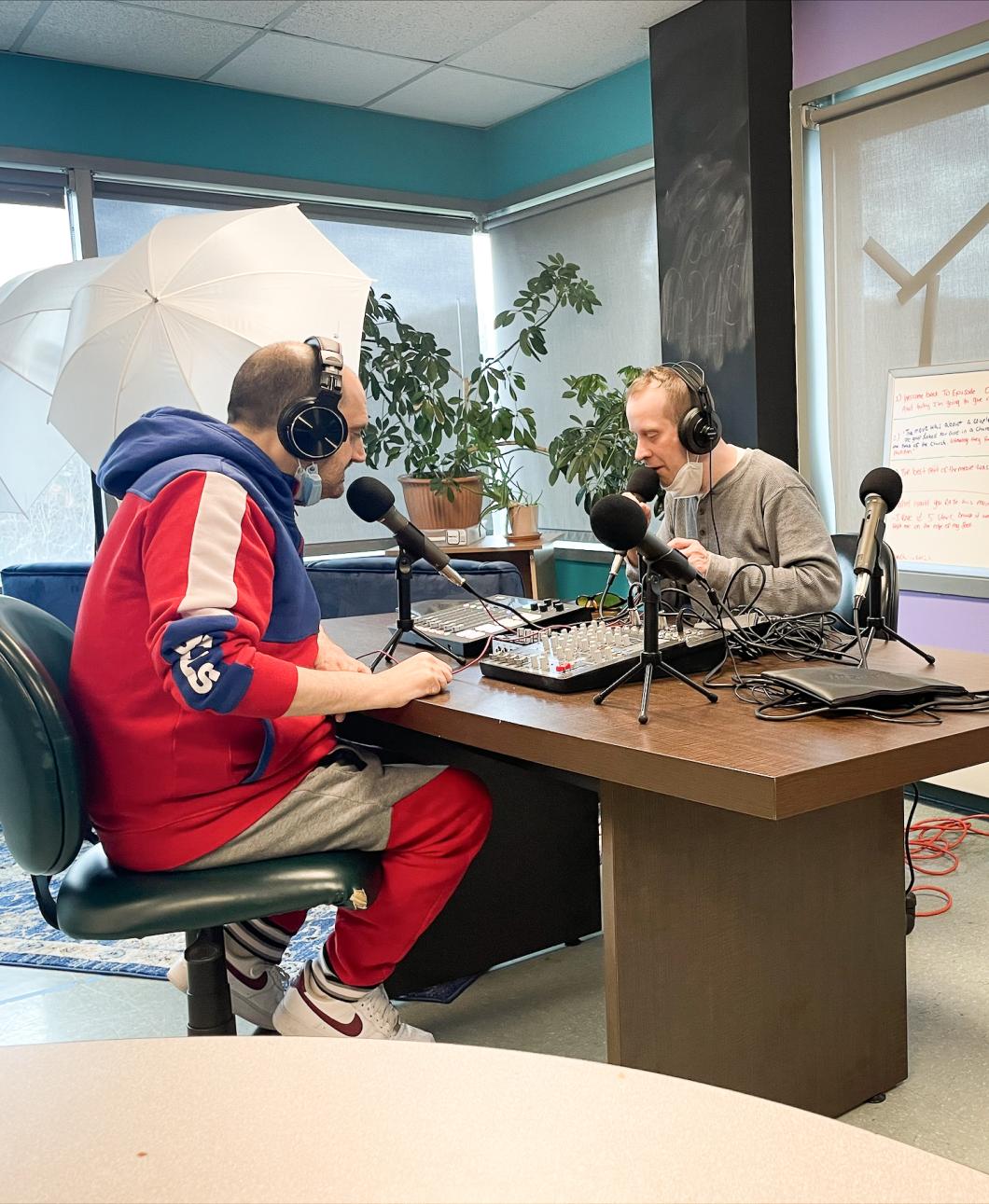 That clean slate has led to the Tarrytown day hab, YAI's largest program, to pioneer dozens of ideas that align with the interests of staff and day hab attendees, allowing them to foster creativity and build skills in art, technology, and even marketing.  
In summer of 2021, Tarrytown opened its art studio. This winter, the Tarrytown team launched a podcast studio. With equipment donated by Samson Technologies, the studio's professional-grade microphones, headphones, and other gear bring podcasts to life. Inspired by YAI's Center for Innovation and Engagement, the Tarrytown team is regularly recording three podcasts.  
According to Smith, once the Center for Innovation and Engagement had provided tech for a few day hab attendees, the Tarrytown staff saw an opening not only for podcasts but for videos and other rich media. Recently, Tarrytown partnered with YAI Knowledge, YAI's training department, to produce monthly "teaser" videos for mandatory staff trainings.  
David Sheeber has attended Tarrytown for four years and co-hosts "The Recap," a monthly sports podcast. For him, podcasting pairs a love of sports with his outgoing personality. "Me and Jose do the podcast together," said Sheeber. "I got into it because I watch basketball, hockey, all that stuff. It feels good. I really enjoy doing it because I love doing things my way." 
Tarrytown isn't the only day hab with big changes in the past two year. In Manhattan, Karen Soler, Senior Director, has also seen an increase in customized, purpose-driven activities across day services.  
"What used to be one large program with more than 200 people is now three smaller programs with a huge community presence," Soler said, pointing to new service relationships with regional agencies. "We are essential to so many nonprofits now. Without us, they don't get a lot of their work done. We deliver food to homebound seniors and if we don't show up, the seniors don't get the food...We fill a serious community need all over New York City." 
Soler believes creative problem-solving and adapting early on in the pandemic were crucial for day services to rise above this historic challenge.  
"We immediately started to provide a smaller version of community-based programs for people that would not have typically received that support because they need a high level of support," Soler said. "Turns out, two years later, most of those people are still in a community-based program."  
Soler notes that groups have grown in size as the pandemic has ebbed, but they continue to spend more time out in the community. Additionally, some people continue to attend programs fully remotely, while others opt for only a few days of services a week.  
"We're really allowing people to pick what type of services they want and we're less rigid," said Soler. "So with COVID, the silver lining is that everybody has a chance to get out and assess their potential before we box them in to, 'day program—this is what you need.'"