Share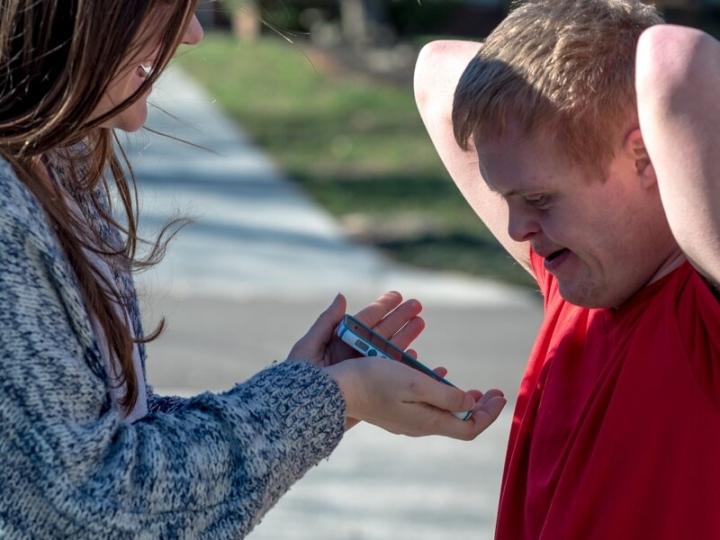 Sarah Shanderson is passionate about using smart technology, often turning on her lights from her smartphone and counting her steps with her Fitbit. Now she is sharing her zeal for tech with people served by YAI with the goal of empowering them to live safer, healthier, and more independent lives.
While smart home technology like remote-controlled thermostats and doorbell cameras has made everyday life more convenient and secure for millions, Shanderson says smart devices can be life-changing for people with intellectual and developmental disabilities (I/DD). 
Recently, she helped a man who wants to lose weight set up his own Fitbit and a smart scale so he can track his progress. Shanderson introduced another person she supports who lives on his own to an automatically programmed medication dispenser that buzzes twice a day when it's time to take his pills. If he doesn't open it, a notification can be sent via text to staff. 
"I'm really excited to see ways that technology can help people we support to achieve some of their goals," she says.
Shanderson and other YAI staff members are being trained in how to effectively provide enabling technology by Shift, a learning platform for professionals who serve people with I/DD. YAI will be the first agency in New York State to go through the Shift training and become accredited as a Technology First organization.
"Our goal as an organization is to include technology where we can to enhance people's lives," says Judith Bailey Hung, who leads YAI's Center for Innovation and Engagement, a privately funded program helping the agency determine how to optimize smart technology and improve quality of life, whether people need a great deal, or very little, support.  
The Center is kicking off the two-year initiative at two YAI residential group homes that will serve as demonstration sites – 35th Street in Manhattan and Holbrook in Long Island – as well as among 150 individuals who live in the community.
Hung says nearly two dozen YAI staff members will receive credentials in enabling technology from Shift once they complete their credit hours. Participants learn to view technology as a natural support, something that becomes part of people's lives like family and friends, as opposed to trained disability support staff. The curriculum stresses the importance of person-centered planning, how a person's goals should influence the technology – and not vice versa. 
YAI staff who signed up for the training will graduate as tech ambassadors, working with people to identify where they want to gain more independence such as help with meal preparation or better ways to navigate public transportation. 
After being assessed to determine what they want—and need—from supportive technology, participants will meet with YAI tech specialists who will guide them in the use of smart devices provided by YAI's tech partner SimplyHome, and then train them, their caregivers, and their families on the use of the adaptive technologies.
Shanderson, one of two YAI staffers working as a person-centered tech specialist, says she recognizes that some people she supports do not have internet access or an interest in technology. She says her job is to introduce people to the benefits and accept that it won't work for everybody.
"This job is opening my eyes to how we can help many of the people we support open up their lives," she says. "Technology can be the great equalizer, and we should welcome it."