YAI Presents Major Findings at Coleman Institute Conference
Broomfield, CO: YAI Director of Training Sonja Williams was a featured speaker at the 2017 Coleman Institute Conference on Cognitive Disability and Technology in Colorado. Almost 500 people attended the event on November 2nd from all parts of the US, Canada and Great Britain. The annual conference, now in its 17th year, is uniquely focused on cognitive disabilities and technology.
"This conference engages leaders, self-advocates and academics in an on-going dialogue about the solutions technology can offer to people with cognitive disabilities," said event organizer Genevieve Berry, Coleman Institute's Content Marketing and Community Manager. "In addition, we present cutting-edge research on this area, which is why we were so pleased to have Sonja there to present her findings."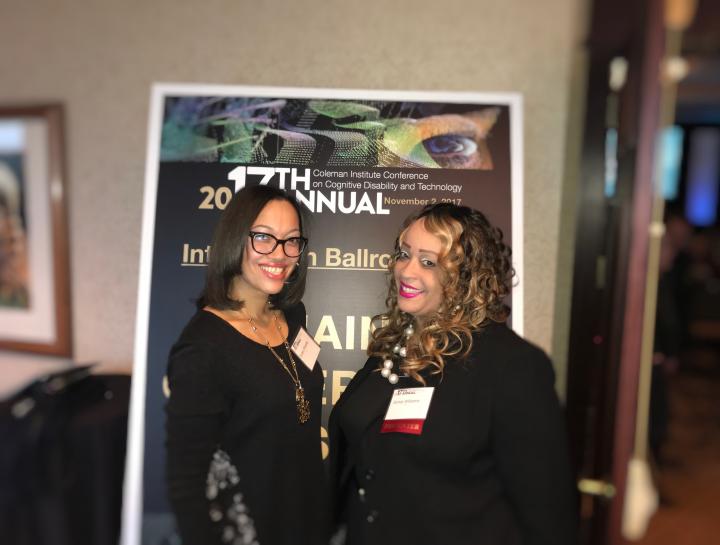 YAI was the recipient of the 2016 DIGS (Declaration Implementation Grants) award, and Sonja's presentation dealt with the successes and challenges encountered while promoting and education people on the declaration. That declaration calls for the rights of people with cognitive disabilities to have access to technology and information. The DIGS were created to help spark a grassroots movement among people through education and awareness. 
"What we learned from our experience is, first and foremost, people with disabilities want and deserve the opportunity to direct the course of their own lives," said Ms. Williams. "We concluded that education, technology and exposure enhance self esteem and quality of life."  
Prior to this conference, YAI Declaration Champion Janice McPhillips was invited to Colorado to speak to Bill and Claudia Coleman as well as members of the Coleman Colorado Foundation. Other significant accomplishments included YAI's Declaration Champions presenting at new staff orientation trainings as well as presentations to the New York State's Association of Community and Residential Agencies (NYSACRA) and the Self Advocacy of New York State (SANYS) annual conferences.
"With enough signatures, we are hoping that states other than Colorado and Maine will enact legislation to protect the rights of people with cognitive disabilities," added Ms. Berry. "With enough groundswell, we may even be able to get federal legislation."