About
The International Academy of Hope (iHOPE) is a highly specialized private school focused on educating students, ages 5-21, with traumatic brain injury (TBI) and multiple disabilities. It fulfills an unmet need in the community while serving as a model of best practices in the delivery of special education services. iHOPE provides students with a literacy-rich curriculum that incorporates a multidisciplinary and collaborative program including cognitive strategies, small group instruction, assistive technology, therapeutic intervention, behavior management, physical rehabilitation, social interaction, and transition services.
History
iHOPE opened its doors in 2013 for six children as a therapeutic and academic school for students with TBI and multiple disabilities. Since then, iHOPE's enrollment has continued to expand to more than 80 students, as families, advocates and educators have recognized the school as a leading institution in the field of traumatic brain injury. In 2019, as iHOPE continued to gain recognition within the greater community and field of disabilities, a partnership was formed with YAI, a leading nonprofit organization providing supportive programs for adults and children with intellectual and developmental disabilities. Together with YAI, iHOPE amplified its focus on student learning in April 2022 by relocating to a larger site, designed with the students in mind. The move enables the school to provide more comprehensive support in this a custom-designed facility.
Board of Trustees
Kevin Carey, Chair, Irene Cavanagh, Erik Putnam, David Silverman, Peter Taback​​​​​​​
Latest financial statements
Work With Us!
Are you interested in joining the iHOPE family? Do you have a passion for supporting and empowering others?
We are looking for people who are caring, motivating, positive, and team-oriented!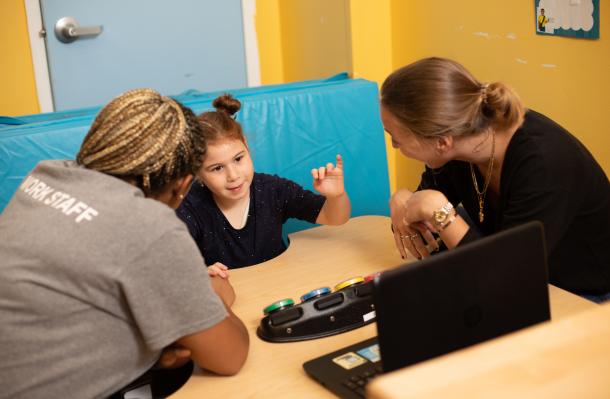 iHOPE Parents
The overall and individual approach is nothing short of amazing! He has made large strides on every level. We have definitely noticed a lot of improvement. We believe that he would not had made as much progress as he has without iHOPE.
A New Home
iHOPE is taking a giant leap forward! In April 2022, the school relocated to a beautiful new site on the corner of Seventh Avenue and 53rd Street in Manhattan. Our ribbon-cutting welcomed family members, friends, politicians, and iHOPE supporters who have helped realize iHOPE's potential and enriched the learning community we have built together. Designed with our students' individual abilities, needs and goals in mind, iHOPE's new facility assures a bright future filled with possibility.