Art Speaks at iHOPE
This annual fundraiser showcases the students' talents through art. Art Speaks is a wonderful way for the community to see how iHOPE students use technology to make one-of-a-kind pieces of art. Guests bid on these unique pieces of artwork and 100% of the proceeds go toward purchasing much needed technology for the school. Art Speaks 2022 will be a live, in-person event. This year we are excited to welcome guests to an evening of art to help raise technology funds for our new school in midtown Manhattan. We hope you can join us for Art Speaks 2022 to learn more about our students and our new space! Check back for upcoming details. In the meantime, enjoy this short documentary highlighting Art Speaks.
Stay tuned for more information.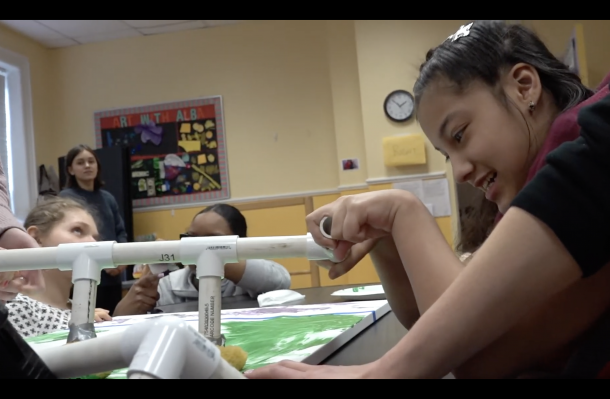 Come One Come All!
The 2021 iHOPE Summer Olympics celebrated the re-opening of New York City! #iHOPEStrongerTogether
Students at the International Academy of Hope carried the tradition of the iHOPE Summer Olympics into the pandemic recovery season in 2021. The two-week event featured events and competitions specially designed for each student's unique abilities. Launched in 2015, the Olympics motivate iHOPE students after months of intensive training and rehabilitation, giving them an opportunity to compete with their peers in a fun and friendly manner. We would like for our students to recognize their potential and realize their dreams.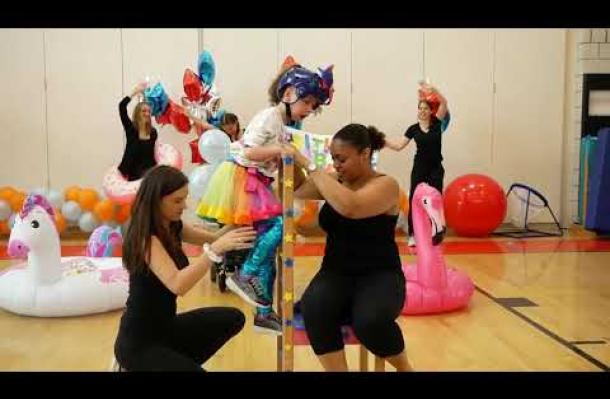 Prom 2021
The students at iHOPE work hard and party hard!. To celebrate the end of the year, our upper school students participated in virtual prom where they dressed up, received awards, played games, and danced the night away. It was one last hurrah to end the most memorable school year yet.
This event, planned by iHOPE's Occupational Therapy department, is designed to maximize student independence, self-advocacy skills, and participation in meaningful activities. We love to end the school year with a bang!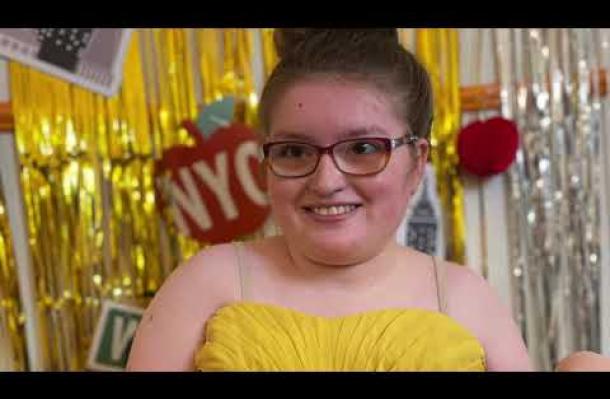 Photo Gallery
Check out our latest photos from special events like the summer olympics, Art Speaks, and every day happenings at iHOPE.
Kristina and Arthur are at a table, they are holding paint covered items with paint covered canvases in front of them.
Esty is on a huge red ball, whie Krupa supports them
Sammy is sat in a wheelchair on the right of the picture and on the left is a whiteboard with a lot of writing at the bottom it says "Sammy will be a fire fighter, married to Paula with zero kids in a mansion in Paris"
Omar had his hands on the tray of his wheelchair, in the background to the right you see paper with blue paint on it, someone in the background on the left is holding a water gun
Yarisa is sat in an adaptive swing at a playground, Nicole stood beside her crouches to take a picture together. They they are both smiling.
Mohammed sits on a floor mat holding a large yellow ring, he has a very big smile on his face as he looks at Andrea who is sat to his right
Kristina and Megan are next to one another, you see them from their waist up, they are both smiling/laughing.
A profile view, Katherine stands behind Nick who is using a walker, they are to the right of the image with a Christmas tree to the left.
Katherine and Athur are in a gym wearing blue shirts, almost hugging and looking at the camera
Evelyn and Ethan stand close to one another in a hallway, Ethan is smiling intensely while other people look on smiling
Jessica and Omar are both in wheelchairs right next to each other. It's prom and Omar is only looking at Jessica. The background is a large space/cosmic image.
Jerry sits next to Catie, they are to the left of the image, behind them to the right is a smartscreen with icons on it.
Jabir is in a wheelchair wearing an orange hat. Anitha is stood behind looking on.
Aria and Daria pose for photo, both are sitting.
2 iHOPE students in classroom, both using wheelchairs and smiling for the photo
A New Home
iHOPE is taking a giant leap forward! In April 2022, the school relocated to a beautiful new site on the corner of Seventh Avenue and 53rd Street in Manhattan. Our ribbon-cutting welcomed family members, friends, politicians, and iHOPE supporters who have helped realize iHOPE's potential and enriched the learning community we have built together. Designed with our students' individual abilities, needs and goals in mind, iHOPE's new facility assures a bright future filled with possibility.