Central Park Challenge Brings Out YAI's Best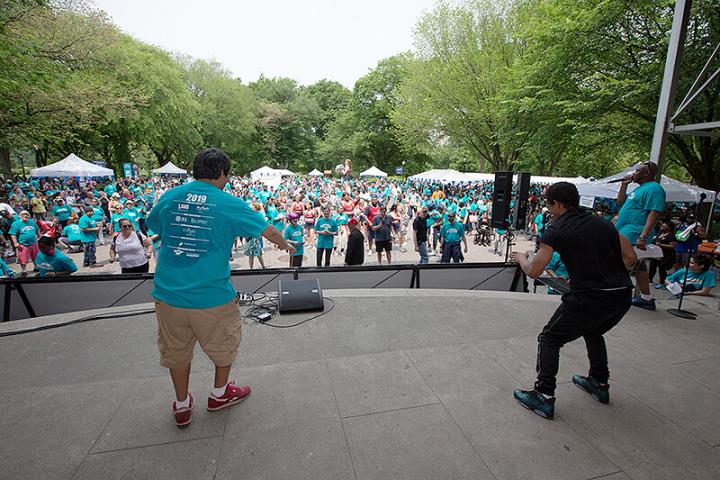 It's official: this year's Central Park Challenge was a resounding success. With over 3,500 attendees and more than $450,000 raised to enrich the lives of people we support, Saturday's event brought out the very best in the YAI community.
The memorable day celebrated people of all abilities with a 4-mile run, 3K walk, junior races, and a variety of inclusive games and entertainment.
Musician Nick Gunty of Francis Luke Accord kicked off the morning with crowd-pleasing tunes. Later, Albo's Music Room and Feraba kept the energy high with upbeat jams before kids of all ages showed off their best moves as they danced to the rhythms of ZCO Dance Troop.
Other highlights included disability-friendly magic tricks by SO Magic, a social skills-building puppetry performance by NYC Kids Project, and energetic acrobatics by the LGBTQ+ and ally cheerleaders of Cheer New York.
At the closing ceremony, Jimmy Tucker, who has received support from YAI since age 3, took the stage at the bandshell.
Jimmy recounted his journey from a shy "guppy in an ocean" to a successful artist whose works have been featured at Sotheby's and MoMA.
"YAI has given me a place where I can not only continue to make new friends, but where I can hone one of my passions in life, which is drawing," Jimmy said. "I always enjoyed drawing in school and at home, but I never imagined that being part of YAI Arts would give me the opportunity to showcase my work in galleries on the professional level."
The audience was visibly moved when Jimmy gifted one of his original artworks to ABC's Bill Ritter, who has hosted the event for more than 20 years.
YAI CEO George Contos reflected on the organization's commitment to upholding the dignity and autonomy of people with intellectual and developmental disabilities (I/DD) above all else.
"YAI began the Central Park Challenge in 1985," he said. "Today is our 34th year, but we remain as committed to a person-centric approach in 2019 as we were back then. That means every person we support, everyone on our staff, and everyone joining us here today recognizes how important it is for people to be able to make their voices heard about the kind of support they want, the environment in which they wish to live, and the types of relationships they want to build."
If you'd like to share more about your experience at Central Park Challenge, we welcome your feedback at centralparkchallenge [at] yai.org. Thank you for making this year's event so spectacular, we could not have done it without you.